There is reason to believe that Canara Robeco can shake off its dreary past. Though around for 20 years, Canbank Mutual Fund failed to capitalise on its early mover advantage. Now, with a new name, partner and management team, it is attempting to establish itself as a major player.

Last year, Robeco took a 49 per cent stake in the AMC. Robeco is the fund management arm of the Dutch co-operative bank Rabobank. As a result, Canbank Mutual Fund was rechristened Canara Robeco.
It's not just a superficial change in name but a serious attempt to clean up up its act. A Voluntary Retirement Scheme (VRS) was introduced and now there is some fresh blood in. The new outfit appointed Rajnish Narula as CEO and MD (ex-DBS Chola), Ritesh Jain as head of fixed income (ex-Kotak Mutual Fund) and Anand Shah as head of equity (ex-ICICI Prudential Mutual Fund).
Though the rebranding exercise currently underway will help in recall, the fund house will have to make its mark on the performance front. Its equity funds have never come close to the better funds in their categories. And it has been more than a decade since it has been able to sell an equity fund aggressively. Out of the six equity funds, there are no 5- or 4-star rated ones. Though each of the hybrid funds (equity and debt oriented) has a 4-star rating.
Having failed to make a dent in the equity space, this AMC by default has become a cash fund specialist. Out of the total Rs 4,450.01 crore that the fund house manages, Canara Robeco Liquid Retail and Canara Robeco Liquid Plus Retail together manage Rs 2,567.2 crore. Both are 4-star rated.
A few years ago, the AMC showed some signs of a clean-up and merged some of the schemes. While this buried the performance record of some of its old funds, it was insufficient to enter into the league of major players of the industry.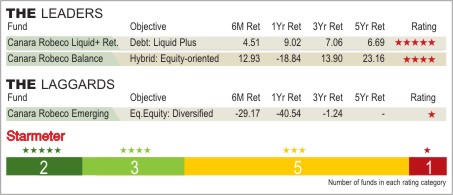 Explanation of the data tables and graphs