Due to its concentrated bets in growth stocks, the returns of JM Financial's funds can deviate substantially from category norms. In a bull run, it  may have some of the savviest skippers going. But its dramatic fall in slumps is a turn off.

If you find that hard to believe, consider JM Emerging Leaders and JM Basic. Both these funds were amongst the top 5 performers of 2007, JM Basic bagging the coveted No. 1 slot. In this market slump, Emerging Leaders fell by 72.46 per cent and  Basic, 66.17 per cent, when the category average was a 49.74 per cent fall (Year-to-date return as on October 13). As for JM Equity, it makes for no comparison with its siblings. It actually underperformed the category average in 2007, when the other two were on a roll, and fell harder than the average when the market slumped. Make no mistake. We think Sandip Sabharwal, Chief Investment Officer-Equity, is a skilled manager who has the courage to ride his convictions. But that said, we think this fund house is only appropriate for aggressive investors. And even then, they may want to limit their exposure, given the high risk and performance fluctuations.
When JM Financial Mutual Fund started in 1994, its first products were a complete basket of a diversified equity, balanced  and income fund. But over time, it became recognised as a debt fund house.
The fund house historically maintained a very aggressive posture in managing its debt funds, which was evident from the high average maturity profiles most of the time. This, coupled with a relatively lower expense ratio for the short-term funds, held it in good stead. But over the years, the performance of its debt funds have faltered.
JM Income, the first income fund of the country and historically the fund house's best bet, now has a 1-star rating. JM Floater ST, a 5-star fund at one time, is now a 2-star. JM Short-term Reg., a fund worth considering at one time, is also a 2-star fund now. In the earlier leg of this bull run, there was not much happening on the equity front. After Sabharwal came onto the scene in November 2006, the AMC tried to make up for lost time.
In two years they launched a slew of thematic and sector funds.  One of Sabharwal's first moves was to revamp the portfolio of JM Basic. The fund soared and was  India's best performing equity fund in 2007.
All in all, this is an opportunistic fund company which bets on momentum and growth stocks and sports high beta equity portfolios.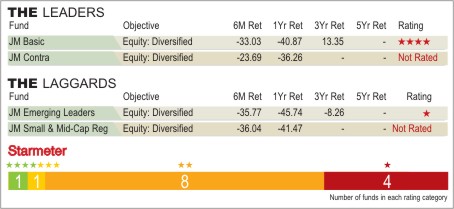 Explanation of the data tables and graphs