Fund Manager, Alliance Equity and Alliance Basic Industries

Fund Manager since August 2003

Investment style
Bottom up "stock picking"

Current outlook
In the short-term, there may be a correction because of the run we have had over the last quarter but the medium to long-term picture looks good. Corporate fundamentals are in shape and valuations are reasonable. So, there are good bottom-up opportunities despite macro risks like oil prices and rising interest rates. The overall interest level in the market is high — both from the FIIs and the retail investors as is evidenced by the response to some large IPOs like TCS. We are very enthused by the way the new government has performed till date. Further reforms will continue to provide the macro push for the markets in the long-term.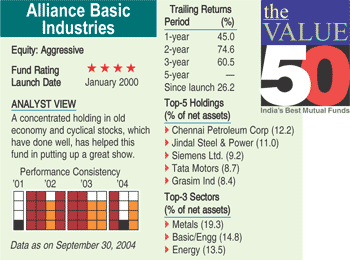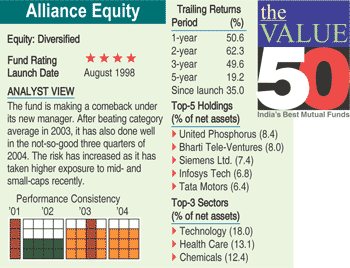 Your favourite industries/themes
Domestic consumption (autos, retailing, telecom), outsourcing (pharma, argochemicals, IT), and commodities (aluminium).
Industries/themes that you would avoid
FMCG
What would you do differently today?
I don't think there is a need to be radically different. My focus remains on unearthing stock ideas — competitive, growing businesses at reasonable valuations and with good managements.
Who is your inspiration in the investment world?
None really
Your favourite book
Atlas Shrugged by Ayn Rand
Your favourite film
Life is Beautiful
What do you do in your free time?
Read, swim, watch sports, and spend time with family.
If you hadn't been a fund manager, what would you have been?
Historian or a mathematician