Why hasn't Prudential ICICI Growth Fund performed as well as HDFC Equity (earlier Zurich India Equity) Fund?
Sanghamitra

Your question would have really hurt the feelings of Prudential ICICI's fund manager but as it happens, the person who was managing HDFC Equity till recently—Chandresh Nigam—will now be managing Prudential ICICI Growth. There is no doubt that HDFC Equity has a much better performance track record than Prudential ICICI Growth. While HDFC Equity has been in the top quartile of its category for four of the last five years, Prudential ICICI has managed this only in 1999.


The two funds have a somewhat different investment strategy. Prudential ICICI Growth Fund has focused more on stability and consistency by maintaining a widely diversified portfolio spread over 30-35 stocks, while HDFC Equity has delivered the goods by zipping in and out of hot sectors while keeping a relatively concentrated portfolio of 20-25 stocks. Indeed, the big differentiator has been HDFC Equity's quick sectoral moves, which have worked in its favour in both rising and falling markets.




Annual Returns At Glance
Year
HDFC Equity
Pru ICICI Growth
Return
Quartile
Return
Quartile
Cat. Avrg
2002
24.2
Q1
12.36
Q3
19.26
2001
-2.81
Q1
-13.53
Q2
-19.27
2000
-20
Q1
-33.4
Q3
-26.89
1999
155.97
Q2
188.15
Q1
134.72
When the market collapsed in March 2000, HDFC Equity had 36 per cent tech exposure spread over just six mostly large-cap stocks. Prudential ICICI Growth, on the other hand, had 49 per cent in 14 tech stocks, which were a mixed bag of mid- and large-caps. As a result, the year 2000 saw HDFC Equity down by 20 per cent while Prudential ICICI Growth lost 33.4 per cent. It was the quality of HDFC's technology stocks along with its more level-headed tech allocation that made the difference.
After 9/11, HDFC Equity made smart gains by quickly increasing its IT exposure from 3.8 per cent in September 2001 to 27.7 per cent by December 2001, but Prudential ICICI Growth entered the sector late. Then, in early 2002, when oil stocks were booming, both funds doubled their energy exposure within a single month. Thus, the run-up to the Budget from the market bottom of September 21, 2001 to February 26, 2002 was one period when the gap between the two funds was less-HDFC Equity gained 54.12 per cent and Prudential ICICI Growth generated 48.3 per cent.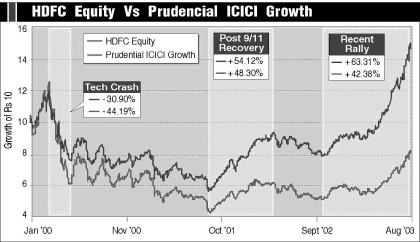 The difference broadened in the 2002 bear market when HDFC Equity lost 11 per cent and Prudential ICICI Growth 20 per cent. Though both had largely similar portfolio, HDFC Equity's specific stock moves proved to be better. For instance, HDFC Equity didn't have Reliance, which fell 16 per cent during the period while Prudential ICICI Growth had an average 4 per cent exposure. Then, while Prudential remained invested in Infosys throughout the period, HDFC Equity bought Infosys, when its share price touched a low of Rs 3,000 in July 2002.
In 2003 too, HDFC Equity is up 69.75 per cent and Prudential ICICI Growth has gained 42.64 per cent, as on September 30, 2003. While both have maintained high exposure to public sector bank stocks, which were on a roll, HDFC Equity had a higher allocation (average 21 per cent) compared to Prudential ICICI Growth (average 16 per cent). That apart, HDFC Equity's higher allocation to basic stocks like Tata Steel has helped it post better returns.


Despite having a very different investment approach, there are certain similarities too. Both invest in large-cap stocks and both are less volatile than most of their peers. Thus, though both funds may have picked similar if not the same stocks, the correct timing and concentration of these stocks has benefited HDFC Equity much more than Prudential ICICI Growth.


Of course now that HDFC Equity's fund manager has shifted to Prudential ICICI Growth, it will be interesting to see if he can bring along whatever it was that made his earlier fund a top performer.