A Systematic Withdrawal Plan (SWP), is supposed to save me taxes. With dividends from income funds now being tax-free in the hands of the investor, why should I choose an SWP? Further, is there any indication as to how long my capital will last in such investments where SWP is exercised?
—Juhi Kanojia


Systematic withdrawal options are tax efficient under most circumstances. While dividends are tax-free in the hands of investors, mutual funds have to pay a 12.81-per cent dividend distribution tax. Dividend distribution tax is levied on the entire dividend received. Capital gains tax, however, is only paid on the gains component of the withdrawal. Thus the tax ends up being levied on a smaller portion of the withdrawal, and therefore impact is less.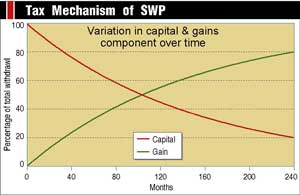 In the initial years of a SWP, the gains portion is much smaller. Most of the payout actually consists of the principal (investment). Even if one has to pay short-term capital gains tax at the marginal rate (33 per cent), this method of receiving income works out being far superior to the dividend option. The tax liability for the first year in case of SWP is 1.39 per cent as compared to 12.81 per cent for the dividend option. This tax efficiency is further maintained in the second year when the long-term capital gains tax rate of 10 per cent (or 20 per cent with indexation benefits) kicks in.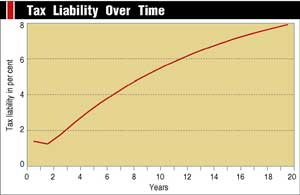 Over time, the principal component of the payout will decrease. This happens as the initial contribution is constant and with every payout, a portion of the principal is also extinguished. As a result, the tax liability of the SWP will keep increasing with time till it reaches 10 per cent, which is the long term capital gains rate. Of course, even at that rate, SWP will be more efficient then the dividend option. This situation will persist till the rate of long term capital gains tax is less than that levied on dividend distributed.


The rate at which your capital decreases is reverse-exponential. Thus at the end of the first month, your capital component works out to 99.33 per cent of the total gain. By the end of the fifth year, it is down to 66.99 per cent and at the end of the 20th, its just 20.14 per cent. Of course, changes in tax laws are bound to affect the actual situation. Whenever that happens you will probably have to reconsider the entire calculation.