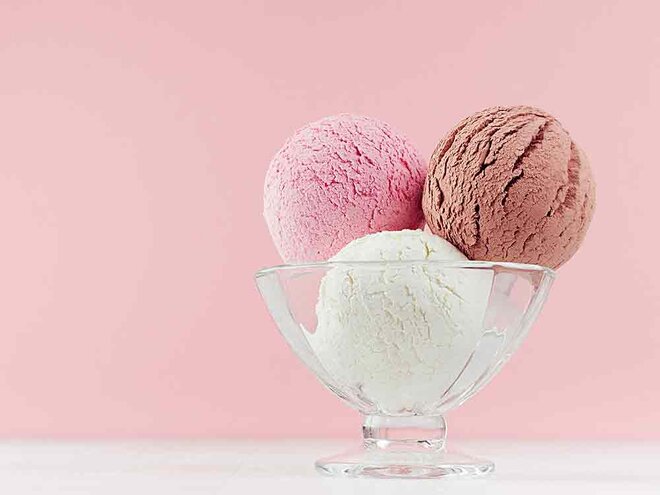 HDFC Mutual Fund recently launched a multi-cap fund. The fund will invest across the large-, mid- and small-cap companies. The scheme will close for subscription on December 7, 2021 and will be managed by Gopal Agrawal. It will be benchmarked against the Nifty 500 Multicap 50:25:25 TRI.
According to the AMC's NFO presentation, the fund will follow a mix of top-down and bottom-up approach to stock selection as part of its investment strategy. Also, the fund will invest without a style bias and aim to capture opportunities across value, growth, and turnaround companies.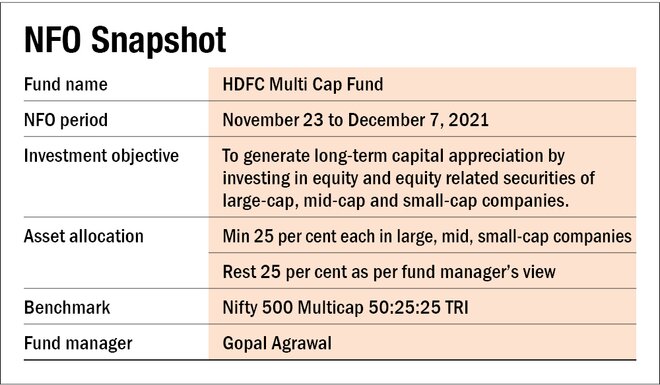 Commenting on HDFC Multi Cap Fund, Gopal Agrawal, manager of the fund, said, "We have observed that different market cap segments perform differently at different points in time. HDFC Multi Cap Fund is a one-stop solution for investors looking for exposure to different market caps, through one fund in a disciplined manner, to achieve better risk-adjusted returns. We believe that long-term fundamentals, effective diversification and stock selection are critical in a constantly changing environment. Going forward, the structural growth drivers and supportive external environment bode well for India's secular growth story. Further, robust earnings growth outlook and favourable macroeconomic environment bode well for equities over medium to long term."
About the strategy

The multi-cap category is a fairly new one created by SEBI in September 2020. As of October 2021, this category has about 12 funds managing assets worth over Rs 32,000 crore.
Mandated to invest at least 25 per cent of their money each in large-, mid- and small-cap stocks, these funds are relatively similar to their flexi-cap counterparts in terms of investing across market caps. However, the latter doesn't have any restrictions regarding the minimum allocation that must be made to any market-cap segment. Thus, these funds enjoy a greater degree of flexibility and precisely that is why at Value Research, we prefer flexi-cap funds over multi-cap ones.
Generally speaking, most flexi-cap funds tend to have a lower allocation to mid- and small-cap stocks than that of multi-cap funds. Owing to this factor, the latter tends to be a bit more aggressive in relative terms.
The performance history of multi-cap funds is very short, as the current avatar of the category came into being just about a year ago. But a comparison between the performance of the multi-cap index (NIFTY 500 Multicap 50:25:25 TRI) and the more mainstream Nifty 500 TRI reveals that the former was an outperformer on a five-year rolling return basis till about the middle of 2019, thanks to its higher mid- and small-cap allocation. Of late, though, both have been neck and neck. But this performance has also come at the cost of high volatility and bigger drawdowns during the down markets, which again shows the higher mid- and small-cap exposure of the multi-cap strategy.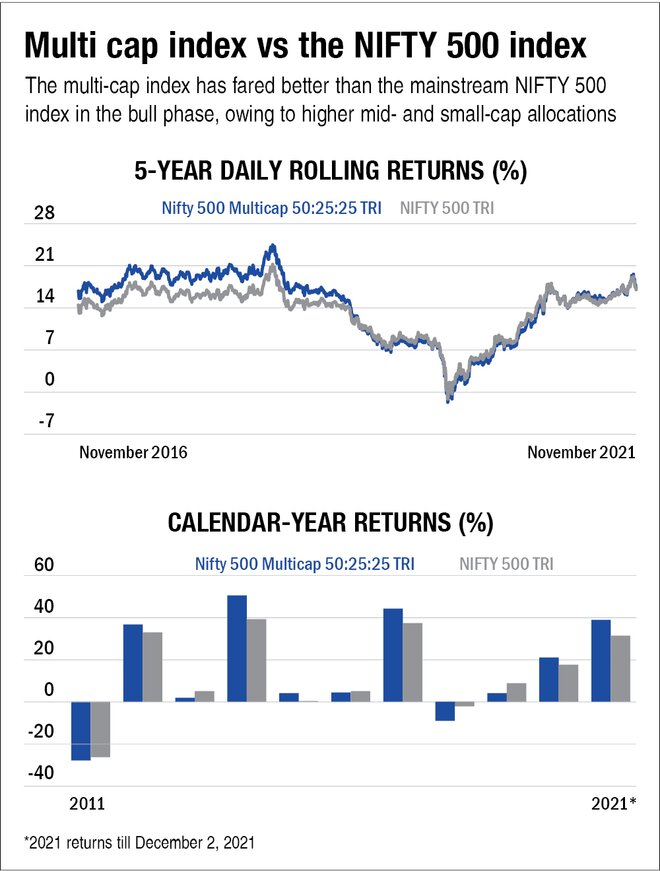 About the fund manager
Gopal Agrawal, senior fund manager at HDFC AMC Ltd., has over 16 years of experience in fund management and 2 years in equity research. Prior to joining HDFC Asset Management Company Limited, he has worked with DSP Investment Managers Private Limited, TATA Asset Management Company Limited and Mirae Asset Global Investments (India) Pvt. Ltd.
He is currently managing HDFC's focused 30, large and mid cap and dividend yield fund and co-managing the equity savings fund. Although it's only been about one-and-a-half years since he took over the reins, his overall performance across funds so far has been pretty good. The table below provides a glimpse since he started managing/co-managing these funds.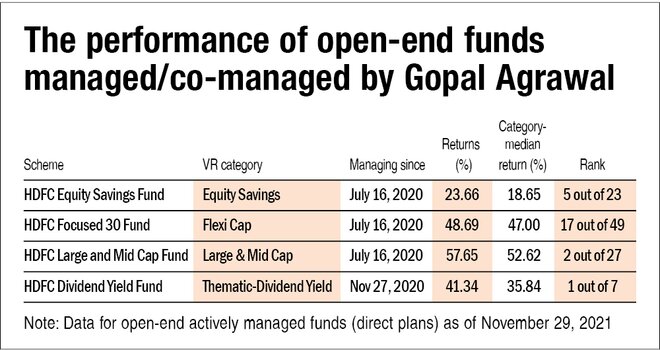 About the AMC
HDFC AMC Ltd. has a diversified asset class mix across equity, fixed income and hybrid funds. As of October 2021, it ranks third in the industry, managing a total of Rs 4.39 lakh crore of investors' money across 45 open-end equity, debt and hybrid schemes. Of this, Rs 1.20 lakh crore is in 12 open-end actively-managed equity funds. Here are Value Research's star ratings on the AMC's open-end equity funds.