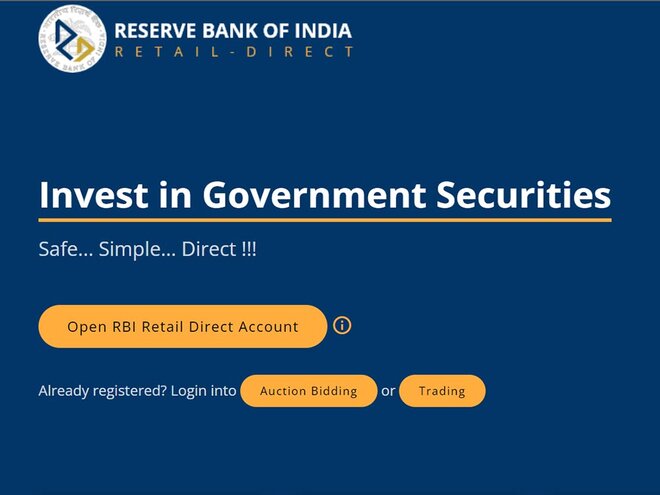 For the first time, retail buyers will now get an on-tap availability to sovereign bond market. In a virtual conference today, PM Narendra Modi announced the launch of RBI Retail Direct Scheme - a one-stop solution to facilitate investment in government securities by individual investors.
About the scheme
The RBI Retail Direct facility was first announced by RBI in February. Through this scheme, individuals will have an online access to the government securities (G-secs) market - both primary and secondary (through RBI's trading platform called Negotiated Dealing System-Order Matching Segment, or NDS-OM) - along with the facility to open their gilt securities account ('Retail Direct') with the RBI. The portal will allow individuals to invest in central government securities, treasury bills, sovereign gold bonds and state development loans.
Until now, while retail investors could invest in G-secs indirectly through debt mutual funds, there was no direct avenue available. They could only buy such bonds through other intermediaries or stock exchanges. So, the new scheme is definitely an interesting avenue.
Registration under the scheme
To be able to buy and sell such securities, investors will have to register on the online portal which can be accessed at rbiretaildirect.org.in. You will have to register by filling up the online form and use the OTP received on the registered mobile number and email id to authenticate, and submit the form. Instructions issued under RBI-Know Your Customer (KYC) Direction will be adhered to during on-boarding the investors. Upon successful registration, 'Retail Direct Gilt Account' will be opened and details for accessing the online portal will be conveyed through SMS/e-mail.
Interestingly, no fees will be charged for opening and maintaining 'Retail Direct Gilt account' with RBI and for submitting bids in the primary auctions. However, fees for payment gateway etc., as applicable, will be borne by the registered investor.
Retail investors should have a Rupee savings bank account maintained in India, Permanent Account Number (PAN), any officially valid document for KYC purpose, valid email id and a registered mobile number. Registered investors can use the online portal to view their account statement, nomination facility, pledge/lien securities held in the RDG Account, gift government securities to other retail direct investors and grievance redressal.
Other G-secs avenues for retail buyers
While one will have to see how this scheme picks up but if you are considering this avenue, then below are the dimensions which you should consider:
By investing in government bonds, you are effectively lending to the government. The same goes for your investments in small saving schemes. Given the government backing, both the investment avenues - RBI Retail Direct and small saving schemes - are similar on the risk parameter. However, the interest rates offered on small saving schemes are pretty attractive if you look at the overall fixed-income domain. So, if liquidity is not a big concern for you then these schemes definitely have an upper hand.
Below is a comparison of the interest rates offered in a few of these small saving schemes vs the same tenured government bonds: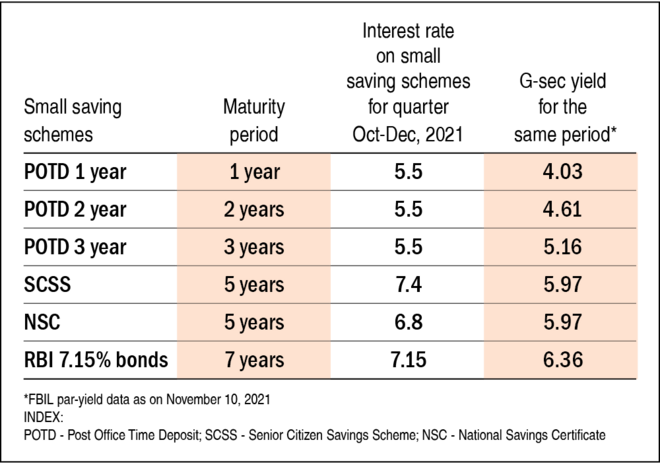 Gilt mutual funds are one of the prominent avenues of investing in government bonds.

It's the tax-efficiency of bond funds that gives them an edge over direct investment in G-secs. When you invest in a gilt fund, you need to pay tax only when you sell. Till then, your returns keep accumulating. Now, if you sell a fund after three years, the gains get taxed at 20 per cent post indexation. Indexation, i.e., adjusting your gains against inflation, lowers your tax outgo.
However, in the case of government bonds, interest is added to your income and taxed at your slab. So, for investors who fall under the higher tax brackets, this avenue may be quite inefficient. If the investor sells it after one year, it will attract long-term capital gains at the rate of 10 per cent.
Now, suppose you invested Rs. 10 lakhs in a government bond with a coupon rate (interest rate) of 6% paid annually. Assuming that you come under the 20% slab rate, then you will have to pay Rs 12,000 as tax on the interest income of Rs 60,000 every year till maturity or till you sell the bond. So, the tax arbitrage offered by debt funds tilts the scale towards gilt funds compared to directly investing in government bonds. Having said that, one can't ignore the expenses associated with bond funds, more so in a low-interest rate regime.
Conclusion
While this is a great initiative and opens up an interesting avenue for retail investors, it remains to be seen how retail participation evolves. If you are keen to invest in G-secs, make sure to balance your decision in view of the additional two dimensions - firstly, the attractive rates offered by small saving schemes even though at the cost of liquidity and secondly, the tax efficiency of gilt funds for a holding of more than three years.