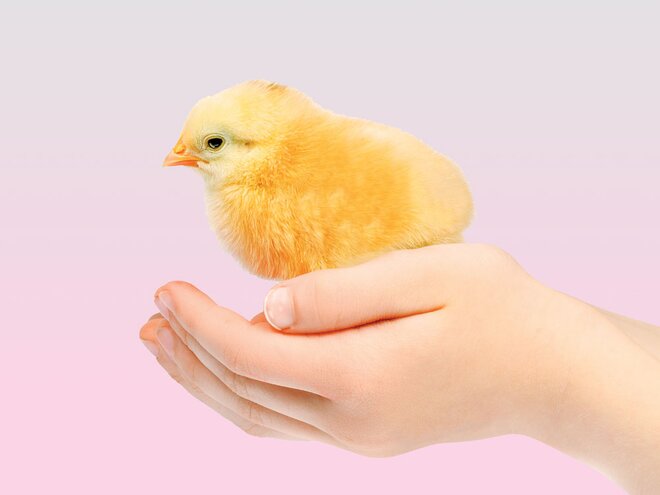 If the finance world had its private search engine, the most-searched terms in 2021 would have been 'stock market', 'bull run', 'IPOs' and 'NFOs'. Interestingly, this is not the first time these keywords would have made to the list of top trending searches. However, unsurprisingly it seems that people are doing exactly the same things (read mistakes) they have been doing in the past - going crazy with the madness of the market.
Capitalising on the current bull rally in stock market, the mutual fund industry has broken quite a few records this year and doesn't seem to stop as yet. Fund houses have raised nearly Rs 29,000 crore via 41 equity new fund offers (NFOs) in just about half of the calendar year 2021.This is the highest amount raised for open-end equity schemes in any year since 2008. Not only that, nearly Rs 9,800 crore of this sum has been raised by ICICI Prudential Flexicap Fund alone, making it the largest NFO mobilisation as on August 10, 2021 by an actively managed equity fund and beating the previous highest of Rs 5,790 crore raised by Reliance Focused Large Cap Fund way back in 2006. Further, roughly 40 schemes seem to be in the pipeline as per the offer documents filed on SEBI's website in last three months. Even if one-third of these schemes are launched, it would be the highest number of equity NFOs in a year ever since mutual funds came into existence.
But are NFOs better than already-existing funds? Do they make any sense for investors? Absolutely not! Value Research has always maintained that NFOs are completely avoidable. Our regular readers know this. However, from time to time, as new investors get added to the pool and as the NFO mania gathers steam, it's important that we reinforce our message, of course in our style - with solid data and analysis- and hence this story.
The NFO charm
Humans are complicated but investors are even more. Juggling between 'old is gold' and 'change is the only constant', investors frequently try to figure out what is best for their money. But here is a problem - how do you decide that? More often than not, people fall prey to whatever is hard sold to them by distributors and AMCs. The mutual fund space is clearly in an NFO frenzy right now. Apart from the current phase (since 2018) of rising NFOs in the market, there have been two such major periods of euphoria in the past - between 2005 and 2007 and between 2013 and 2015. Look at the graph titled 'NFO mania over the years' to get an idea of year-wise NFOs launched and the amount raised. Taking a dig at investors pouring money into new funds, DSP Mutual Fund recently issued a funny and innovative press release announcing an OFO (old fund offering) to remind people about one of its funds.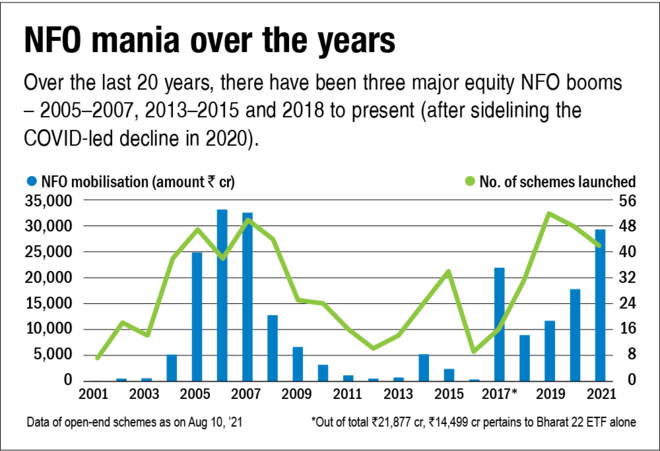 NFOs vs existing funds
The way NFOs are being hailed seems to suggest that people have run out of fund options to invest their hard-earned money. However, on performance metrics most new funds generally lag behind the old ones by a wide margin. We evaluated top 10 blockbuster NFOs (by amount collected)since 2001 and with at least one-year history by comparing their one-year, three-year and five-year returns since launch with the average returns of existing funds in their category. Here is what we found - six out of 10 funds have underperformed on one-year return comparison, while on three-year and five-year return metrics, seven out of 10 and six out of eight NFOs have failed to beat the category-average returns, respectively. The story doesn't end here. Even the instances where NFOs have delivered better returns, the magnitude is way little as compared to that of underperformance. Refer graph 'NFOs vs category-average returns' to gauge the quantum of average underperformance and outperformance between the two. These NFOs aggregate to about 21 per cent of the total amount raised in the last 20-and-a-half years.
Bear in mind that this is only a comparison with the category-average returns. A careful selection of good funds would have probably reaped much better returns rather than investing in NFOs.