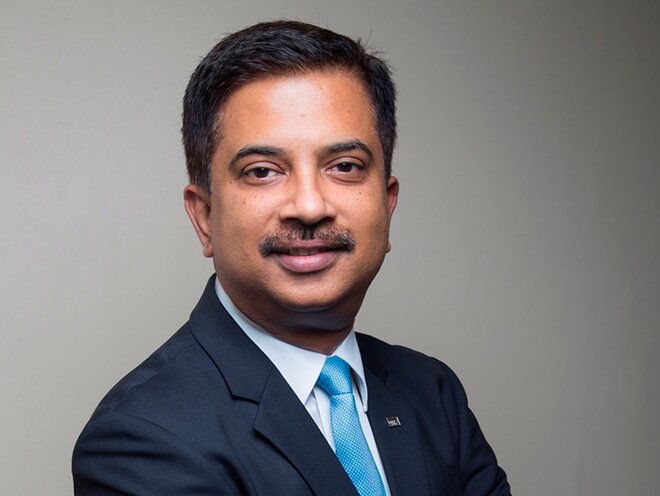 With passive funds gaining in popularity, many investors wonder about their role in a portfolio and how much one should invest in them. Many others want to know if active funds, especially the large-cap ones, are still relevant. We speak with Swarup Mohanty to find out the answers to these questions.
What are your views on the raging active-vs-passive debate? Do you think that active funds, especially the large-cap ones, still have an investment case?
We believe it is time for passives to start forming part of the investor portfolio in India, but it's not about either active or passive exposure; we think both active and passive need to be part of investors' portfolios. An investor should continue to invest in an active fund with a good track record as well as take market exposure using ETFs to reduce the active risk and reduce the cost of his overall portfolio. We should not ask 'active or passive' but we should seek 'active and passive'.
It is increasingly becoming difficult for the large-cap fund managers to outperform the market indices like NIFTY 50 on a consistent basis in recent times. We need to understand that it is the case with any major market and not specific to India. Over a period, as the market evolves and becomes efficient, the avenues for alpha shrink. However, we believe well-managed large cap funds will continue to do well and there would be funds which would still make a good case for the core portfolio.
An investor needs to create a blended portfolio with active funds which they believe can beat the benchmark, along with low-cost market cap ETFs (so investors don't run the risk of underperforming the benchmark significantly). At the end of the day, the goal of an investment is to create sustainable wealth with a combination of actively managed funds and ETFs.
What is the role of active and passive funds in one's portfolio? Are there any benefits of having a mix of active and passive funds in one's portfolio?
As an investor, we intend to go for active equity mutual funds in desire of higher returns than the benchmark. In doing so, you also undertake and accept the risk that your equity mutual fund might underperform the benchmark. By investing in ETFs which track underlying indices, you mitigate your risk of underperforming the benchmark and get a low-cost solution. So, in terms of return, ETFs will deliver the return of the benchmark, whereas active equity mutual fund might give higher returns than the benchmark.
ETFs are an excellent tool for building strategic asset allocation, which is an important element for investors' long-term wealth-creation process. ETFs just try to replicate the benchmark and hence the risk of underperforming the benchmarking is mitigated. Since they replicate the benchmark, they are a low-cost product. The cost component can have an impact on your corpus in the long-run because of compounding. Apart from their low cost, you can use ETFs for making tactical allocations to a sector or a theme, international funds or for taking exposure in an asset class such as gold, etc.
A combination of active and passive funds can provide you the best of both - via active to generate alpha over the market, especially in categories like mid and small cap, whereas passive will provide a low-cost medium to take exposure to the efficient segment of the market (large cap) or take focused exposure to sectors, themes and other markets. This could be a better way to achieve a better asset allocation which aims to create wealth at a lower cost.
What according to you is the optimum mix of active and passive funds (ETFs)? What strategy should one follow for combining the active and passive funds in a portfolio?
The optimum mix depends on an investor's risk/return appetite and his/her long-term wealth-creation goal.
An investor who is completely aligned and invested in active funds is prone to the risk of underperformance if the fund doesn't do well. This risk of fund manager underperforming the benchmark can be mitigated by taking beta exposure to the market via passive investments, such as ETFs.
Similarly, in the case of any investor who is completely aligned with passive funds, he/she is missing an opportunity to participate and ride on the stock-picking skill of fund managers. Here, by taking exposure to active funds that follow prudent stock-selection and portfolio-diversification mechanism, an investor allows himself to gain that extra return without jeopardising the relative stableness of his/her portfolio.
Further, ETFs can play an important role in a core and satellite portfolio strategy. For instance, if you are an active investor, you can form your core portfolio via active funds and use ETFs as the satellite portfolio to take focused exposure to sectors, themes etc. The reverse, i.e., using ETFs tracking broad-based indices as part of your core portfolio and active funds as the satellite in order to generate alpha can also be beneficial as you do not intend to deviate too much from the market or the benchmark.
One can also use ETFs tracking specific sectors or themes in the portfolio in case you want to take tactical exposure or if such a sector or theme is under-represented in your active-fund portfolio.
What rebalancing principle should one follow while adopting the active-passive asset-allocation strategy?
In a long-term investment horizon, one should stick to his or her strategic asset allocation (SAA) made to active and passive products for an investment horizon of the overall goal and the nature of the underlying assets. He or she should review and reassess whether the allocation is yielding desired investment in order to meet his or her investment goals. One should not alter the SAA frequently because whether you are investing via the active or the passive route, eventually you are investing in the market, whose results or performance should not be gauged in smaller intervals only.
Tactically, you can alter your allocation (satellite portfolio) to active and passive, depending upon your view on markets. For instance, if you feel that for the next one-two years, cyclical stocks are expected to recover faster, then you can probably give higher allocation via ETFs, especially if the active fund or the portfolio you are evaluating remains under-represented in such sectors or themes. Hence, it is very important to set a periodic review date in consultation with one's distributor/adviser and make it a point to religiously do it on that day and make the necessary rebalancing immediately. Investors should do these allocations by always keeping one's risk profile in mind.
Disclaimer: Mutual fund investments are subject to market risks, read all scheme related documents carefully.
All Mutual Fund investors have to go through a one-time KYC (Know Your Customer) process. Investors should deal only with Registered Mutual Funds (RMF).
For further information on KYC, RMFs and procedure to lodge a complaint in case of any grievance, you may refer the Knowledge Center section available on the website of Mirae Asset Mutual Fund.