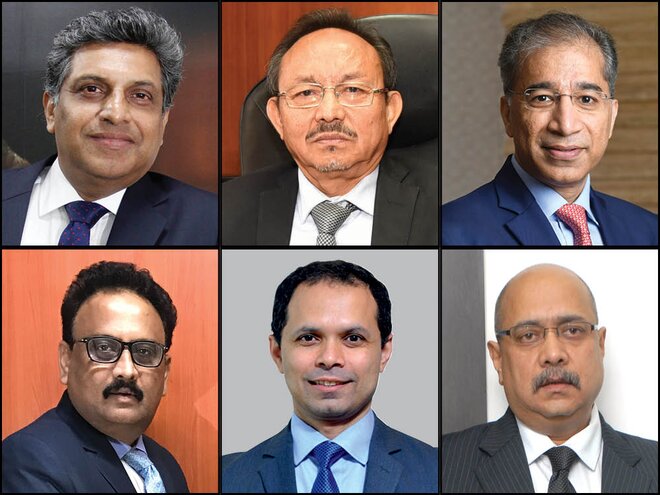 The mutual fund industry has been kept on its toes this past year. The pandemic, revised SEBI norms, a liquidity crunch are some of the major events and developments that AMCs have had to respond to. Amidst this, investor behaviour has also been changing.
We caught up with the heads of these AMCs and asked them about their business priorities and products becoming mainstream.
Ravi Menon, CEO, HSBC Mutual Fund
"Our objectives are driven by client priorities. Investors have multiple savings/investment objectives. We need to decide whether we have the capabilities to manage such a requirement and deliver accordingly. There are, however, certain areas where we believe that we need to take the lead and influence investors in a positive way.
"ESG, climate change and sustainable-investing products, we believe, will be very big drivers over the long term. As Indian per capita grows there will increasingly be a need for international diversification. We are also evaluating a wide range of passive investment opportunities through our smart-beta strategies."
Waqar Naqvi, CEO, Taurus Mutual Fund
"We would be happy to launch products which incur a lower cost and yet are beneficial to the investor. Taurus Mutual fund has always been true-to-label and we would like to continue with the same while exploring options of low-cost products. Business priorities for the long term are dynamic and will need a few milestones to be achieved. Short term will take care of itself."
Dinesh Pangtey, CEO, LIC Mutual Fund
"Despite the challenging times pertaining to the pandemic, we believe investors should focus on the long-term goals and complement them with their understanding of where they stand on risk-taking ability and appetite. One should not change the investment philosophy based on the index levels. Sticking to your asset allocations and a disciplined investment process is key to avoid taking undue risks.
"For passive investors, similar to other developed markets, we believe exchange-traded funds could gain traction. However, for active investors, each category of mutual funds aligns itself to investors goals. Hence, we do not believe that any category will be wiped out due to the pandemic.
"With regard to debt investments, investors have become highly risk-averse. As the industry goes ahead with a lot of investor-education initiatives, investors will shortlist debt funds based on the portfolio, their risk appetite and their investment horizon. We feel one year to three years kind of products will become the flavour of the market due to their investment in liquid asset classes and flexibility in duration management."
Navin Agarwal, MD & CEO, Motilal Oswal Mutual Fund
"We have made tweaks to our investment processes that dial up focus on certain aspects of our proprietary QGLP philosophy, brought greater rigour to the review process, further empowered the investment committee to ensure that we are trimming winners, cutting laggards and are more mindful of exclusions.
"Products that are becoming mainstream are:

Multi-cap and LMC (large- and mid-cap) categories have greater flexibility in picking future winners and should take the centre stage from large-cap funds.
Focused funds should gain in salience from the benchmark-hugging products, which are vulnerable to passive-isation.
Rising volatility will increase the value of asset allocation and in turn drive salience of dynamic funds.
Falling fixed-income returns will likely increase the salience of multi-asset funds.
International funds provide diversification benefits and the Indian saver is among the least diversified in global assets - this should likely change."
Prathit Bhobe, CEO & MD, Tata Mutual Fund
"While everyone believes that we are in the business of forecasting, we are not. Jeff Bezos built Amazon premised on things that won't change - quicker delivery, lower prices, better quality and so on. Our business is identical. We wish to steer our fund house premised on things that won't change, such as our clients seeking better products and superior performance, partners seeking greater value, superior delivery mechanisms, and so on. These are timeless, sustainable and controllable rather than trying to wrap our heads around something we can't predict.
"We see a fair bit of innovation happening in the actively managed space. The advent of commodities is already making the space interesting. Algo is another area where there could be many possibilities. Passive funds and ETFs are yet another area which could gather momentum."
Rohit Chawda, COO, Shriram Mutual Fund
"Our priority in the short term is to focus on operating smoothly during this period of the pandemic. This includes the safety of employees, increased usage of technology, adoption of digital modes to reach out to our partners and investors, and most importantly, keeping investors' faith. As expected, the expansion plans have slowed down till the pandemic comes in control. In the long term, we expect this crisis to get over and things not only coming back to normal but also with a new and improved way of doing business and new opportunities.
"So, our long-term plans remain intact. We feel the mutual fund market will grow significantly, considering a low level of penetration of mutual funds, a growing savings pool and a growing population.
"Shriram AMC's primary goal is to design and offer products which assist investors to create wealth. Our bouquet of products, two equity offerings and two hybrid ones, are in line with this objective."