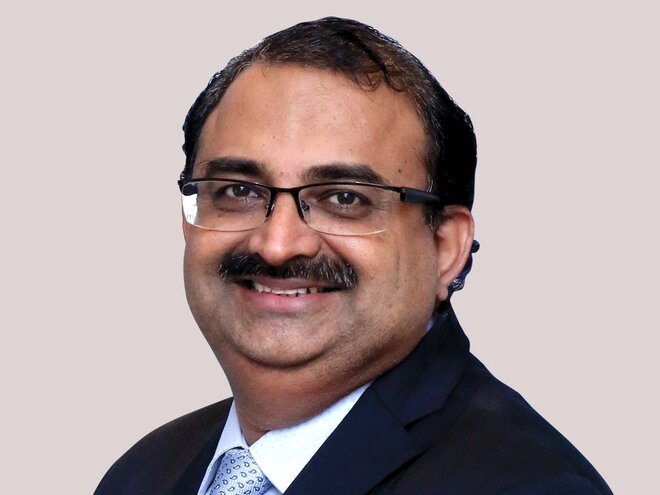 The recent market crash has hit almost all sectors. But the healthcare sector didn't suffer much damage, with the BSE Healthcare Index sporting a year-to-date return of over 12 per cent (as on April 22, 2020). After underperforming the market for a few years, the sector has come back on investors' radar due to the outbreak of COVID-19.
We speak to Sailesh Raj Bhan, Deputy CIO - Equity Investments, Nippon India Mutual Fund, who manages Nippon India Pharma Fund, regarding what's changing in the sector and whether it is poised to regain its lost charisma.
In the market fall of March 2020, the pharma sector was least affected. Why did it happen?
The pharma sector was resilient in the recent fall, given that the sector is one of the least-impacted sectors in the current environment. The earnings of the sector have also been on the mend over the last 12 months, while valuations were inexpensive. The profit share of the India business, which is more lucrative, has also increased in the last five years for most Indian companies. The outlook for healthcare as a sector is positive over the next two to three years when compared to most sectors of the economy, which will undergo slowdown on account of the economic impact of the lockdown.
Many global pharma giants are vying to develop a vaccine for the coronavirus. Where do Indian companies stand? Where is the opportunity for investors?
Global research to develop a vaccine is progressing very fast with a large amount of resources being deployed. India is significantly ahead in pharmaceutical manufacturing, but it lags in core research and development efforts, given the large scale funding of these programmes. Global players have a clear edge in terms of vaccine development, while India can scale its manufacturing processes to meet global demand post the development of the vaccine.
After being a laggard for the last three to four years, when do you see the sector coming to the forefront? What are the key opportunities and threats to the sector's reemergence?
The pharma sector's revenues and profitability are already on an uptrend in many sub-segments like domestic branded business and diagnostics. Post many measures to course-correct on the R&D and other operating costs, improvement in the profitability of US generic business is also visible. The annual 8-10 per cent price declines in US markets have now normalised to a much more muted level of 3-4 per cent, which is manageable through productivity and cost changes. Pharma as sector is firmly set on an earnings-growth trajectory even in these difficult circumstances.
Many investors have difficulty understanding the pharma sector, given the nature of business. Can you help our readers understand the kinds of businesses Indian pharma companies operate in? Which are most lucrative? Which are laggards?
Indian companies primarily are operating in three categories: (1) branded markets like India and emerging markets; (2) generic markets like the US and Europe; and (3) hospitals and diagnostics businesses. MNCs in India operate in branded generic market, while Indian companies operate in large scale in both markets.
The branded markets are like consumer businesses with demand coming from rising per capita income, leading to more awareness and diagnostics, new product introductions to meet disease needs and better compliance. India can be called the chronic disease capital of the world. It has among the largest patient bases in diabetes, cardiac, thyroid, etc. Rising new patient population creates an ever-increasing need for pharmaceuticals, thus fuelling demand. While India has a young demographic, it also has one of the largest senior populations in the world, whose per capita consumption of drugs rises disproportionately with age. Companies in this category generate high returns on equity and strong cash flows, have all consumer business characteristics and are highly lucrative. Most emerging markets have similar characteristics and economics as Indian markets.
As for the generics markets, India is the pharmacy to the world. Among the largest manufacturers of pharmaceuticals, India sells to over 150 countries with a high market share in developed markets. No other industry from India has this type of scale and credibility in developed markets. India's manufacturing scale and regulatory capabilities have enabled this success. This is one of the markets where India leads China by a huge margin in selling formulations to the world. India manufactures nearly 40 per cent of all oral generics and nearly 20 per cent of all injectable generics sold in the USA, which explains the degree of success India has achieved. Given that this market is highly competitive and consolidated, margin pressure has remained high in the last three years. Indian companies have reorganised costs and capital allocation to adjust to this level of profitability. India also has some of the best contract-manufacturing and services companies, with global cost competitiveness, serving the world's largest pharmaceutical companies.
Hospitals are significantly underpenetrated in India on a per-bed basis. This segment suffers from high upfront investment and continuous investment in the upgrade of technology. On the other hand, diagnostics companies have a very high return on capital and are highly profitable. These markets are also underpenetrated and have years of growth ahead.
Two-three years ago, Indian pharma companies had suffered due to USFDA observations. What is the situation now? Have they come of age?
Indian companies have scaled their businesses multifold in the last decade but faced some challenges in continuously upgrading all their processes to rising regulatory scrutiny. Huge investments in people training, equipment and technology have allowed many companies to meet the rising demands of global regulatory agencies. While routine observations will be the norm, critical observations have started to come down in the last couple of years, which reflects the effort Indian companies have made in the recent years.
Healthcare is a varied lot. How do you pick stocks? Which sub-segments look most promising from a growth perspective?
Over the last 15 years, Nippon Pharma Fund's (erstwhile Reliance Pharma Fund) focus has always been on sustainable business models which have some right to win the marketplace. For example, in branded markets, the focus is on sizing the market opportunity and mapping the brand potential with emphasis on chronic therapies. For US markets, it's primarily the investment in pipeline ability to generate sustainable profits either through backward integration or scale.
Indian pharma markets continue to have a high degree of under-penetration, attractively profitable business models and decades of growth ahead, which make them very lucrative. International businesses present a huge opportunity to scale but require much disciplined capital allocation. Diagnostics are high ROE businesses with strong growth prospects, while hospitals are capital-intensive businesses, which require disciplined capital allocation to generate returns.
Nippon Pharma Fund is roughly 85 per cent invested in the pharmaceutical sector with a near equal mix of domestic and export businesses. The rest 15 per cent is invested in hospitals and diagnostics companies.
The Indian listed space has quite a few multinational pharma names, such as Abbott, Pfizer, Sanofi, etc. Do these companies offer some special opportunity to investors?
Some of the largest global companies in pharma have their Indian businesses listed for investors to capitalise upon. Most of these businesses have high profitability and strong long-term growth prospects due their dominant brands and marketing prowess and the ability to launch new products.
What is the situation on the domestic front in terms of price regulation and the move towards generics in place of branded medicines? How will that impact the sector?
Pharma pricing has always been under regulatory pressures, given the need to push accessibility and reduce healthcare burden. The role of generics is increasing in India, with the government's effort in this area. Given the current state of the market, both branded as well as generic drugs have a long journey of growth ahead and it is not likely to be an 'eitheror' market. Rising incomes and better compliance and testing are expanding the market. Indian pharma products are among the cheapest in the world already.