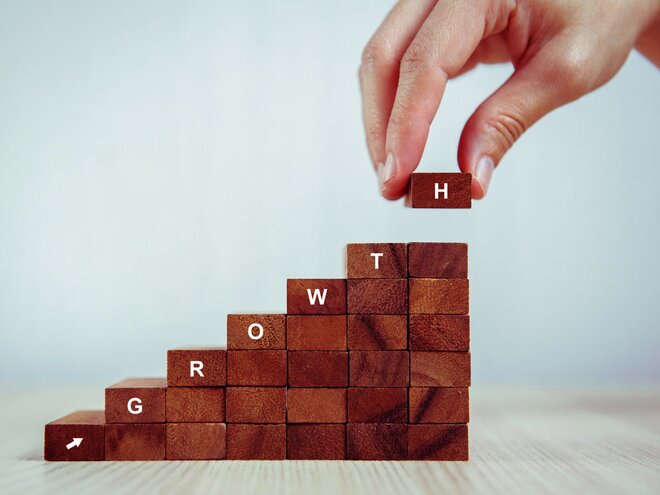 In a fast-growing economy like India, investors are always on the lookout for stocks holding growth potential. Nevertheless, the real trick lies in the ability to identify such stocks at a reasonable price. Precisely, this is where the growth at a reasonable price (GARP) strategy comes into play. Popularised by legendary investor Peter Lynch, the GARP strategy strikes a subtle balance between value and growth investing.
In our previous article, we evaluated large-cap stocks using the GARP principle. In this article, we have analysed three mid-cap stocks through the GARP lens. Notably, these three stocks obtained good growth in the past; however, they are now trading at a reasonable valuation. For this analysis, we have used certain filters that are considered to be appropriate for mid caps. These filters were:
a) Five-year EPS growth > 15%
b) One-year EPS growth > 15%
c) Latest quarter EPS growth (Y-o-Y) > 15%
d) Debt to equity < one
e) Price to earning < 20 times
These three stocks are as follows:
DCM Shriram: The company is involved in a) Chloro Vinyl business (32 per cent of the FY19 revenue): This segment comprises 1) the production of caustic soda, chlorine and associated chemicals at its facilities in Kota (Rajasthan) and Bharuch (Gujarat). 2) the manufacturing of PVC (polyvinyl chloride) resins (mainly used in piping and fittings) and calcium carbide with the captive production of essential inputs.
b) Sugar (30 per cent of the FY19 revenue): It has four plants in UP with a total capacity of 33,000 TCD (tons of cane per day) and 150 KLD (kilolitres per day) distillery.
c) Agri-input business (28 per cent of the revenue): This comprises Shriram Farm Solutions (providing agri inputs like hybrid seeds, pesticides, bulk fertilisers and other value-added inputs), bio-seed (involved in research, production and processing of seeds in India, the Philippines, Vietnam, Indonesia) and fertiliser (dual feed naphtha/LNG-based urea plant).
d) Other businesses (10 per cent of the FY19 revenue) mainly comprise the manufacturing of UPVC windows and door systems under the brand name Fenesta, cement business and PVC compounding.
The ongoing capacity addition of around Rs 1,642 crore at its sugar and chlorovinyl businesses is expected to provide a major fillip to the company's future growth. On the other hand, the government's growing focus on agriculture and infrastructure spending is anticipated to boost its PVC business, as almost 73 per cent of PVC resins are used for producing pipes and fittings. Besides, its sugar business is also likely to benefit from new distillery which is to be commissioned in 2019, as well as from the government's renewed push for biofuel. However, some possible headwinds for the company include environmental concern over the usage of pet coke and easing environmental regulations in China, which is likely to intensify competition.
Over the past five years, the company's earnings per share grew by more than 30 per cent, while its operating margins improved to 14 per cent in March 2018 from 6.5 per cent in March 2013. This also translated into a continued improvement in Return on Equity (ROE), which stood at 24.0 per cent in March 2018. The stock is currently trading at a PE of 10.8x, which is near to its five-year median PE of 10.08x.
Alembic Pharmaceutical: Founded in 1907, it is involved in branded formulations, international generics and APIs. In 2011, the company was demerged from Alembic Ltd. to concentrate on the formulations business and reduce its dependence on the commoditised Active Pharmaceutical Ingredient (API) business. Its formulations business (including the US generics) accounted for 80 per cent of its FY19 revenues, with the domestic:export ratio pegged at 44:56, while the rest came from the API business.
Export formulations, on the other hand, contributed ~45 per cent of the total revenue in FY19, wherein ~70 per cent was contributed by the US generics. In this category, the company is mainly present in oral solids and derma and is all set to enter in oncology injectables and oral solid dosage on the back of start of its two new facilities in Gujarat. On the domestic front, the company's domestic branded portfolio is gradually shifting to the specialty business segment, which accounted for ~63 per cent of domestic branded formulations in FY19 as against 54 per cent in FY14 and made up for 91 per cent of the new launches in the last five years.
Over the years, its R&D spend increased to 12.7 per cent of the total revenue in FY19 from 6.3 per cent in FY19. This translated into a cumulative ANDA filing at 161 at the end of FY19, of which 77 have received approvals.
The company is undertaking both organic and inorganic growth strategies. It acquired US-based Orit Labs to expand its oral liquids and oral solids footprint in the US. Its capex plan of Rs 1,100 crore for manufacturing facilities for oral dosage is expected to add to its revenue in 2019. Recently, the company has entered into a joint venture with two Chinese pharma companies to sell its portfolio of oral solids in the Chinese market.
The Indian government's National Health Protection Scheme and growing expenditure on healthcare are some significant tailwinds for the company. Nevertheless, it needs to navigate through headwinds like increasing price pressure in the global market, growing competition and customer consolidation.
In the last five years, its earnings per share grew by ~20 per cent, with a consistent ROE of more than 20. Recently, its debt to equity has risen to ~0.3x in March 2019 from ~0.05x in March 2017. However, it is expected to narrow down on the back of the company's expansion plans. Its stock currently trades at a PE of 16.9x as compared to a five-year median PE of 25x.
Sun TV: Launched in 1993, this largest TV network in South India commands a total market share of around 50 per cent in Tamil general entertainment. It also owns the largest network of FM radio stations, comprising 55 stations - of them, 49 stations belong to well-known 'Red FM.' Further, it owns an IPL (Indian Premier League) franchisee 'Sunrisers Hyderabad.' In FY18, it derived 90 per cent of its revenues from advertising and subscriptions (direct to home, cable operators and overseas). In a bid to stay relevant in the emerging digital world, Sun TV made a foray into the digital OTT (over the top) space in 2017 with the launch of Sun Nxt.
Its stock price has recently come under pressure, owing to concerns about its declining viewership in key markets. The market share of its Tamil general entertainment channel is also witnessing a constant fall because of stiff competition.
On the other hand, growing investments in producing in-house content for its digital platform, 'Sun Nxt' and marketing and content costs for its newly launched Bengali channel are again expected to dent its margins in the near term.
However, its increasing subscription revenue, fueled by digitisation in Tamil Nadu, is providing cushion to its revenue growth. Further, Sun Nxt, although new, boasts one million subscribers. Despite all these, its politically exposed promoter and its huge concentration in South India remain major concerns.
Sun's stock price has corrected by more than 30 per cent over the last one year, even though the company has witnessed revenue and profitability growth of around 28 and 35 per cent, respectively. Its current and five-year average ROE also stands at more than 25 per cent. At present, its stock price is trading at a PE of 16, which is significantly below its five-year median PE of 20.5.
Disclosure: The intent of the article is not to recommend any specific stocks. If you wish to invest in any of the above-mentioned securities, please do thorough research.