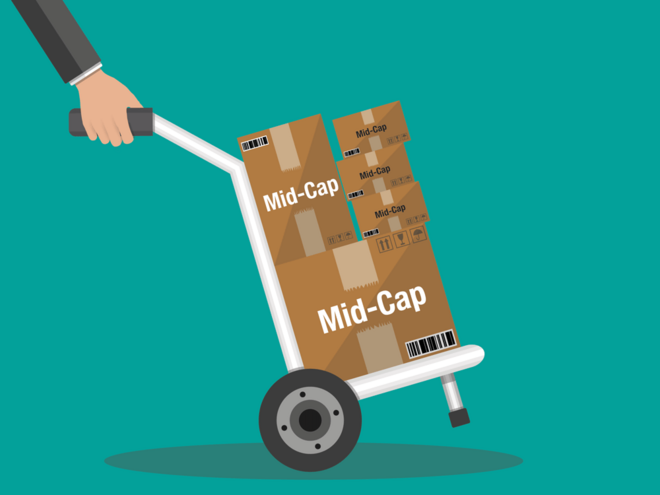 The S&P BSE MidCap index significantly underperformed the sensex in the calendar year 2018. It lost 13 per cent, while the sensex gained 6 per cent during the said period.
Even the final quarter of the financial year 208-19 hardly saw any difference, with a 6 per cent gain in Sensex as against a negligible gain of the mid-cap index. Nevertheless, the silver lining came from some mid caps, which saw buying backed by their cheaper valuations and better risk-reward ratios.
Over the past three months, mutual funds have picked up higher stakes in the following mid caps:
Emami Ltd
Incorporated in 1974, this FMCG company has a niche focus in segments like antiseptic cream, talcum powder, cooling oil, pain balm and pain reliever. Its power brands, namely Navratna oil, Boroplus cream, Zandu, etc contribute around 75 per cent to its total revenue. The company's network covers around 60 countries, with exports contributing 10 per cent to the total revenue. It has 7,4000 retail outlets and access to around 4 million outlets through its more than 3,000 distributors.
In the recent past, Emami has been steadily reducing its dependence on the wholesale channel towards reaching out to customers directly through its outlets. It has made notable acquisitions like the "Kesh King" brand from SBS Biotech and Creme 21.
However, its stock came under pressure recently, owing to its weak operating performance and high pledge of promoter stake. At the group level, debt is high because of its investments in cement, power and healthcare. Its promoters, on the other hand, are trying to monetise assets and have even divested 10% of their stake for Rs 1600 crore in Emami Ltd.
In terms of financials, its TTM earnings have been reducing 4 per cent YOY in the last 5 years , along with a reduction in ROE. Debt/Equity has reduced from 0.4 to 0.16 from FY16 to FY18. The stock is currently trading at 58 times, which is in line with its peers and is slightly under its 5-year median PE.
Jubilant Foodworks Ltd.
India is Domino's Pizza's second largest market in the world. Jubilant Foodworks operates Domino's Pizza's franchisees in India, with a total of 1,200 quick service restaurants across 271 cities as on December 31, 2018. In addition, it also operates 32 Dunkin' Donuts cafes in 10 cities.
Over the last few years, the company has strengthened its position in the value for money segment (no significant price increase in the last three years), claimed to have improved its products and gave due importance to the contribution of online orders to its delivery segment. At present, online ordering accounts for 73 per cent of its delivery orders. Its same-store sales also witnessed substantial growth of 20 per cent in the 9 months ended 2019 as compared with 10 per cent in the same period a year ago. Dunkin' Donuts was able to break even in the latest quarter and this segment was dragging margins previously. Opportunity to scale up this business is vast, as western fast food chains still have the lowest share in the combined eating-out space in India, where the unorganised sector dominates.
However, the company is facing various challenges, including high labour costs, especially delivery staff , owing to fierce competition from e-commerce players. Adding to this, higher logistics costs led by an increase in fuel prices and low operating leverage because of moderating QoQ growth in same-store sales, to 14.6 per cent in Q3 FY18 from 17.8% in Q3 FY18, are some other concerns.
In terms of its financials, its TTM earnings have risen 18 per cent on a 5- year CAGR. Its ROE currently is at 22 per cent and the company is debt-free. The stock is now trading at 55 times, which is not only lower than its 5-year median PE of 74 times but is also substantially lower than its one listed peer, Westlife Development.
Cummins India Ltd.
Cummins India is a 51 per cent subsidiary of Cummins Inc. USA. It has four main business divisions, comprising Engine, Power systems, Components and Distribution. Its products include diesel and natural gas engines in the range of 60 HP used for low- to heavy-duty highway commercial vehicles and high HP engines (up to 4500 HP) used for marine, defence, etc.
Cummins India derives its competitive edge from Cummins Inc., which is the world's largest designer and manufacturer of diesel engines above 200 horsepower (HP) and known for low warranty costs, technological leadership and comprehensive product range. Cummins Inc. shares its technology with Cummins India, thereby enabling it to launch products faster in line with India's stringent emission norms, as Cummins Inc. has already implemented these norms in its manufacturing process to cater to its customers in Europe and the US.
However, it is facing tough competition in its lower HP range of products. Exports contributed around 30 per cent to its revenue in Q3 FY19. Hence, any slowdown in the global market may take a toll on the company. In fact, in the last quarter, the company guided for its exports to dip, owing to weakness in the Middle Eastern and African markets.
In terms of its financials, the company's short-term borrowings have increased from Rs 3 crore in FY16 to Rs 256 crore in FY18; however, it is still net debt-free (Cash and Bank less total debt). TTM earnings have not registered any meaningful growth over the last 5 years and ROE has kept declining year-on-year from 18 per cent in FY16 to 15 per cent in FY18. Its stock is currently trading at a PE of 27 times and is less than its 5-year median PE of 31 times.
Disclosure: The intent of the article is not to recommend any specific stocks. If you wish to invest in any of the above-mentioned securities, please do thorough research.