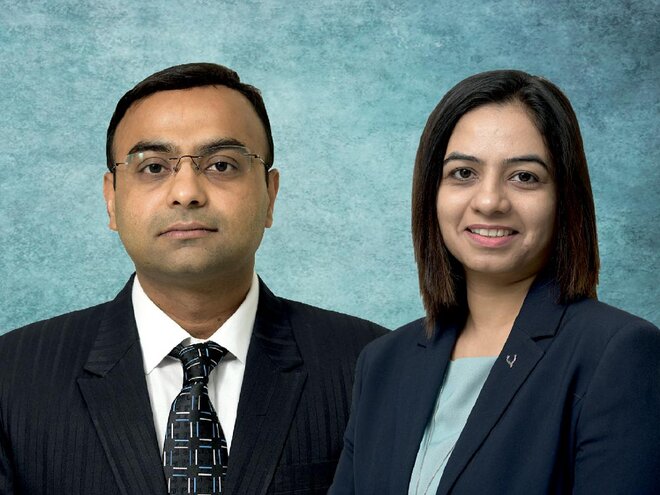 The IT sector has proved to be the best-performing sector over the last one year, with the S&P BSE IT index registering 24.48 per cent returns (as on March 20, 2019). What's driving the sector, and is the momentum going to continue? What are the key challenges for the sector? Sailesh Jain and Meeta Shetty, who manage Tata Digital India Fund, answer our queries.
IT has been the best-performing sector over the last one year. What is responsible for this?
The Nifty IT Index has given over 20 per cent returns over the last one year. This was due to multiple factors. The first and most important one was improved visibility on growth. Around 30 per cent of revenues for the IT sector in India come from the BFSI segment, which had not been growing for about two years before FY19. FY19 saw a turnaround and many companies, especially the large players, started seeing deal wins uptick. A couple of the largest multi-billion deals have been signed in this fiscal in the insurance space.
Secondly, deal wins started picking up not only in BFSI, but across verticals. The enterprise digital transformation across verticals has been key for deal wins as all clients are transforming and investing in technology to compete with core digital players. This led to a higher visibility in revenues, which paved the way for double-digit growth in a few large companies.
From a market perspective, relatively lower valuations, institutional under-ownership, currency tailwinds and companies' action of returning cash to shareholders through buybacks, special dividends, etc., also aided returns.
What is your stock-selection process?
We aim to invest in fundamentally strong businesses and companies which have a visible potential to grow. The approach is to pick stocks with growth visibility and which are trading at a reasonable valuation. The stock-selection process includes (1) qualitative check of the company as well as the management; (2) meeting the management of the company to understand the strategic and business outlook; (3) understanding technological capabilities through evaluating case studies and visiting the company's centre of excellence; (4) interacting with industry experts to understand competitive advantage; (5) analysing the fundamentals of top clients (if shared); and (6) financial analysis.
When do you exit a stock?
The decision to exit a stock is driven by multiple reasons like risk-reward turning unfavourable; some change in the management strategies, which may impact growth/profitability over the longer time frame; venturing into unrelated businesses; industry outlook turning negative; and an unanticipated deterioration of key fundamentals. It may also be driven due to relatively better investment ideas.
How do mid-cap IT companies stand in comparison with their large-cap peers?
If you look at large-cap IT companies, they have a decent breadth of verticals, which give them stability; the client concentration is relatively less; and there is a stable management with a consistent track record of performance. Healthy cash flows and balance sheets also allow them to have better payout ratios.
Many mid caps, on the other hand, have created a niche in certain sub-verticals, which gives them an edge over the competition. The lower base also gives opportunities to play some high growth stocks. In the past few years, we have also seen opportunities led by key management personnel changes leading to faster growth.
As far as valuations are concerned, post the correction seen in the IT space after the highs made in September 2018, the mid caps are trading at lower valuations compared to large caps. This is ideally how it should be, given more revenue stability in large caps.
What are the key differentiators between two IT companies in similar businesses?
Every industry goes through a downturn over the years. The companies which stand out would be the ones with a consistent track record for relatively better growth and management stability, making them the key differentiators. Relatively better diversification of verticals would immunise a company from sectoral headwinds. A lower concentration of top clients is also a factor.
Do you think valuations in the IT sector are right or is there scope for further valuation expansion? If yes, what will drive it?
The valuations for any sector expand, led by better and continuing visibility for growth with steady or expanding margins. For the IT sector, we have already seen the improved visibility for growth. What needs to be seen is sustainability of this double-digit growth over the next fiscal without much of an impact on margins.
Secondly, as Indian IT companies build or acquire more digital-led capabilities, that will enhance not only the possibility of participating in digital-led transformation deals, but will also help in building strategic sourcing relationships over the medium to long term.
Thirdly, as the contribution of platform-based revenues, especially for large caps, starts increasing, it will add to the visibility of revenues and drive valuations. As far as valuations are concerned, the IT sector is currently trading at about a 25 per cent premium to its 10-year average forward P/E. Hence, the scope of further expansion should be gradual from here. Regular buybacks should support valuations.
Much of the business for Indian IT companies comes from developed markets. With increasing rhetoric against outsourcing, how do you see the order inflows for the sector?
The rhetoric on insourcing has always been around, but we have still seen the Indian IT companies' contribution to the overall global outsourcing market remain steady, at about 55 per cent. Given the talent pool in India, the capability to provide mass volume and efficiency-led gains, which these service providers are able to get to the table, should ensure steady growth in the sector.
How are Artificial Intelligence and Machine Learning changing the technology sector?
Artificial Intelligence and Machine Learning have become the keywords which define the future and everything that it holds. Not only has artificial intelligence taken over traditional methods of computing, it has also changed the way industries perform.
When AI was introduced, there was a lot of scepticism; but today it has become an essential part of all verticals. It is not just an improved technology but an enabler of the business for clients.
As far as the technology sector is concerned, there is more investment in RPA-led (robotic process automation) cost competitiveness than in pure AI, though we are seeing multiple-use cases being evaluated, but they are at POC (proof of concept) stages.
Going ahead, there is immense opportunity for the sector to evolve as artificial intelligence and machine learning are yet to fully optimise.
Are you comfortable with inorganic growth in the sector?
Companies which build capabilities organically are mostly preferred over ones that add capabilities inorganically, given the challenges of integration, cultural differences of the teams and understanding of the newer capabilities. However, we have seen a few global majors going on an acquisition spree to add newer capabilities, which have enabled a faster approach to the market. Hence, we believe, bolt-on acquisitions to fill capability gaps will continue and should be viewed positively. But large acquisitions in the newer areas with a limited track record would make us slightly cautious.
Which do you prefer: companies that are services-oriented or the ones that have product-based offerings?
Service-based companies provide stability in revenue growth. The vertical spread also cushions against sector-specific slowdowns. Embracing digital-led changes is the need of the hour, which has put these services companies in a sweet spot. Large service providers have also started offering product-led platforms, which are embedded in their service offerings.
The product-based companies that we currently have in the listed space are more domain-led and are prone to sector-led headwinds. Moreover, the investment requirements are heavy and the decision cycles are long. Hence, one needs to have a cautiously optimistic approach while investing in these.
Going forward, what will make Indian IT companies competitive in the global context?
Adding more capabilities in newer areas like block chain, digital transformation and cybersecurity are critical for Indian companies to remain competitive. We see Indian companies already building capabilities around these, but we see enough opportunities, given the small size of block chain ($5bn); $200bn size of cloud vs global services; and software market size of $1.3 trillion.
What is the outlook for the IT sector in the next one year?
The outlook shared by company managements as well as industry experts highlights continued momentum in deal wins; but the concerns on slowdown in the US and supply-side challenges, leading to cost escalations, can lead to near-term volatility. However, digital transformation is a significant opportunity and should continue to drive growth over the medium to long term.