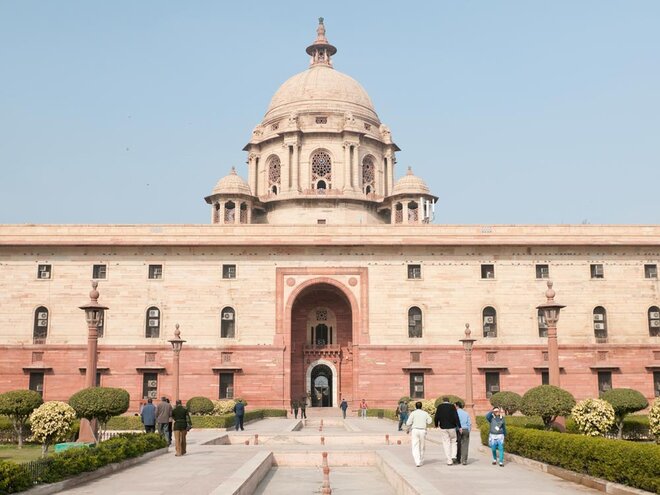 Will the stock market tank if there's a change of government after the 2019 general elections? Many investors today are scared about the outcome of Lok Sabha election next year and how it will impact their portfolios. There is a lot of noise and confusion. EA Sundaram, CIO - Equities, DHFL Pramerica MF has provided a clue to the answer to this hair-splitting question. His analysis of the stock market behaviour in the last 39 years during 13 different government tenures show when you are invested for the length of a normal term of a government, you will not lose money. It's that simple. Even when elections lead to short-lived government formations, and we have seen some that fell in a matter of days and months, stock markets did not lead to losses. Here's a detailed report.

Known event, unknown fear
Politics has always guided economic policies. Markets like a political system that encourages private enterprises, a proper regulator system is followed and where long-term economic growth and corporate profitability have the potential to rise. But, it is often feared that elections might derail the good work done by an old government. Will a change of guard lead to a change in fortunes? Sundaram's analysis shows that all such fears are virtually unfounded. Here are 4 key findings.
Don't go by tags: Socialist, reformer, business-friendly, etc. are tags used by the media to describe the political ideologies or stances. But, don't let them fool you. Did you know that best stock-market performance came during V P Singh's 1989-1990 regime? The Sensex shot up by 73% in 11 months during the regime of a socialist PM who is knowing for accepting the recommendations of Mandal Commission.
Minority is not bad for market: A majority or a minority government may impact the political fortunes of the leaders or impact the tenure of the government, but they do not affect market returns in a big way. For instance, Rajiv Gandhi's 1984-89 government got a majority in the '84 election (414 of 533 seats). But its over 20% returns are matched by the 1991-96 government that was heavily dependent on coalition partners. After the 1991 election, P V Narasimha Rao led a minority Congress government with coalition partners led by the Left parties, who are often considered anti-market forces.
Reform the norm: It is commonly believed that certain political ideologies are reform-friendly, while others are not. This may be an urban legend only. Sundaram says that India's reform programme and economic direction move in the same direction, notwithstanding who is in charge. During the Janata Dal rule of 1989-90, Sebi was set up (Capital Controller of Issues was dismantled), restrictions on capital goods imports were eased and serious thought was given on trade policy reforms. Rao's 1991-96 government gave economic reforms a new meaning, with delicensing of industries, allowed 51% FDI under automatic route, NSE was set up, demat of shares happened, direct taxes and customs duties were slashed. Vajpayee's 1998-2004 dispensation initiated the privatization drive for Maruti, VSNL, CERC Act was brought in for power sector, Golden Quadrilateral project started and IRDA was set up, etc.
Continuity in thought: Our country's political opponents may be die-hard adversaries, but their thinking on economic policies are not very different. If disinvestment was started by Congress, NDA continued it. If original insurance sector reforms were started by the NDA regime of Vajpayee, it was continued by Manmohan Singh's UPA and further carried forward by the second NDA dispensation led by Narendra Modi. Aadhaar was introduced in UPA time and it was enhanced further by NDA with the Jan Dhan-Aadhaar-Mobile (JAM) concept.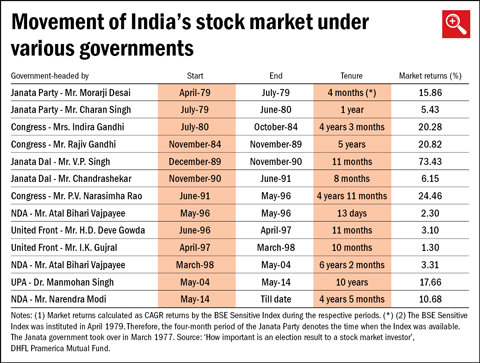 In short, there isn't much correlation between political stance and market returns. Investors should not invest based on anticipated political outcomes. It is actually important to see the big picture, rather than worry about micros.
As we have seen over the years, successive governments despite being led by so-called different political ideologies have stuck to business continuity and even with policies. Policy tweaks have happened, but the direction of reforms has not been diametrically opposite.
Hence, it is important for investors to invest based on fundamentals. There will always be a foreign currency crisis, some state or national election around the corner, the risk of war between some nations, etc. The political outcome of our elections have never led to markets generating negative returns. Yes, it has not happened even once.