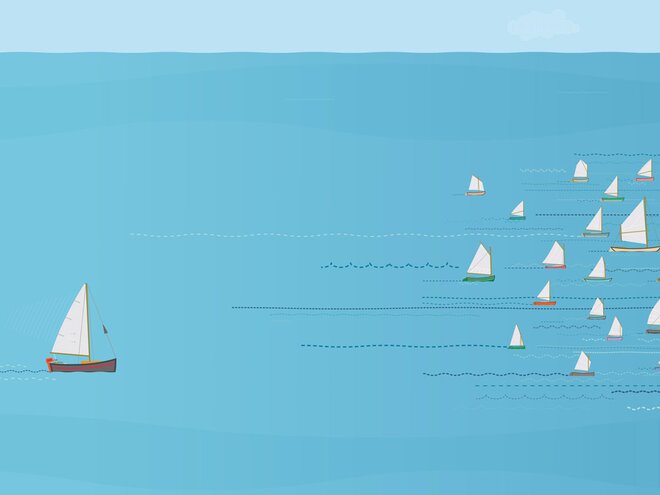 One of the major reasons why 'active investing' is so popular in India is that fund managers, upon choosing stocks, actually manage to beat the market, i.e., generates more returns than the fund's underlying index. That excess return is why investors are ready to pay a higher cost of fund management. However, 2018 may go down as an exception. Among the top 30 actively managed large-cap funds, not one has given more return than the Sensex! So, don't be surprised if your chosen actively managed large-cap fund, after years of shining performance, comes a cropper this year. Read on.
Tough task
As on September 4, the Sensex has generated 12 per cent return. If this 12 per cent gain is taken as a benchmark for the top 30 large-cap equity, every active fund has failed to even replicate the passive index's performance.
The closest an actively managed large-cap fund has come are Axis Bluechip Fund (with 11.43 per cent return) and 4-star rated Edelweiss Large Cap Fund (with its 10.36 per cent gain). Also, these are the only two large-cap funds that have logged double-digit returns in 2018 year-to-date.
Even with thousands of crores of assets, large and popular funds like Aditya Birla Sun Life Frontline Equity Fund (1.85 per cent), SBI Bluechip Fund (1.36 per cent), ICICI Prudential Bluechip Fund (4.21 per cent), HDFC Top 100 Fund (3.41 per cent), Reliance Large Cap Fund (3.36 per cent) and Franklin India Bluechip Fund (3 per cent) have failed to even deliver half of the return Sensex has.
So far, in 2018 (i.e., up to Sep 4), the poorest performing actively managed large-cap funds include IDBI India Top 100 Equity Fund (-0.33 per cent), Taurus Largecap Equity Fund (0.14 per cent), BNP Paribas Large Cap Fund (0.64 per cent), Essel Large Cap Equity Fund (0.83 per cent), and Aditya Birla Sun Life Focused Equity Fund (0.9 per cent). None of these funds even crossed the 1 per cent mark.
Do note that the Sensex is not the stated benchmark for these funds. We have used Sensex as a standard reference.
This time it's different
Historically, Sensex hasn't been that hard to beat. For instance, in 2015 calendar year, 27 of the 30 actively managed largecap funds beat Sensex.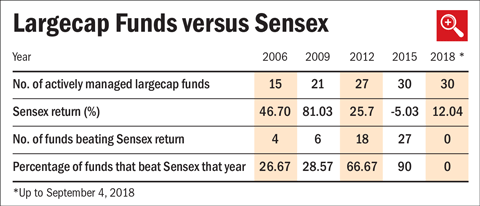 In 2014, as much as 93 per cent of prevailing large-cap funds outperformed the Sensex. Even in years where outperformance percentage has been low for these funds, about 20% of largecap schemes had still outdone the Sensex, like we saw in 2013 or 2009.
In years when the Sensex gave negative returns like in 2008, and 2011, the share of funds outperforming Sensex was above 70 per cent.
However, this time it is truly different. A narrow rally in the stock market has meant that outperformance versus the passive index is extremely tough. Even though the Indian equity markets are at an all-time high, it is important to note that the current rally is being fuelled by only a select few stocks.
In fact, fund managers reckon that since 2015 this is the one of the most concentrated performance that the market has seen. In such a market, stock allocation is one of the most important factors.
Since the Sensex's gain has been driven by 5 to 7 names, if a fund didn't hold them it would have trailed. Many active fund managers still believe that process-driven active fund, operated at low costs, can add value in the large cap space.