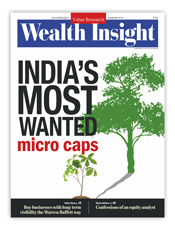 The companies may be tiny, but the profits from investing in microcaps can be huge if we get it right!
The cover story of the September 2018 issue of Wealth Insight is 'India's Most Wanted Micro-Caps', our research and listing of microcaps that can be a great booster for your equity portfolio.
Of course, like every issue of Wealth Insight, we have columns, interviews, news to keep you updated, and a set of exclusive Stock Screens to help you find and track the investments that will generate the best returns!
Click here to buy a digital subscription (downloadable PDF + online reader) and start reading instantly. You can also pay extra and receive a printed version.