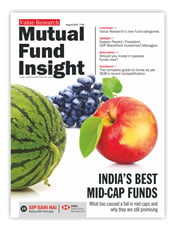 Investors who can tolerate some ups and downs have found that a long-running SIP in a good mid-cap fund is often the best way to build wealth from mutual fund investments.
India's Best Mid-Cap Funds, the cover story of the July issue of Mutual Fund Insight, tells you exactly how to do that.
Besides our guide of this entire class of mutual funds, get our analysts' selection of recommended mid-cap funds.
Of course, like every issue of Mutual Fund Insight, we have columns, interviews, news, data on all mutual funds, and your favourite, real-life investment success stories of Mutual Fund Insight readers.
The issue is now on news stands. You can also subscribe to the printed version, or buy a digital subscription (PDF + online reader) instantly.