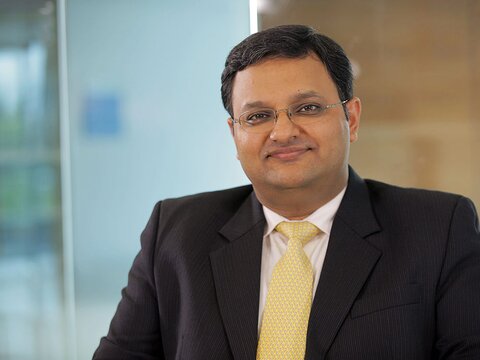 DSP BlackRock's Rohit Singhania has been ahead of the curve in spotting trends. Most recently, he spotted commodity stocks. Singhania manages over Rs 11,000 crore across four funds. In an interview with Kumar Shankar Roy, he discusses how to find the sustainability of earnings growth, how a high ROE stock can be inferior to a low ROE one, and what makes a management's track record questionable. He also shares his outlook on IT, infrastructure, sugar and energy stocks.
From an analyst to a fund manager, how did the evolution happen?
My career started as a sell-side institutional equity-research analyst in 2000 after completing my postgraduation. I actively covered sectors like metals, cement, and sugar during my sell-side stint.
In September 2005, I joined DSP BlackRock Mutual Fund (then DSP Merrill Mutual Fund) as an investment analyst in the Portfolio Management Services division to assist an advisory mandate (for a private life-insurance firm) and manage equity portfolios of high-net-worth individuals. This was a stepping stone for me towards fund management.
Initially, the plan was to shift from being a pure sector specialist to understanding and developing knowledge of other sectors and broader market trends. Here I learned how to choose between, say, a Hindalco and Infosys rather than a Hindalco and a Vedanta.
In June 2010, I was reassigned to the equity-investment team of our mutual fund and started to manage our DSP BlackRock India T.I.G.E.R (The Infrastructure Growth and Economic Reforms) Fund. So, June 2010 was when I actually first got the chance to independently manage a fund as its fund manager.
In July 2012, I was asked to additionally manage DSP BlackRock Natural Resource and New Energy Fund. Till June 2015, I had been managing these two funds and simultaneously tracking the metals, cement, auto and infrastructure sectors for our team.
From June 2015 onwards, I started managing our DSP BlackRock Equity Opportunities Fund and the DSP BlackRock Tax Saver Fund.
All in all, my journey from a sell-side sector analyst to a buy-side investment analyst to a fund manager of one fund to now managing multiple funds has been a very enriching one.
I sincerely believe that the fantastic people I got to work with across my jobs and the support I got from colleagues and seniors have been a key driver for my professional development.

How do you look at the sustainability of earnings growth? Is it quantifiable?
Before earnings growth or sustainability of it, we think the understanding of the business is the key. The various business cycles and moat (i.e. competitive advantages) of a particular company need to be understood. Once one has a sense of these, then estimating earnings growth becomes easier and the confidence on estimates is higher.
Sustainability would depend on product life cycle, product expansion, market expansion, market trends and competition. Data like market share, penetration levels, and product line-up help in quantifying sustainability to some extent. Certain qualitative aspects such as management quality, brand value and other intangibles, too, can have an impact on earnings over the longer term.
When you study trends like ROE, ROCE, cash flows etc., how do you even out the extremes?
ROCE, ROE, cash flows, etc., are good metrics to analyse and compare companies. However, one cannot have a standard benchmark for these ratios across all types of businesses. Each business has its own way of functioning and one needs to appreciate that.
For example, it is not necessarily correct to assume that a high-ROE company will always perform better than a low ROE company. It is prudent to go back and try to analyse the reason for a high or low ROE today, what happened to the business cycle, expansions done and utilisation levels.
The key is to identify if a low ROE today can trend higher over the next one-two years because of a change in business environment. On the flip side, for a high-ROE company, one has to check if the levers are still in place for it to sustain at that level.
Also, we avoid investing based on one or two metrics alone and consider a holistic picture.
In terms of the analysis of management quality, what constitutes a questionable track record?
Frequent change in strategy, a history of continued capex with no corresponding growth in profits in future, fund raising without a deserving business plan but taking advantage of market levels, unexplained inter-corporate fund flows, capital misallocation, etc., are a few potential red flags.
How are you approaching sectors or stocks that are out of favour currently?
Markets are very volatile and preferences tend to change rather quickly - both on the way up and the way down. Hence, we try not to look at market trends/preferences in isolation and be unduly influenced by them. The key is to spend quality time in one's own large underweight/not owned index stocks and see if they warrant a relook. The way one keeps analysing and updating one's holdings and overweight rationales, it also helps to know one's risk in not owning something.
The Indian rupee's movement has been in news. How have you positioned yourself in the tech sector, which is a major beneficiary of a fall in the rupee?
We missed the rally in December 2017 and January 2018. The reason for our underweight stance on IT is that core long-term business growth or management guidance has not been great. However, what has helped IT stocks is expectation of a near-term acceleration in revenue growth rates. Also, a combination of an improving outlook, rupee depreciation and under-ownership by institutional investors has led to the sharp re-rating in these stocks.
Even as we have added to the sector from a portfolio-risk-management perspective, we are not sure if the underlying business growth can accelerate significantly to justify such a sharp re-rating - this is why we are still underweight on the sector.

Infra stocks have done well for some time now. What is your outlook?
We continue to remain positive on the infra space. Our focus has been to stick to companies which have a combination of a strong order book with cash flows and balance-sheet ratios. We own companies into road, power transmission and distribution, and building construction.
As an analyst, you used to focus on the sugar sector, among other things. That space has struggled for the last one year. If consumption is doing well, why are sugar companies going through a tough phase?
Sugar is a kind of regulated business in India. One can always get it wrong if you project high operational earnings, excluding inventory gains. In addition, production growth has been volatile. All these factors make it difficult to take a structural call on the business.

In the energy space, especially oil and metal sectors, there has been some weakness in last three months. How do you view the situation?
Concerns of a rising crude, potential global trade wars, sanctions on some Middle Eastern countries, etc., have had negative impact on these sectors. However, fundamentally, nothing has changed in the last three months for these sectors. We are confident of earnings growth and our original investment rationale. We have stayed put with our holdings.
Can you share with us the secret of your biggest stock successes?
We made good returns in commodity stocks by being early into the trade. The view behind buying them was that globally, cost curves would put a floor on end prices. Indian companies were still making profits at low prices and had done huge capex in the last three-four years. Valuations were much below book.
We entered these trades in the first quarter of calendar year 2016. The commodity sector is as such a volatile one, and news flows can cause stock-price volatility. But having taken a strong fundamental view and getting our entry valuation correct, we were able to generate returns.
Another success was in the financial-services space in the first quarter of calendar year 2017. A company we bought into was the market leader in the asset-reconstruction business and had good-size wealth-management and insurance businesses, which were at bottom of the cycle. All these, we felt, could provide strong growth outlook and profitability.