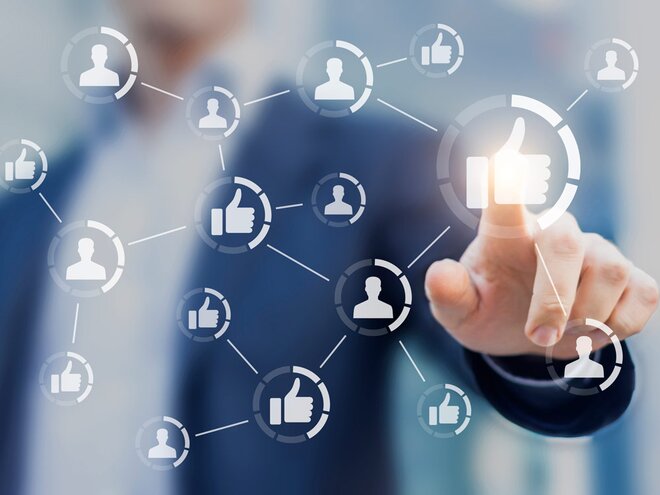 The strong show by domestic equity markets has brought droves of retail investors to the mutual fund mart. Many retail investors have started taking baby steps, with monthly systematic investment plans. As a result, relatively new retail equity assets have shot to 10-year highs, shows AMFI data. By relatively new retail equity assets, we mean such assets aged between 0-12 months. With such investors having not experienced any sustained market correction, it is important for the fund industry that these new investors stay put for a long time.
A rising tide lifts all boats
Ever since 2014, domestic equities have been on a roll. Out of the past five years the markets have clocked double digits growth in four of these. As a result demand for mutual funds have gone up. During this time a record number of folios have been opened with the total number crossing 7 crore mark.
Many retail investors, who were so far into FDs and real estate started investing in mutual funds. With markets steadily rising, these investments were very rewarding. The sharp rise in new retail equity assets stands testament to this fact. The growth in assets is not limited to top cities but is spread out across geographies.
Retail equity assets of less than one year accounts for 17.5 per cent of the whole pie at the end March 2013. In the next 12 months, this share grew to 20.3 per cent. By March 2015, over 28 per cent of retail equity assets were less than 12 months old, indicating the ever growing interest among newbies for MFs. After a small dip in the next year when markets were weak, 0-12 months aged retail equity assets crossed 29 per cent in March 2017 before jumping to above 38 per cent in March 2018. This is the highest level for relatively new equity assets ever since AMFI started publishing the data.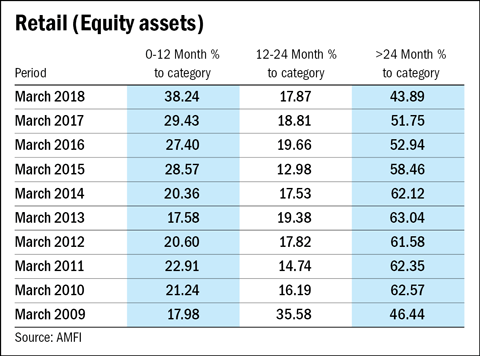 Maturity comes with corrections
The almost one way street in equities has some unpleasant fall outs.
Firstly, new investors are lulled into thinking that markets only go up. While small corrections have happened on the way, liquidity and sentiment have helped steady the ship over the past 3 to 4 years. Despite bouts of volatility, Nifty 50 has gone up by 9.4 per cent annually for past three years. Most equity fund categories have given higher than Nifty 50 gains. A deep and long correction can, therefore, test the true mettle of new investors.
Secondly, sticking to investments during mostly good times creates a virtuous cycle. Encouraged by better returns investors start investing more. New investments push up asset prices and thereby attract another new set of investors. Pure equity schemes garnered whopping net inflows of Rs 1.56 lakh crore in FY18, more than twice of the amount in FY17. Markets went up by over 16 per cent in FY17 and then gained another 12 per cent in FY18. A flattish market, not even a declining one, can be a challenge for such investors. When the value of fresh investments does not rise, it can have a dampening effect on investor psyche and behaviour.
Thirdly, investors with extremely positive return experiences tend to jump ship at the first sign of trouble. This is because their minds are hard wired to only positive returns. A negative return scenario is unknown to them. But research and studies show that real wealth creation happens in equities when investors stay put for long periods of time, which includes the boom and also small periods of bust.
Let us hope that new Indian retail investors putting their faith and money in equity mutual funds will come of age soon.