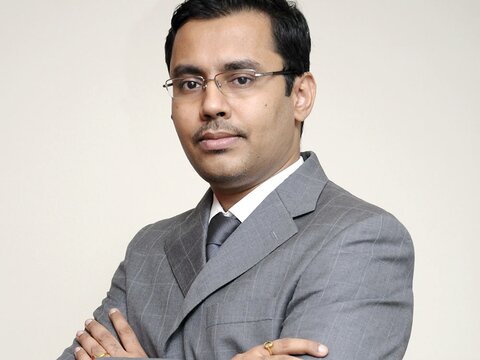 Managing one five-star rated equity fund can be a happenstance but managing two is definitely not a coincidence. It takes a lot of discipline to not get carried away by your own success and the vision of a hawk to stay ahead of the market. Meet Gautam Sinha Roy, the easy-to-talk-to fund manager of Motilal Oswal Long Term Equity Fund and Motilal Oswal Multicap 35 Fund. An alumnus of IIM Calcutta and an honours degree holder in chemical engineering, Sinha Roy discusses his portfolio construct with Kumar Shankar Roy. He also talks about value migration, taking cash calls, why tracing macros doesn't matter too much and the need to be realistic about tech disruptions affecting business models.
What is the basis of your portfolios?
The portfolio is constructed to deliver superior yet sustainable earnings growth. This growth has to come from quality companies and long-term compounding. We find select sectors of the economy to be in such a high growth mode. These include retail oriented private banks and private insurance companies. Both household borrowings and the flow of household savings into financial instruments are in a high growth mode. Similarly, select auto stocks that are benefiting from superior products at the right price, which is helping them grow faster than the competition. Domestic oriented pharma is another sector where strong growth is sustainable.
Is it really possible to identify long-term compounders many years ahead?
Ten years ago not many would have thought Symphony or Eicher Motors were long-term compounders. The simple mantra to identify long-term compounders is to look for 'moat with growth'. Hence, it is important to ascertain whether the moat is strong enough and sustainable enough. Then and only then, we will have a high probability of getting sustainable high growth in a company.
Symphony and Eicher both came up with conventional products, which addressed a latent demand in the economy. With rising per capita income and shifting patterns of consumer spending, air coolers and premium bikes exploded as categories and these brands were present as entrenched market leaders in these categories. The contributing factors to such compounding stories is a strong product with a decent brand pull and presence in a category set to explode, riding the tails of an economic trend.
How do you define quality, which is the first filter in the QGLP framework? What are the indications of a quality management?
Quality is proven by a management's behaviour over a period of time - how it builds and protects the brand, what capital allocation decisions it takes, how it builds sustainable cost advantages and also how it behaves when things go wrong. Effectively, for us, as investors, higher quality should reflect in a higher RoCE across the cycle compared to the cost of capital as well as competing businesses.
In the QGLP framework, price comes last. Shouldn't it come first? Isn't every stock a buy at some price?
The price of a stock has to be 'unit-ised' to make any sense. The most common way we unit-ise price is through the PE ratio. Market-cap to sales, enterprise value to EBITDA and price to book value are other methods. There are two factors which determine how much money you make in a stock: PE ratio and earnings growth. For long-term investors like us, we definitely want to (1) buy high and sustain earnings growth and (2) buy only when the probability of PE ratio decompression is low.
Q, G, L and P are four pillars of an overarching investment framework. For the framework to be stable and deliver value over the long term, all four pillars have to be solid. The right way to figure what comes first is to ask what is non negotiable in your investment framework. If we say that we will not buy stocks below a certain quality threshold, then whatever be the price, we will stay away. Similarly, growth is also a very important factor for us in the overall scheme of things.
Please tell us about the common traits you have seen across companies that generate superior returns on capital employed across cycles?
Certain businesses (like established FMCG companies) naturally lend themselves to higher RoCEs. Within this set of consumer oriented businesses, the ones which truly do better are those which have the pricing power driven by brand pull and a strong control of the distribution network. Then there are companies which create certain cost advantages, either on the capital expenditure or operating expense front to create an edge over competition, thus creating sustainably higher RoCE business models. For established companies, a study of the operating history of the company, especially its capital allocation decisions and handling of business cycles, help us understand its future potential.
Will the concept of moats fade as tech disruptions upset traditional business models?
Lately popular media has been highlighting the increased pace of tech disruptions, which is true, too. But things are not always as rosy or as bad as the popular imagination conceives them to be. Tech disruptions have been the story of human evolution and growth. So, of course, some business models will crumble and disappear, like Kodak, and others will shine through, like Microsoft, using tech as an enabler to improve their business strength.
Decades from now they will continue to be great well run businesses which will make tonnes of money for the astute investor. I personally feel that the impact of tech enabled 'disruption' on supply chains in India will be a fantastic thing for companies with strong products which had suffered from an expensive distribution reach. Financial savings and investment products, educational services, etc., are great examples of such businesses.
How do you identify value migration?
Value migration is an omnipresent economic phenomenon and an omnipotent wealth creator. We just need to be aware of the build-up of contributing factors which lead to such value-migration themes playing out over the long horizon. Premiumisation (shift from rail to air travel) and cost and skill arbitrage (owing to demographics) in industries such as IT and pharma are classic examples of such value migration.
Do you believe in taking large cash calls in equity funds?
No. When we raise money in equity funds, we do so with the clear understanding that the investor wants to invest in equities on the current market prices. We do not second guess that choice of the investor and hence refrain from taking large cash calls in actively managed equity funds.
Looking at Indian markets over a long period shows that there are fancied sectors and fads that work in each cycle, like real estate in 2003-2008 or consumption oriented companies from 2008 to 2015. How do you ensure that you retain sanity on valuations when riding such trends?
Fads get reflected in two things in the markets: hyper-bullish narratives and frothy valuations. Serious investors have to balance the numbers with the narrative and stay clear of fallacious stories. Same with high valuations. Hyper valuations are easier to understand (while still being quite tough). Fallacious narratives on future hyper growth are a tougher nut to crack and need solid business and economic understanding to be able to probe.
Does tracing macros matter at Motilal Oswal? Do you base your decisions on factors like QE or US rates?
Not too much. It is important to be aware of the longer-term macroeconomic construct in which your stocks are operating. For example, the loose global liquidity environment did likely lead to valuations of asset classes getting stretched. So, when you see the tightening of the monetary policy in developed markets, it is very clear that the PE re-rating that markets have enjoyed in the last five years is over.
What are the special considerations when you pick mid and small-cap stocks? Is the process very different from that of large-caps?
In my mind, market-cap is largely a continuum. Among other things, I like to see the market-cap of a company in conjunction with the opportunity size that it operates in. IT companies and select auto-component players seem to have cracked the code for addressing the global market in their respective industries, which makes the potential market-cap opportunity larger. On the other hand, there would be niche manufacturing companies whose addressable market is so small that in spite of being dominant players in their product categories, they will remain mid-caps perennially.
The challenges of investing in smaller market-cap companies is that they might have a smaller operating history and lesser market scrutiny of their corporate practices. As an investor, we might need to work harder on these aspects.
When and why do you sell a portfolio holding?
The most important reason to sell a stock is that the business model (including longevity of moat and growth potential) has broken down. Then it is a clear case for exiting the stock. Valuations are another important reason why one might exit a stock.