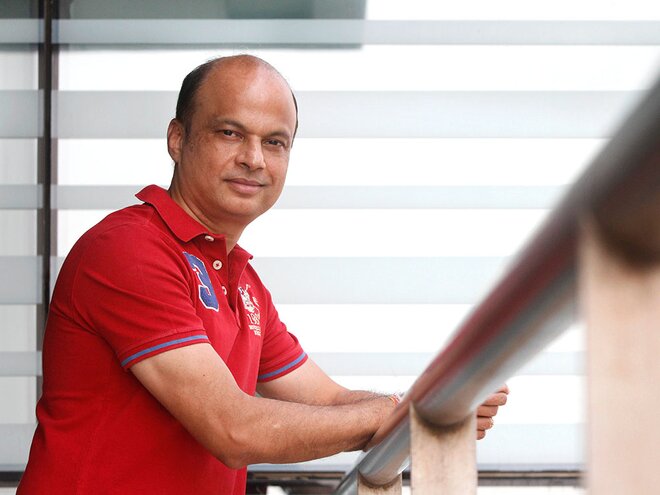 Usually both friendly and affable, Santosh Kamath, the Managing Director and Chief Investment Officer - Fixed Income at Franklin Templeton Investments India, has been out of the media spotlight since 2016. That year, a few debt schemes of the fund house witnessed blips in their NAVs after a default on a bond holding.
But after my unsuccessful tries in the last two years, Santosh agreed to an interaction with Value Research. We met at a cafe for some small talk. Santosh was far more sober and serious than his usual self, but I nevertheless found him quite willing to tackle uncomfortable questions. We ordered some orange juice and it's straight off the bat.
It has been two years since Franklin Templeton had a default on debt-fund portfolios from a bond holding. I ask how the episode was handled.
"Let me correct you first. We didn't have a default in our portfolio. The credit rating on one of our securities was downgraded to BB+ on February 16, 2016, and then to D on March 10, 2016. The company was current on our account all the time." Ok, I stand corrected, I say, but how was that episode handled? Santosh clearly wants to play on the front foot.
"As fund managers, we take calls on a daily basis on how we expect the market to behave in the future. Sometime markets behave as anticipated and occasionally they don't. That's true for a fund manager managing equity, G-secs or corporate bonds. The cumulative effect of all the calls over a period of time decides your performance. Do you think it is fair to pick up on one trade and take a view? Isn't it better to look at the cumulative performance over time? Having said that, when market behaved differently in the specific episode you mentioned and there was a NAV impact on February 16 and March 10, our first objective was to communicate our point of view as clearly as possible to market intermediaries. Investors and distributors who saw logic and reason in our point of view and stayed put, the result is for them to see. Almost all our funds that got impacted on that particular date are now top rated­."
Back on 'buy' lists
What was his reaction when many competitors and others jumped at FT on this episode?
He says with a wry smile, "What do you expect in a competitive world! I strongly believe that competitors will reserve the most critical comment for someone by whom they feel threatened."
While I'm gulping down my juice, Santosh has left it untouched. He's caught up in the explanation.
"At Franklin Templeton, we hold four principles very close to our heart: work with integrity, put customers first, build relationships and deliver quality results. And one thing I've learnt from the long stint in this industry is that whatever people may say, it is the performance that counts in the long term. We have been a preferred fund house for many of our distribution partners and we've attracted $1 billion in net inflows into our debt funds between October 2016 and September 2017, our last financial year."
He makes it a point to mention that the IFA community has always stood by Franklin Templeton and that has been true for this episode too, though that isn't true of all market intermediaries. "IFAs go purely by the investment experience you deliver to investors and don't try to second-guess the fund manager. However, I am sometimes at a loss for words when I meet some market intermediaries who are not aware that they don't know the subject well enough. But I am a strong believer that one shouldn't do anything that makes him or her lose sleep at night. Anyone who is not convinced about credit should stick to AAA portfolios. We would prefer our investors and distributors to be aware of the risks associated with any fund before they come in."
Why single A?
Given that retail investors are so wary of credit risk, why does Franklin Templeton own so many single A rated bonds in its debt funds even today, I ask.
Santosh explains that lower ratings on corporate bonds do not automatically mean they carry default risk. In fact, as a fund manager he considers it is his job to buy bonds that are likely to be upgraded.
"People automatically look at our portfolios and say AA bonds are riskier than AAA bonds, and A rated bonds riskier than AA. But this is simplistic. This is like saying low P/E stocks are good and high PE stocks are all bad. There are 15,000 companies in India rated by credit-rating agencies. We think our job is to identify a few of them that are lagging in their rating behaviour. We try to buy good companies before their bonds are upgraded by rating agencies."
Ratings lag
Is that even possible, I ask.
Santosh replies that it is very possible and gives an example. This, he qualifies, is only an illustration and not to be seen as the fund house's view on the sector. "The Centre has announced a large package of recap bonds for PSU banks. Do you think that should affect the credit profile of some of the PSU banks? The equity market thought that was great news and marked up these stocks by up to 25 per cent on the day of the announcement. But you may be surprised to know that the credit ratings of these banks have not changed after this event. I am not faulting rating agencies here. By the nature of their job, rating agencies have to wait for the exact details to come through before they form a view on individual banks; they have to quantify the benefit, rework their models and then give an opinion. The government announced more details around a week back on the recapitalisation plan. But as a fund manager, one can take a view that the rating will change and can bet on such bonds ahead of potential upgrades.
See, when we invest in single A paper and it gets upgraded, we get a double benefit. I get to retain the higher interest on the bond year after year. I can also earn a capital gain when the bond is upgraded."
But in how many cases does the upgrade actually come through?
He has done his homework. "If you look at the single A rated papers across all our debt portfolios in the last four years, the upgrade to downgrade ratio is 24:1. That is, for every 24 upgrades we saw only one downgrade. So, we think we have the capacity to identify companies ahead of rating upgrades."
Is D = Zero?
Those are good odds. But isn't it terrible when a bond gets downgraded to default grade, I persist.
"The general perception is that if a bond is downgraded to D, its value becomes zero. But that need not be the case. A bond is downgraded to D when a company hasn't made a repayment on time, either on that specific bond or any other outstanding debt. Now, that could be due to a cash flow problem or due to a solvency problem. In the first case, the company's operations can improve over a period of time which could enable it to regularise payments. It may have assets which can be liquidated or the company can raise equity to deleverage. If the management is good, some or all of this will happen and both cash flows and ratings can improve. But if the company is bankrupt and has no assets, then yes, the value of the bond can go to a minimal level."
Investment lessons
What are Santosh's other investment lessons over his long career? I see his mood lighten.
"I've been learning every day. In the mid-nineties, a then small private-sector bank came out with an IPO at Rs 10 per share and listed at Rs 50 or Rs 60. I got 100 shares. I put on my MBA hat and looked at the PE and thought it was too high. I had been told that a high PE stock is bad. So I sold the stock, very happy at having found a six-bagger! That's very much like saying a high PE stock is not a good investment. I would have been a millionaire only if I had continued with that holding as it went up manifold in 20 years." he laughs. So that taught him to look forward and not backward in investing decisions.
His second big learning was on asset allocation. "I got a bonus when Zurich Mutual Fund was acquired by HDFC Mutual Fund; I worked for Zurich then. In 2002, equity markets were at a PE of eight or nine. The G-sec yield was at 5 per cent or so. A G-sec yield of 5 per cent implies a PE of 20 on bonds. But I stayed away from equity for the fear of losing. The Sensex went up sevenfold within the next seven years. That taught me the relative valuation is far more important in deciding asset allocation than choosing which stocks or bonds to buy."
"A third lesson is that if something is good, it is bound to be expensive. I have been in Mumbai for 25 years. Looking at the rental yield, I always thought that the real estate prices were too high, so I didn't buy a house. I finally decided to buy a residential house in 2016. Guess what? I registered it on 7th November. The next day was demonetisation - so much for my timing! I felt horrible. But the price today is 10 per cent higher than what I had paid. So, the lesson is that if something is good and you want it for keeps, don't keep waiting for the price to come down. Buy it when you are reasonably confident."
What is the big risk on our markets? "You mean other than the recent trend of offering assured monthly dividend options in balanced funds?" he says with a smile. "On the serious note, risk is what you can't see," he says. "Any incident not factored by the market is a risk and they can be in plenty in current times. Proper asset allocation is the only way one can handle that risk. Be careful where you see greed and it is not difficult to assess that if you look around objectively." I can see some mis-selling and greed around!
I come away from the meeting not only with an altered view on debt funds, but also with some life lessons on bouncing back from a temporary setback.