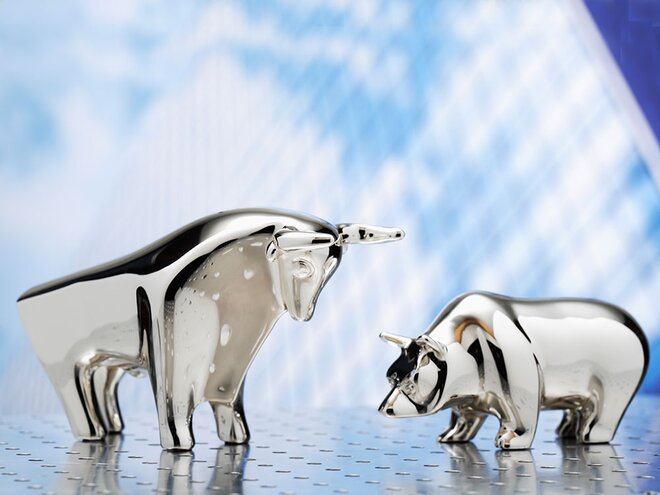 The New Year, 2018, started as a roaring bull market both in India and across the world. Most asset classes remain in an upswing despite rising risks. Commodity prices continue to witness strength, and interest rates show signs of firming up. Valuations are at a significant premium. Typically, this would lead to fund managers taking money off the table - something that is yet to be witnessed. Turning cautious early can lead to significant performance issues, forcing asset managers to hug their benchmarks closely while extolling the virtues of long-term investing. Amidst such a scenario, the story of John Hussman has many lessons.
Who is Hussman?
John Hussman is president of the mutual fund Hussman Investment Trust. He is a seasoned investor and has a PhD in economics from Stanford University. He is said to have predicted the tech crash of 2000 and once managed a nearly $7 billion mutual fund. He's also a former professor of economics and international finance at the University of Michigan. He writes regularly on his investment outlook and goes to great lengths to explain his investment methodology.
Hussman's performance over the past seven year period is amongst the worst in the industry. However, this was not always the case.
Since its inception in 2000 till 2010, Hussman Strategic Growth Fund outperformed the S&P 500 index handsomely. Of particular importance is the way the fund navigated the fall of 2008, when its hedges seem to have worked to reduce volatility extremely well. The fund reported its unhedged NAV, which was significantly more correlated to the market, as shown in the chart.
Since then, however, the performance has come apart. Since June 2010, the fund is down by half (52.5 per cent), while S&P 500 index is up almost 155 per cent. The fund has shrunk to about $300 million as investors have left in droves and Hussman has had to bear significant criticism on social media. Despite this, his updates regarding his portfolio positioning are worth reading.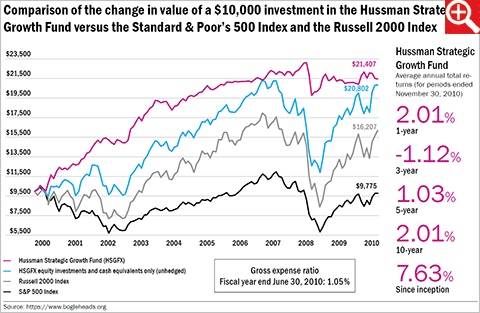 Hussman's outlook for 2018
To quote from his website, https://www.hussmanfunds.com/comment/mmc180101/, "If Wall Street believes that stock prices could advance further because investors temporarily have a speculative bit in their teeth, and that they care more that the environment "feels good" than about any careful evaluation of long-term investment prospects, we have no strenuous objection to that argument. Indeed, that's exactly why, until we see more than the early deterioration in market internals we observe at present, our immediate investment outlook is rather neutral. On the other hand, if Wall Street believes that current valuations are actually "justified," that 10 to 12 year S&P 500 total returns are likely to be meaningfully positive, or that the S&P 500 will avoid a collapse on the order of -65% over the completion of the current market cycle, my view is that these beliefs are strenuously at odds with the evidence from a century of market history."
A key point he makes in the letter is that lower interest rates, if they are reflective of lower growth opportunities in the future (as they must be - why would investors not borrow 'free money' and invest it unless they think that the investments will have negative returns), do not justify a higher valuation. Stock prices have to reflect the sum of all future dividend streams, i.e, D/(r - g), where D is the expected dividend per share, r is the rate of return required by the investor and g is the expected growth rate. In effect, if r and g are both reduced by the same number, the stock price remains unchanged. The suggestion that lower interest rates justify long-term higher prices is not correct. I recommend that investors have a close look at the argument that he makes here.
Jeremy Grantham, Co-founder and Chief Strategist of GMO, a Boston based asset manager managing over $70 billion is also a prolific writer. GMO puts out seven-year forecasts that they update periodically and have built an extremely successful business around disciplined asset allocations. Its current forecast predicts that US large-cap equities will likely deliver a negative 2 per cent annual return over the next seven years. However, in his note at the beginning of the year, Mr Grantham has forecast a near-term "melt-up" in the market - something that could last from six to 21 months. The melt-up phase could take the S&P 500 up another 60 per cent with a symmetric fall once the market tops of a similar percentage, which of course implies that the market could eventually settle significantly below the current levels. Again, the note (at https://goo.gl/vJYZwq) is a must read for investors.
A key takeaway is something Hussman would agree with - an early exit in the bubble phase can lead to significant underperformance. How fast investors rush out of the exit when the bubble eventually bursts will determine the investors' financial health. Since we are in a synchronised global rally, the views on the Indian markets cannot be significantly different. We will all need a large dose of luck as and when the bubble is pricked. Till then enjoy the rally.
Anand Tandon is an independent analyst.