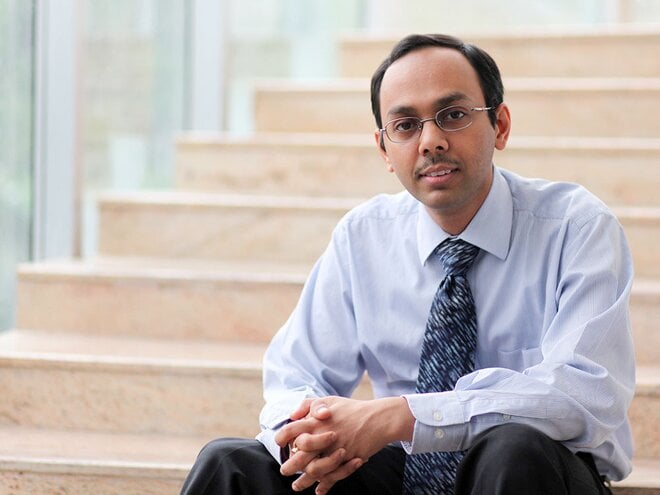 Soft spoken and affable, Vinay Paharia is the nice guy most of us want to be. Yet, beneath the gentle outer crust is a steely resolve to deliver consistent returns for his investors at Invesco Mutual Fund. Overseeing about Rs 1,300 crore in assets across four funds, including Invesco India Tax Plan and Invesco India Mid N Small Cap Fund, Vinay is putting over 14 years of his equity market experience to test every day as he scouts for winning opportunities. In a conversation with Kumar Shankar Roy, the fund manager talks about why leaders are those who make biggest profits and not revenue, how large caps are relatively more attractive than mid caps and when near term underperformance is the cost an investor has to pay for long-term outperformance.
How do you expect 2018 to pan out? What are the key risks and opportunities that should be watched out for?
Indian economy is emerging from the shadows of twin game changing reforms - demonetisation and GST. While the overall macros remain uncertain, we expect a gradual improvement going forward. We expect earnings growth to pick up in FY19, led by cyclical sectors of the economy. Investment demand is likely to show recovery on the back of an improvement in capacity utilisation and government expenditure.
Key risks to watch out for are an increase in the overall cost of capital globally and unwinding of monetary stimulus by developed nations' central banks, which can reduce risk appetite for global investors, thereby posing a risk to Indian equity market. Also, investors need to be watchful of the risk of extrapolation of current higher margins, high sales growth or higher earnings multiples for market favoured companies.
Opportunities lie in companies which are displaying subdued business trends or margins and are currently unloved by markets. Also, many large-cap companies are available at reasonable valuations.
Financialisation, formalisation, government expenditure and consumption themes have attracted attention. Are these long term in nature? As an investment manager, how do you plan to benefit from them?
Our objective as investment managers is to assess the intrinsic value of companies, their growth potential, the underlying risk to their value and growth and then invest in opportunities where the margin of safety is highest compared to the risk taken. This involves a rigorous analysis of both objective as well as subjective parameters of potential investments. The themes mentioned by you present themselves as tailwinds while assessing potential investments and are thus taken into consideration while assessing intrinsic value and growth.
Given the current state of equity valuations, would you recommend investments be staggered to benefit from the intermittent volatility in the markets?
Currently markets are trading at valuations which are higher than the long-term averages. However, two factors need to be considered to understand the context for valuations. One, the current interest rate is lower than the long-term average and two, the underlying earnings have remained subdued now for more than five years. Hence, while we continue to recommend long-term investors to invest in equity markets, we think such investments should be staggered over a longer period of time.
Expectations of mutual fund investors have heightened after strong returns in the recent years. Are you asking them to temper expectations? How are you communicating the message?
The markets operate in a way that sometimes returns are deferred into the future, while at other times, returns are borrowed from the future. We think currently we have borrowed some returns from future and hence would like investors to moderate their return expectations from the market. Investors should not commit the mistake of extrapolating the past three years' returns into the future.
Technology and pharma sectors have not done well recently. Do you see 'value' in them and why?
We think both these sectors represent fertile grounds for value investing. However, a bottom-up approach is advisable compared to a basket approach while investing in these sectors.
The fund has a strong bottom-up orientation. Do you totally avoid top-down approach? Why?
The fund is managed with a blend approach, with a bottom-up bias. Currently, we are positive on cyclically oriented sectors, where we think profit growth can outpace that of the overall market. Thus, the fund is currently overweight on consumer discretionary, industrial and financial sectors.
While your typical portfolio has a concentrated set of about 30 to 40 companies, you have 21 stocks right now. Is this a new strategy and what is the reason?
Invesco India Business Leaders Fund is a large-cap fund. In large-caps, we have invested in a smaller set of companies compared to a mid-cap fund, since large caps are inherently less risky than mid caps. Also, currently we find superior risk-reward opportunities in a fewer number of large caps and hence have chosen to keep the portfolio compact.
Do you believe that consumption-focused stocks are getting a tad too expensive and why?
Your observation appears broadly correct for most stocks in the consumer facing businesses. However, on a bottom-up basis, there are still some stocks in this sector which are attractively valued compared to their intrinsic values.
What is the USP of Invesco India Tax Plan as compared to other ELSS products?
The fund follows a disciplined approach of investing on a bottom-up basis, in attractively valued companies. While it invests in both value and growth oriented companies, it has an inherent growth bias. It can also use the market-cap bias lever. Thus, its bias towards mid-caps or large-caps changes with the segments' relative attractiveness. We are a patient investor, hence the portfolio turnover ratio is low.
Over a one year and three year time periods (ended December 18, 2017), the tax fund's returns have been slightly lower than those of the category average. You usually exit some stocks that you think are expensive. Do you think this approach has cost you some potential gains?
Sometimes near-term underperformance is the cost an investor has to pay for long-term outperformance. The fund was significantly overweight on mid-caps compared to large-caps about five years back and reaped strong rewards for that. We have been concerned about mid-cap valuations for the last one year and hence the fund's bias is towards large caps for more than a year now. We think this has been a predominant reason for weaker returns.
Do you consciously try to avoid portfolio overlaps with own fund house schemes, or are overlaps a sign of conviction?
The fund house follows a disciplined investment process so that we produce portfolios which are true to mandate. Our investment process consists of stock selection and portfolio construction. In stock selection, we follow our proprietary stock categorisation system. Then based on the portfolio construction guidelines, each portfolio is constructed. In the process, there may be some common stocks across the portfolio. However, each portfolio must be true to its mandate.
For both Invesco India Mid Cap Fund and Invesco India Mid N Small Cap Fund, returns have been quite good. However, the funds lag behind the benchmark Nifty Free Float Midcap 100 on a three year basis. Why has this happened? Is it becoming difficult to find good ideas in the mid-cap space?
Invesco India Mid Cap Fund and Invesco India Mid N Small Cap Fund are managed with a long-term perspective. Last year, the funds' returns were impacted due to some specific stocks, which we subsequently exited. However, during 2017, we had once again started to outperform both the benchmark and peer group. In the last nine calendar years of the fund's (Invesco India Mid N Small Cap) existence, it has underperformed the benchmark only in 2009 and in 2016. It has thus outperformed seven out of the nine years of its existence. There will always be a rough patch for a fund. But if it is managed as per the same investment process, it can endeavour to deliver consistent performance over a longer term horizon.