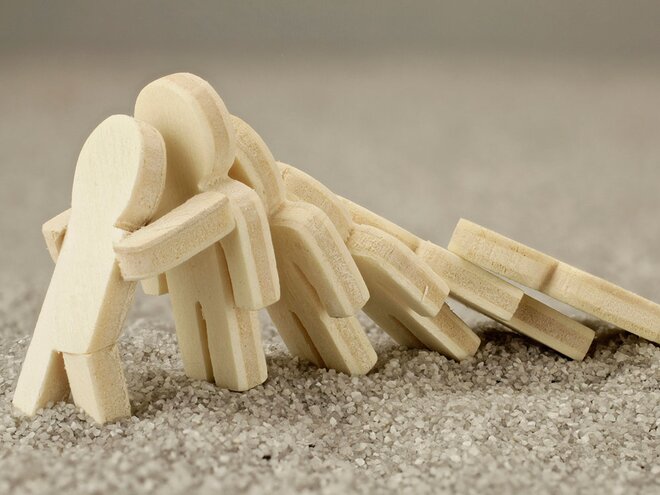 After the stellar returns that Indian stocks delivered in 2017, it is quite easy to believe that the global cues which used to terrify Indian investors no longer matter. After all, 2017 proved to be an excellent year for Indian equity investors despite FIIs not being in a very cooperative mood. FIIs net invested just Rs 51,000 crore in Indian markets through 2017 (Rs 20,000 crore in 2016) after pumping in over Rs 1 lakh crore in 2013 and 2014. Still, the Nifty 50 has closed 2017 with a 28 per cent gain and mid and small-cap indices gained 45 per cent and 60 per cent, respectively. That's because domestic institutional investors (DIIs), led by mutual funds, insurers, EPFO, made up for FII apathy by investing Rs 1.2 lakh crore.
But to infer from 2017 events that FII actions do not matter or that global events can do nothing to roil Indian markets would be quite foolhardy. Indian stock markets continue to be highly correlated to the rest of the world. One of the key factors that has sustained the high valuations for global stock markets since 2008 is the ultra low cost of money. Whenever we have quizzed fund managers about the Nifty 50 PE of over 25 times (against the long-term average of 19), they have offered up the explanation that the 'new normal' of ultra low interest rates justify a high PE for a growth market like India.
But this 'new normal' argument is rapidly evaporating. The US Fed stuck to its stated plan of hiking its policy rates thrice in 2017 and is preparing for three more rate hikes through 2018. It has already begun the much feared shrinking of its multi trillion dollar balance sheet, with bond sales likely to be scaled up this year. In 2016-17, the European Central Bank and Japan's Central Bank continued to pursue quantitative easing (QE) to prop up local economies, thus keeping the easy money phenomenon alive, even as the US Fed closed its liquidity taps. But lately the ECB has begun to talk of withdrawing its QE from 2018.
Now, this is certainly a good thing in some respects, as it is a sign of a strengthening global economy. But given that easy money policies of global central banks have been the biggest driver of emerging market money flows in the last nine years, it would be foolish to expect that liquidity will flow in as usual if global central banks bid goodbye to QE. If QE prompted global investors to flee to emerging markets for better returns, we must expect the reversal of QE to do exactly the opposite. For India, this could lead to stronger FII selling in 2018 and a lower willingness to pay such high PEs for stocks.
While FIIs have indulged in on-off selling in 2017 that DIIs have been easily able to counter, a bigger exodus may well prove difficult to handle. Plus, the fact that many seasoned small-cap and mid-cap fund managers have stopped accepting new money in their funds shows the real shortage of investing opportunities.
What to do: A reversal of QE could lead to lower FII flows or even outflows from Indian stocks and bonds. Therefore, reduce your equity return expectations in 2018 and stay off riskier, high PE stock bets. As PEs shrink, earnings growth will hold the key to stock price gains.