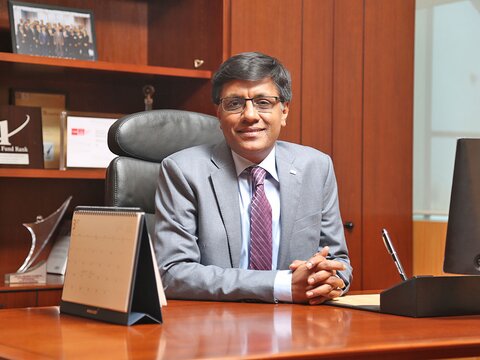 What is your investment universe?
Mirae Asset Emerging Bluechip fund is our flagship scheme in the mid-cap space, which has completed seven and half years. As per the offer document, the mandate is to invest minimum 65 per cent in mid and small sized companies, i.e., companies which are not part of top 100 companies by market capitalisation. Our definition of mid-cap is companies which are not part of top 100 by market value. The fund has leeway to invest up to 35 per cent in top 100 companies. On the lower size, while the universe is quite wide, we prefer companies which generate operating profits of around Rs 100 crore. In this context, we try to avoid tiny businesses, i.e., micro-caps.
What attributes should a stock have for it to become a part of your portfolio?
Our stock selection process has three aspects: business selection, management analysis and valuation. We look at the quality businesses with decent growth prospects as well as return characteristics (i.e. Return on capital employed - ROCE). This is a crucial initial filter. Second filter is with respect to management analysis, which is a bit subjective but you have to look at the track record and corporate governance. A well managed company will have better capital efficiency so the ROE tends to be better than other companies in the same sector. The last factor is to arrive at a particular value. The value has to be more than the market price so that there is enough 'Margin of Safety'. The idea is not to buy cheap companies, but good companies at reasonable valuation.
What kind of stocks never enters your portfolio?
We avoid stocks which do not meet basic criteria of growth, return on capital employed (ROCE) and management track record.
What will you attribute the relatively superior performance of your fund to in recent years?
Mirae Asset Emerging Bluechip fund has completed seven and half years. Since inception, the fund has delivered close to 24.5 per cent CAGR returns compared to the benchmark return (Nifty Midcap 100 index) of about 12.5 per cent, thereby generating alpha of about 12 per cent CAGR (as on 31st October, 2017). We have generated returns over the benchmark, by being in the right pockets as divergence across sectors and stocks with sector was significant in the last seven years. Disciplined approach to investing, with focus on quality up to a reasonable price along with diversification, has helped us deliver as satisfactory track record.
Is there any tactical miss you regret (for instance, not owning a stock or not owning enough of it)?
I will say that regrets are mainly related to "errors of omission". We did not pick up some stocks due to our lack of farsightedness regarding the potential of the business.