Tax saving mutual funds, or equity linked savings schemes (ELSS) as they are popularly known, are simply diversified equity funds with an added advantage of tax benefits. Investment of up to Rs 1.5 lakh in an ELSS is eligible for deduction under Section 80C of the Income Tax Act, 1961. Investment in these funds gets locked in for a period of three years but that shouldn't bother you. Investments in equity funds are anyways meant for long term.
Tax saving funds invest your money in a diversified portfolio of equity shares of companies belonging to diverse sectors and of different sizes. Some ELSS funds manage your money conservatively by diversifying across more stocks and investing majorly in shares of big, stable companies. Some others, on the contrary, invest more aggressively in smaller companies in pursuit of higher returns.
Capital Protection and Inflation Protection
Mutual funds do not provide assured returns or capital protection and ELSS is no exception to that. In fact, given that they invest in stock markets, they can be quite volatile over short periods of time. But they have, by far, the maximum return potential among all tax saving investment options available in India. Over the long investment tenure of 5-7 years or more, they can reward investors handsomely and generate some serious wealth. Over a long period of time, they are believed to be one of the best tax-saving alternative which provides inflation beating returns. In the years when equity markets perform poorly, these funds fall too but over an entire phase of 5-7 years, they generate far better returns than the like of NSC or PPF.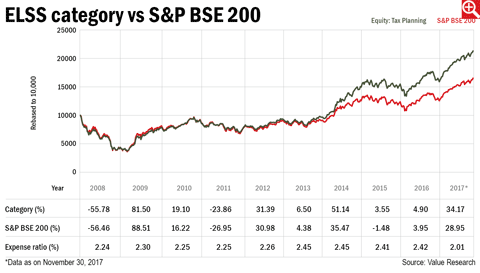 Liquidity
Investments in an ELSS are locked-in for a period of three years.
Tax Implications
ELSS offers twin advantage as far as their taxation is concerned. Your investment earns you tax exemption under Section 80C while the gains arising from them are completely tax free at the time of withdrawal.
How to invest
Like any other equity investment, your investment in ELSS funds should also be staggered over a period of time. The best way is to invest through the financial year instead of back-loading your tax saving investments in the month of March. For example - if you plan to invest Rs 1.2 lakh in ELSS funds in a particular financial year to avail Section 80C exemption, you should start investing in the month of April itself and invest Rs 10,000 every month through the year. You can put this on autopilot through a Systematic Investment Plan (SIP) instead of having to manually invest every month.