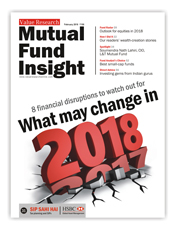 2018 promises to be a disruptive year. Across personal finance, from mutual funds to taxation to banking (and cryptocurrencies too!), there are big changes afoot. Read all about these in 'What may change in 2018: 8 Financial Disruptions to Watch Out For', the cover story of the February 2018 issue of Mutual Fund Insight. That's not all--there's a lot more in this issue that will help you choose the best mutual fund investments.
First Page: Dhirendra Kumar discusses the likely impact of SEBI's latest proposals about separating the advice and the distribution businesses
Interview: In an exclusive interview, Soumendra Nath Lahiri, CIO, L&T Mutual Fund, explains why the "The principle of buying one dollar at 70 cents rarely works in India"
Interview: Vinay Paharia, Fund Manager, Invesco Mutual Fund, talks about the challenges and opportunites ahead for Indian businesses and investors
Back to Basics: Your mindset matters: Dhirendra Kumar explains how fixed and growth mindsets result in strong preferences in investing. But a balanced mindset is what helps investors the most
Fund Radar: What to Expect in 2018, and the Top 10 events of 2017
Category Watch: Despite their obvious promise--and performance--investors find small-cap funds hard to deal with. Our category watch for the month explains the ins and outs of dealing with them
Fund Analyst Choice: Four small-cap funds that our analysts have selected for you
Top-Rated Funds: Funds that are rated five star by us
The Plan: Young Vaibhav has youth and a promising career on his side. And yet, like any of us, he has financial challenges that need careful handling
Ask Value Research: Our team answers savings and investment queries from readers
Direct Advice: Aarati Krishnan explains what exactly is wrong about the spate of closed-end funds being launched
How I did it: Debadideb Datta works in the non-profit sector and his investment mantra is cutting out the market chatter and emotions while investing
Value Research Online: Understand fund performance on our website
Scoreboard: India's most comprehensive mutual fund scorecard. Key performance numbers and investment details for each fund
The issue is now on news stands. You can also subscribe to the printed version, or buy a digital subscription (PDF + online reader) instantly.