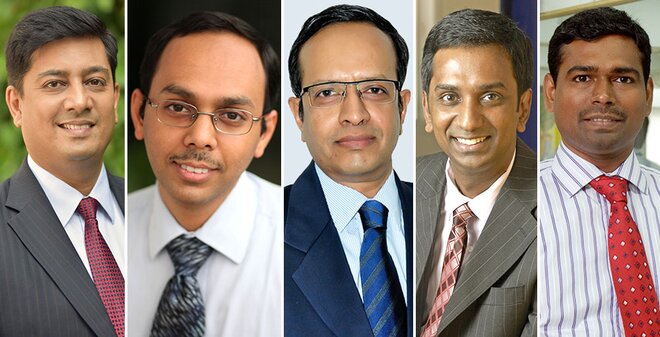 Equities have performed remarkably well globally last year. Seemed like markets have found their true north star as they made their steady northward journey in 2017. In a nutshell, the global market indices looked like this-- the gains in 2017 for HSI was 36 per cent, for S&P 500 was 19 per cent, for BVSP was 27 percent, for STI was 18 per cent and keeping up with the global trend NIFTY rose by 29 per cent. As a natural outcome of this phenomena, mutual fund investments now seem more attractive and have garnered a lot of interests and investments. Some other factors like demonetisation, implementation of RERA and other asset classes losing their sheen has further led to financialisation of savings. The trend is new and a lot of investors are still wondering what is mutual fund all about. Kumar Shankar Roy spoke to some industry experts who give a lowdown of this investment instrument and also about what parameters to monitor while investing here.
Harsha Upadhyaya, chief investment officer - equity, Kotak Mahindra AMC feels that rather than watching out for point to point returns investors should ideally focus on consistency of fund performance over long periods and different market cycles. Along with this, one should also scrutinize portfolio risk, which could be a result of concentration risk, liquidity risk or any other factors.
Since markets are trading at valuations which are higher than long period average, fund managers believe investors should stick to their asset allocation and keep on investing in a regular manner. Valuations may be stiff, but nobody knows exactly when a correction will happen. Hence, they feel its only right that investors should invest on a regular basis. "Two factors need to be considered to understand the context for valuations. One, the current interest rate is lower than the long period average and two, the underlying earnings have remained subdued now for more than five years. Hence, while we continue to recommend long-term investors to invest in the equity markets, we think such investments should be staggered over a longer period of time," says Vinay Paharia, Fund Manager, Invesco Mutual Fund.
There is no way that anyone can claim that the market averages are cheap now. The Sensex trades at 25 times its earnings, but staying away is not an option. "Staying away completely from equity is a bad idea. But buying any equity share thinking that it will only go up because liquidity would keep driving it up, is a recipe for future heartburn," notes E. A. Sundaram, ED & CIO - Equities, DHFL Pramerica MF.
External and internal factors will determine the fate of equity markets. From a domestic market point of view, in the backdrop of high government spending and lower-than-expected GST revenue collection, fiscal deficit trend will be keenly watched. Continuing weakness in GST collection will be a real concern for deficit situation. Despite these challenges, many believe that Indian economy stands relatively resilient to external shocks on account of better levels of foreign exchange reserves, stronger balance sheets and improving degree of macroeconomic stability. These are some of the key factors that foreign investors look for while investing here.
Anand Radhakrishnan, CIO - Franklin Equity, Franklin Templeton Investments - India, says: "From an investment perspective, diversified equity funds with core exposure to large caps and prudent risk-taking in mid and small-cap space may be well positioned to capture medium to the long-term opportunity presented by the equity market. We suggest staggered investments to benefit from intermittent volatility."
Some experts are clear that corporate earnings will drive markets this year. Earnings of Indian companies are seeing some recovery after a long wait. In the past three and a half years since new regime came to power, hopes of recovery was belied. Analysts were forced to cut their earnings estimates as reality was different from the exuberant environment they created. Yet, there is hope that earnings will finally improve as per expectations.
Atul Kumar, Head-Equity funds, Quantum AMC says, "We see a good growth in earnings on the horizon. Global economic growth now seems fastest since the global financial crisis of 2008. This is likely to see better demand for exporters. Growth is picking up domestically as well, as recent data suggests. Impact of demonetization and GST led destocking are now behind us."
Private capital spending, which has been subdued, is likely to pick up and drive GDP growth. Higher domestic, as well as global recovery, is likely to increase capacity utilization. Indian companies created capacity in boom years until 2011, although there was demand slowdown post-2008. Companies are likely to invest in capacity in the near future. They will also see pricing power benefiting their earning as capacities run out in the interim due to demand outstripping supply.
"While impending earning growth is good news for equity investors, the unfortunate part lies in valuations. Most of the back ended recovery in profits is already reflected in current stock prices. There are few sectors and stocks which look to be priced sensibly for an investor to make meaningful returns," adds Kumar, who is waiting to use any correction as an opportunity to fully invest his cash.