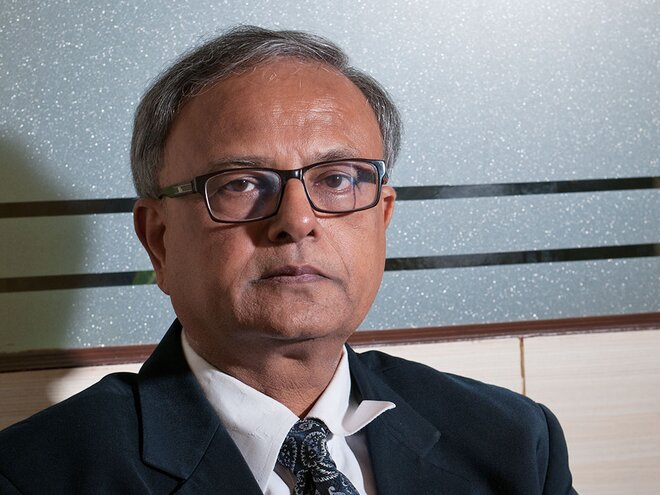 You recently moved the upper age limit for National Pension System subscribers from 60 to 65. What was the thinking behind it?
Earlier NPS was more strongly linked to the age of retirement for government employees. Their age of retirement is usually 60. Our first members were central government employees followed by state government employees and later it was opened up for the private sector. People don't always stop working at the age of 60. A lot of people continue to work in one way or another. In fact, in a previous change, we had allowed people to continue contributing until the age of 70. We are not enrolling subscribers above the age of 60 but existing subscribers can contribute till they are 70. The new government scheme Pradhan Mantri Vaya Vandana Yojana is also available to people above the age of 60. So the latest change of NPS corresponds to this product thereby giving senior citizens a wider choice.
Are there any plans for enabling pension drawdown?
We do allow pension drawdown. We allow the lump-sum amount (going up to 60 per cent) to be withdrawn over a period of time. You can take this amount in one year or stagger it over ten years, which could result in a much lower tax outgo. It cannot be staggered beyond 10 years.
You have increased the pension fund manager's fees from 0.01 per cent to 0.1 per cent. What is the reason for this increase?
No, we have not yet done that. There is some lack of clarity here due to FDI issues, which might affect some of the bidders under our request for proposals (RFP). We placed a cap of 0.1 per cent in the RFP as against the 0.01 per cent cap earlier. Anyone who bids within the range will be eligible for selection but it is not a uniform rate for all pension fund managers.
With Atal Pension Yojana (APY), how comfortable are you with the clause of maximum pension of Rs 5,000?
Even for a Rs 5,000 pension scheme there are plenty of instances where people fail to contribute regularly. There are a high number of defaulters in the Rs 1,000 and Rs 2,000 schemes also. This is a product essentially aimed at the underprivileged section of society. The slabs were constructed after taking into account the saving capacity of the people.
Mutual fund SIPs have taken off. Are you planning to introduce similar investing features for NPS?
If you look at APY, it is on these lines. A regular contribution keeps getting deducted from the subscriber's bank account as per a standing instruction given by him. Even with the NPS, some people have opted for a regular deduction from their bank accounts. We have not termed it as an 'SIP' and we don't have it on the eNPS platform. However, it is possible through a subscriber's bank or point of purchase though not many people have opted for it.
Is there any guidance programme for people who are about to retire?
About four to five months ago, we started hiring retirement advisors. The idea was that these people would function as advisors to people interested in saving for a pension fund. This is important in defined-contribution schemes, where the pension a person gets ultimately depends on his choices-what is the breakup he wants for equity and debt, which fund manager he chooses, etc. Not many people are familiar with all these things, so far we have around 100 retirement advisors.
Under the NPS exit rules, you have to serve notice in writing before 15 days prior to reaching the age of superannuation. However, if you don't serve notice, you have to take the pension. Isn't this too rigid?
We start reminding people before they hit the age of 60. We remind them six months before reaching that age, then three months before and then one month before. If they haven't decided even 15 days before the age of 60, we monetise their holdings. The NPS is a mark-to-market scheme. If its value falls due to a fall in the market and we still continue with the account we could be held responsible for the losses.
What is the tax treatment of Tier II account of the NPS?
Unfortunately, there is no tax benefit available. It is all taxable income. We have taken it up with the government that it should be treated at par with debt mutual funds. We hope that the government will take some steps to rectify the situation in this budget.
What is your grand plan for the NPS?
To enrol as many people as possible. Pension coverage is very low in this country. The formal sector is well served with pension plans, either through EPFO or superannuation schemes. However, the informal sector isn't very well covered. Currently, only14 to 15 per cent of the population is covered by a pension scheme. We plan to take it up to at least 25 per cent.
Those who contribute to the APY are also saving for their retirement. Should the government co-contribute to the APY?
If you recall, when the APY was launched, the government said it would co-contribute. But this was stopped in March 2016. We have been asking the government to continue with the co-contribution because these people are going to fall back on the government anyway.
Is there any plans to bring government subscribers at par with the private-sector subscribers in terms of asset choice, fund manager choice, etc.?
We have been talking to the government for over two years about this. We said that the same choices should be available to all and this is what our governing act also says. The government has set up a committee to look into the issue and it is close to finalising its report.