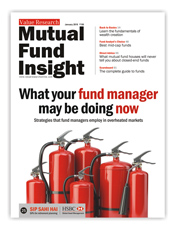 Discussions and debates are in full swing about whether and by how much the Indian stock markets are overheated. Investors are concerned about what actions their fund managers are taking keeping the current situation in view. Find out more about this in the cover story of January 2018 issue of Mutual Fund Insight-- What your fund manager may be doing now: Strategies that fund managers employ in overheated markets.
That's not all, there's a lot more in this issue that will help you choose the best mutual fund investments.
First Page: Dhirendra Kumar tells us that unlike in other areas of life, inactivity is the best approach for investors
Interview: An exclusive interaction with Harsha Upadhyaya, CIO -- Equity Kotak Mahindra Mutual Fund
Getting personal: "Just because you want to gamble, the market is not obliged to give you returns", says Chandresh Nigam, MD and CEO, Axis Mutual Fund
Back to Basics: We tell you here what to keep in mind before you start investing
Category Watch: Mid-cap funds are capable of providing extra spice to your returns. However, given the volatility and risk involved, they need to be chosen carefully. Read all about selecting mid-cap funds this month
Fund Analyst Choice: Seven mid-cap funds that our analysts have selected for you
The Plan: Mukesh is a family man with three dependents. He needs to save for his son and exit his traditional insurance policies. Our analysts help him to fulfill his desires
Top-Rated Funds: Our monthly list of all the top-rated funds in each category
Ask Value Research: Our team answers savings and investment queries from readers
Fund Reporter: Our digest of relevant mutual fund news of the month
Direct Advice: Aarati Krishnan explains what exactly is wrong with the spate of closed-end funds being launched
How I did it: Homemaker Bithi Patnaik's story is one of exploitation and mis-selling by banks, yet she chose not to lose hope and became an informed investor
Value Research Online: Understand fund performance on our website
Scoreboard: India's most comprehensive mutual fund scorecard. Key performance numbers and investment details for each fund

The issue is now on news stands. You can also subscribe to the printed version, or buy a digital subscription (PDF + online reader) instantly.