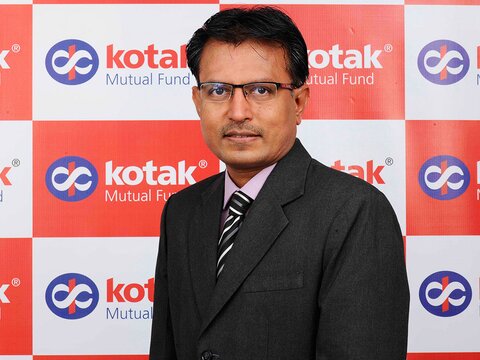 In the last one year, the mutual fund industry's average AUM has grown by about 35 per cent whereas Kotak Mutual Fund's average AUM has grown by almost 61 per cent. This makes us one of the fastest-growing mutual funds in India. We believe that the steady shift of investors from physical assets to financial assets will continue to grow.
Managing return expectations
We have been communicating with our investors and partners about the need for long term and systematic investments. We have been talking about lower nominal returns as inflation has come down.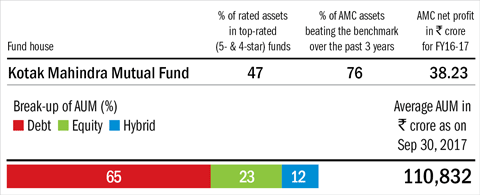 Risk controls
Investors usually have an unpleasant experience when their expectations do not match with time or risk. We have instituted risk and operational checks which are more stringent than regulatory guidelines.
Rising industry assets
Most of the challenges created by rising assets are operational ones and can be tackled through technology. Investment-wise, the market will see a steady launch of IPOs as more and more companies hit the formal sector on account of GST and demonetisation. This will give us ample alpha opportunities over time. For now, the demand for equities outweigh supply. So, we have invested pretty much and are sitting tight.
Growing clout of domestic funds vis-à-vis FIIs
As investor awareness rises, mutual funds will become all the more important in the equity market. The SIP inflow of around Rs 5,000 crore per month gives mutual funds the necessary heft to act as a key pillar and provide depth to the market. It is still a fight between David and Goliath. We are matching FIIs in terms of flows but they have far bigger in-flows even now.
Outlook for equity and debt
On the equity side, we believe that valuations are currently running ahead on hope and earnings will be catching up sooner than later. We think that the market has a growth potential from a five year plus perspective, though in the short term, volatility will play a role.
There is no short cut to making money. There is no safe harbour in the market. You will make money by following long-term, disciplined investment strategy and asset allocation.
For the short term, we believe that the repo rate is likely to remain unchanged, though over the medium to long term, the possibility of a rate cut does exist. Debt investors can look at the credit/accrual funds which offer high yields at prudent risk levels. Duration funds can be volatile due to a static interest rate outlook and rising inflation. However, we believe that any yield spike may offer an opportunity to build allocation from a three year perspective.