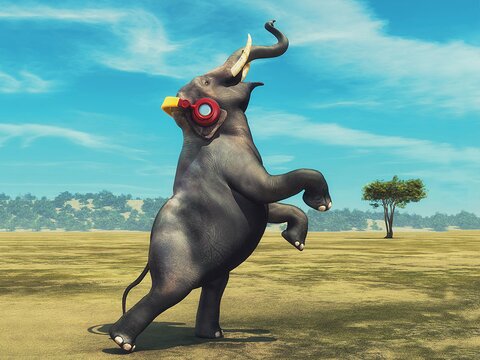 Strong inflows into equity funds in the last five years has resulted in the emergence of jumbo funds - funds with assets over Rs 10,000 crore. We explore this trend in greater detail, along with the pros and cons of jumbo funds. This is our third story of the series.
We, Indians have an innate mistrust of size, and therefore there has been much debate about whether funds with five-digit assets under management can sustain their outperformance of their benchmarks.
However, an analysis of the performance numbers of the top five funds across equity categories do not offer any evidence of a one-to-one correlation between fund size and performance so far.
Let's take the large-cap category first. The top five funds by size have managed to outperform their benchmarks by an average 3.5 percentage points in the last three years, while the five smallest funds have managed only a 2 percentage point outperformance. In fact, while all of the five largest funds have beaten their benchmark on a trailing three-year basis, three of the five smallest funds have failed to do this.
To assess this in another way, had you chosen to invest in the top three large-cap funds by size three years ago (their AUMs were Rs 6,500 to Rs 13,000 crore then), the funds you would have chosen were HDFC Top 200, ICICI Prudential Focused Bluechip and Aditya Birla Frontline Equity. While HDFC Top 200 has managed to just about match its benchmark on a trailing three-year return (as on September 26, 2017), ICICI Prudential Focused Bluechip and Aditya Birla Frontline Equity have both outperformed by significant margins of 4 and 3 percentage points, respectively. They have managed quite well compared to their peers also.
Reflecting this, ICICI Prudential Focused Bluechip has seen its Value Research ratings remain steady at four to five stars right from 2012 till date, when its AUM climbed from Rs 4,100 crore to over Rs 14,000 crore. Aditya Birla Frontline Equity has also held on to a four and five star rating for the last five years as its size has multiplied from under Rs 3,000 crore to Rs 18,900 crore.
This is not to say that large funds always deliver on performance. Just like their smaller peers, they can go through upheavals. HDFC Top 200 suffered a sharp setback in its ratings a couple of years ago after its performance in 2014-15 sharply lagged both its benchmark and peers. But it is difficult to attribute this slip-up to its size, given that this scheme had crossed Rs 10,000 crore in AUM way back in March 2011, after which it managed significant outperformance both in 2011 and 2012 and held on to its five star rating until 2013. Its performance hiccup in 2015 was the result of its sector and stock tilt in favour of value stocks, when the markets favoured growth. In 2016, as the market tide turned, the fund again managed a convincing outperformance of its category and benchmark, though its assets had further expanded from Rs 10,000 crore to over Rs 15,000 crore.
In the multi-cap category, giant funds such as ICICI Prudentail Value Discovery, Kotak Select Focus, Franklin India Prima Plus and Reliance Equity Opportunities have managed to convincingly beat their benchmarks on a trailing three year basis, while HDFC Equity has seen a similar trajectory as HDFC Top 200. The jumbo funds have been successful at delivering benchmark-beating performance better than the smallest funds in the category.
In the mid-cap category, not only have all of the top five funds outpaced benchmarks, those such as Reliance Growth (6 percentage points) and Franklin Prima (8 percentage points) have proved far better than many smaller funds on the margin of outperformance over a trailing three year period. Ditto for small-cap funds where category favourites - DSP BlackRock Microcap, Franklin India Smaller Companies and Reliance Smallcap - with excess returns of 3 to 9 percentage points over benchmarks have proved far more adept at stock selection than the small funds such as Sahara Midcap, HSBC Midcap or Union Small and Midcap.
To summarise, a look at the Value Research ratings for the top ten funds across equity categories shows that by end September, two of them enjoyed a five star rating, five were rated four stars, two were rated three stars and only one fund was at two stars.
To sum up, what the above data show is that fund size has so far had little bearing on a fund's ability to beat its benchmark or peers. Yes, large funds, like others, can sometimes slip up on performance. But this is more due to the wrongly timed sector or stock choices of the fund manager rather than the fund's size per se.
While a large fund size doesn't automatically translate into good or bad performance, investors do need to be wary of the tiniest funds in every category. In the open-end fund structure, as assets often flow out of the poor performers over time, a very small fund size is often a sign of a sub-par performance record. Given that SEBI's regulations mandate a slab-based expense ratio for funds, where larger funds are allowed lower expense limits, poorly performing tiny funds can often cost you dearly.
This is part of a series of articles on jumbo funds. Find the other parts in this link.