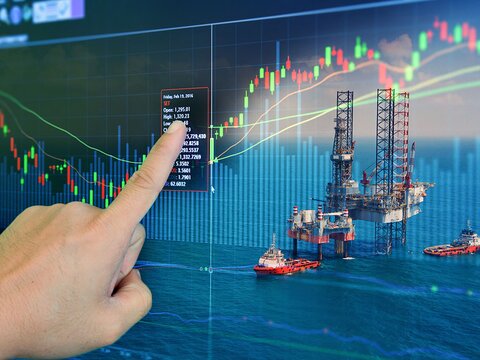 For a country like India which meets most of its crude oil needs through imports a rise in price has a significant impact on our oil bills. When oil price dipped between $40 to $50 between June and July this year, it helped rein in our fiscal deficits and balance of payments. With current Brent prices hovering around $63, the pressure on the exchequer is likely to go up. India imported 202.1 million tonnes of crude oil in the fiscal year that ended March 31, for $64.4 billion or Rs 4,18,931 crore, according to latest data available from Petroleum Ministry.
Value Research spoke to a clutch of equity fund managers to understand three things: firstly, what do they think about oil price rise, how are they positioning their portfolios to take advantage of the situation, and are there any real reasons for oil prices to go still higher.
Is oil price hike affecting the market?
Most fund managers we spoke to thinks that rising crude oil prices is certainly not good news for the market because it tends to spoil market sentiments. The Union budget for 2017-18 has estimated the price of crude in the range of $50 to $55 per barrel, so a spike in prices will send the fiscal math of the country topsy turvy.
Veteran fund manager Harsha Upadhyaya, Chief Investment Officer - Equity, Kotak MF is optimistic that oil prices will come down. He said, "Global crude oil prices have moved up in the past few weeks presumably because of the political developments in Saudi Arabia. However, we still believe that the crude prices will revert to $50 to $60 per barrel range once the political environment in Middle East stabilises."
India is a net importer of energy and commodities in general. Globally correlation has been seen between oil and commodities prices especially in an environment of rising global growth. A sustained rise in crude prices may lead to higher food prices which could flow into higher inflation rates and consequently higher rates. "However, this is contingent on crude prices heading higher and sustaining at those levels. Also, in that situation capital flows could be diverted to commodity-producing countries rather than commodity importers like India. Hence, clearly, elevated crude prices could have an impact on the equity markets. However at the current levels the situation seems manageable," said Rajat Jain, Chief Investment Officer, Principal PNB AMC.
Mayur Patel, Vice President and Fund Manager, DSP BlackRock Mutual Fund, feels there is a need to focus on the medium to long-term trend rather than monthly volatility, which is more often driven by non-fundamental factors.
Nilesh Shetty, Associate Fund Manager-Equity, Quantum AMC said: "So far the rise has not been that dramatic for it to seriously hurt the Indian economy but yes given that we import a large part of our requirements, rising crude prices will impact multiple factors including inflation, balance of payments, government fiscal deficit and level of the rupee deserve intense scrutiny."
Well-oiled strategy
Next we quizzed the fund managers on how are they going to use the rising oil price situation, if it actually plays out.
Mayur Patel of DSP BlackRock Mutual Fund pointed out that PSU upstream companies do not benefit from rising crude prices beyond a point as government gives heavy subsidies. He, however, thinks one can play rising crude trajectory through companies engaged in producing petrochemical and other crude derivatives. "Some companies produce petrochemicals using natural gas as an input. Also, engineering, procurement and construction (EPC) contractors specializing in the hydrocarbon segment could be interesting," noted Patel, who is managing the equity portfolios of DSP BlackRock Equity Savings Fund and DSP BlackRock MIP Fund since June 2016.
Similarly, Rajat Jain of Principal PNB AMC feels that the major gainers could be oil producing companies if oil prices go up further. "Other potential gainers would be construction and EPC companies which have their projects in the Middle East as those economies will gain from higher crude prices. Other gainers could be consumer goods and automotive companies which supply their products to the oil-producing countries," said Jain, who has over 25 years of experience in the capital markets.
Nilesh Shetty of Quantum AMC says he does not build a portfolio looking at near-term oil prices. "It is a stock specific approach. But yes we do own an oil & gas exploration stocks which should benefit from rising oil prices", said Shetty, who is part of the team managing Quantum Long Term Equity Fund and Quantum Multi Asset Fund. He emphasized that one will have to look at the valuation of such companies as well before making an investment decision.
If oil prices remain constant at higher levels then it will definitely have a negative effect on the profitability of most manufacturing companies because price of crude oil directly affects raw materials and fuel costs. Harsha Upadhyaya of Kotak MF at present is not assigning a large probability on the sustenance of high oil prices. "Hence, we are not changing portfolios as yet," he revealed.
Oil insurance
Patel of DSP BlackRock MF thinks that $50 to $60 is the equilibrium range for the medium term. "Brent price has fallen from $55 to $45 and then surged to $64 over the last six months. The current rally seems to be largely driven by an increase in geopolitical risk premium than fundamental factors. Unless there is an escalation of the current crisis in the middle east that leads to supply disruptions in the Straits of Hormuz, we think oil will retrace some of these gains post the OPEC-NOPEC meeting on 30th Nov, if not earlier. We believe that lot of US Shale supplies become viable beyond $55 which would keep a lid on oil prices," the fund manager said.
Jain of Principal PNB AMC shares that their portfolios are well diversified with controlled exposure to a single sector. "What is important about oil prices is not only their level but also the duration for which prices remain elevated," he remarked. If a rise in oil prices lead to higher inflation, it will impact interest rates and consequently affect companies which have benefited from the lower interest rates. "We think current prices of crude oil, which have nearly gone up by 40 per cent from the near term lows, are still manageable. However, if the prices do continue to rise, we would need to take a look at the interest rate sensitive stocks in our portfolio," he added.