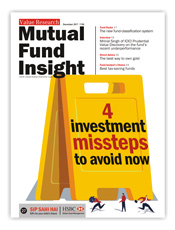 Good times feel good, but investors are also prone to taking missteps when the gains are coming in fast. We have always said that while doing the right things is important, it's even more important to avoid doing the wrong things.
Read 4 Investment Missteps to Avoid Now, the cover story of the December 2017 issue of Mutual Fund Insight, to understand what we investors should not do. Of course, there's a lot more in this issue that will help you choose the best mutual fund investments.
First Page: Dhirendra Kumar explains how investors are threatened by missteps, misselling and misincentives
Interview: Hemant Contractor, Chairman, PFRDA, talks to Dhirendra Kumar on the issues and prospects of India's Pension System
Interview: 'Value strategy underperforms in momentum phases,' explains Mrinal Singh, Fund Manager, ICICI Prudential Value Discovery Fund
Getting Personal: Swarup Mohanty, CEO, Mirae Asset Global India
Category Watch: Tax-planning funds are something that every investor needs. They also make excellent starter funds for beginners
Fund Analyst Choice: Eight tax-planning funds that our team has chosen
Top-Rated Funds: A summarised list of all the highest-rated funds
The Plan: Deepak is a married 36-year-old with two children. Despite making a reasonable effort to save, it doesn't look like he'll be able to meet his financial goals. Our analyst gives him a plan
Ask Value Research: Our team answers saving and investment queries from readers
Fund Reporter: Our monthly digest of the most useful mutual fund news
Direct Advice: Do you still think that gold is a good investment? Aarati Krishnan tells you what's the best way to go about it
How I did It: Engineer-turned-investment-banker Hemant Jai was sceptical of the Indian stock market. But mutual fund SIPs turned him into a fan
Value Research Online: Understand fund performance on our website
Scoreboard: India's most comprehensive mutual fund scorecard which mentions the key performance numbers and investment details for each fund
Click here to subscribe to the printed version, or buy a digital subscription (downloadable PDF + online reader) and start reading instantly.