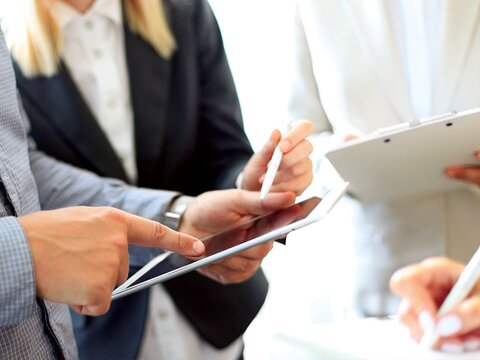 NBFCs have seen a great run in the stock market on the back of strong loan growth in areas where traditional banks have shied away from and on improving spreads. So great has been the run of NBFCs that a number of them have actually doubled investor wealth in the last one year alone. More recently, a lower interest-rate regime has helped NBFCs improve their net interest margins. Higher incomes in turn have seen valuations move up from their 10-year average of 18x to 24x. Figure 3 illustrates how NBFC valuations have moved up in the last decade.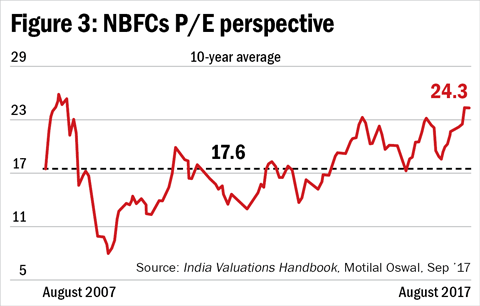 The 10 most expensive NBFC stocks today command a premium of 34 times earnings - nearly double the rate that the same stocks have traded at traditionally. Table 3 lists out the 10 most expensive NBFC stocks trading today. Here are two most expensive stocks in the NBFC space.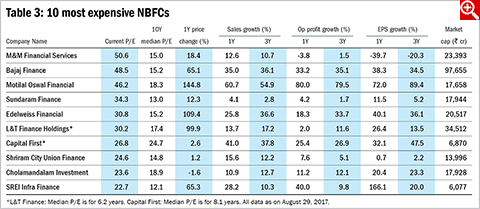 'M' FOR MONSOON: M&M FINANCIAL SERVICES
Mahindra & Mahindra Financial Services, part of the M&M group, provides financing for commercial vehicles, tractors and home loans, among others. After zooming about 60 per cent this year, the company continues to be in demand in the stock market. Why? Auto and utility-vehicle finance constitute about 30 per cent of the company's portfolio and tractor loans take up another 17 per cent. Both these verticals are expected to do well after good monsoon rains this year. M&M Financial Services numbers are expected to improve going ahead on the back of higher tractor sales, higher net interest income due to better collection and lower delinquencies.
Earlier this year, market grapevine talked of a possible buyout by Uday Kotak of Kotak Mahindra Bank. At current valuations of 51x, though, the markets appear to be factoring in all the positives going in the company's way, leaving little on the table for a fresh investor.
SKY'S THE LIMIT: BAJAJ FINANCE
Bajaj Finance is the largest consumer-durable NBFC listed on the Indian stock market. Consumer finance is the company's largest business generator, accounting for 45 per cent of loans. This is followed by SME (37 per cent), commercial (13 per cent) and rural (5 per cent) finance. A rapidly increasing asset portfolio, coupled with greater asset quality (gross NPA at 1.7 per cent), have made the company a stock-market outperformer, already doubling investor wealth this calendar year. These key drivers are expected to continue for Bajaj Finance. Assets under management, which have seen strong growth in the past, are expected to maintain their momentum ahead. The company also earns amongst the highest margins in its category. These positives have led the premium commanded by the stock to jump significantly, from 15x (P/E) levels in the last decade to close to 50x today, again leaving little on the table for fresh investors.