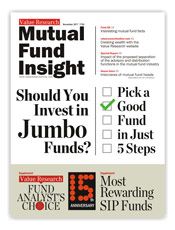 Diwali is here and so is our annual special issue that marks Mutual Fund Insight's birthday!
For the Fifteenth Anniversary of Mutual Fund Insight, we have a special issue full of special features that will help you make investments that get you the results you want:
Cover Stories

Pick a good fund in just five steps
Should you invest in jumbo funds?

Supplements & Inserts

Fund Analysts' Choice: An updated, hand-picked set of funds chosen for you.
Most Rewarding SIP Funds
SIP returns calculator

House Voice: Our once-a-year roundup of ALL fund companies in India, with a unique insight into each, along with an interview with the CEO.
Top-Rated Funds: Funds that are rated five star by us
Value Research Online: Creating wealth with the Value Research website
Scoreboard: India's most comprehensive mutual fund scorecard. Key performance numbers and investment details for each fund
The issue is now on news stands. You can also subscribe to the printed version, or buy a digital subscription (PDF + online reader) instantly.