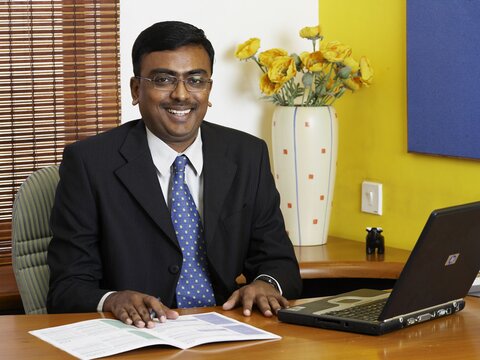 'Invest in equities with a return expectation of 12-13 per cent'. All of us may read and even give this sage advice quite often. But don't we all nurse a secret desire to unearth that one small-cap stock which becomes the multi-bagger of the next decade?
R Janakiraman, Vice President at Franklin Templeton Investments (India), has cut his teeth in this exhilarating but equally stomach-churning segment of the market. From working at UTI Securities to managing a proprietary book for India Syntans Investments (an investment company in Chennai) to very ably steering the Franklin India Smaller Companies and Prima Funds in recent years, he's pulled quite a few rabbits out of the hat in mid- and small-cap investing.
I, therefore, decided to skip the usual 'Is the market expensive at Nifty 10K?' question and started off our chat with more interesting stuff. What hooked Janaki into equity research? It was scarcely the top career choice in conservative Chennai in the nineties, I think to myself.
Janaki explains that he was bitten by the equity bug quite early, thanks to a teacher who was avidly interested in the markets. "You can divide investors into professional investors who do this as a passion and those who do it as a job. I would count myself in the former. My first investment was made in class 12. I had a very good neighbour, a professor, who fanned my curiosity about the stock market and I used to have long debates with him about companies and markets. I invested in my first IPO in the mid-eighties - Varun Shipping. That was a time when all IPOs used to be at par and you were lucky to bag allotment. That's how I got initiated."
Janaki took up the mandatory BE degree but remained avidly interested in the markets, though he admits that he didn't think of being a professional investor then.
So what differences does he find between managing a prop book for a large investor (India Syntans, 2000 to 2004) and managing money on behalf of the small guys?
"I don't think my approach has changed much. My earlier stint was at mid-cap investing, too, especially in good-quality businesses. I always used to follow a buy-and-hold approach. At India Syntans though, we also used to practice what is now called activist investing. If we noticed inefficiencies in our portfolio companies, we prodded the management to resolve them. The only difference between that and Franklin Templeton (FT) is that here, there is a more structured approach to stock selection and there is greater organisational rigour in processes."
The idea pipeline
Small-cap investing is really about a constant supply of new ideas, unlike large-cap investing, where the universe is just 150-200 stocks. So where do you get your ideas from, Sirji, I ask.
Janaki relies both on conventional screeners and word of mouth. "You have to be open to ideas from all directions. There are screeners of course and you keep tweaking the filters that you use. In conversations with companies, you seek out information about their suppliers, customers, competitors and who they think are really good in their lines. I have found retired professionals from sectors to be goldmines of information. However, both the charm and frustration in this segment lies in the fact that not all conversations will immediately result in investment ideas. At some point of time, if you build resident knowledge, it translates into an investment insight. That's how I go about unearthing ideas."
It's easier to find ideas in bear markets than in bullish ones. "In a bear market, you get more opportunities to unearth ideas on your own. In a market like this, most good ideas are already discovered and are out there. On the plus side, there is already investor research in the system about these ideas. But the disadvantage is that in such markets, the re-rating of small-cap ideas happens far too quickly. This forces you to act against your natural instinct to be cautious. In 2011 to 2013, we had all the time in the world to find ideas, evaluate them and build positions," he says.
Hmmm... a lot of small-cap 'ideas' spring up in bull markets. But they vanish equally fast, when the bears return. So how does one avoid such flash-in-the-pan wealth decimators? Janaki agrees. "I have found that experience over one or two market cycles helps to eliminate mistakes. Many times, because of a favourable cycle, a small-cap company delivers high growth rates and people immediately extrapolate it. This results in a high valuation on cyclically high earnings, which can collapse subsequently and lead to big losses. I have learnt to put all my ideas through the filters of quality, growth and sustainability," he says.
Pragmatically, he adds that being too 'experienced' can also keep you away from short-term money-making opportunities. "There's a very good book called The Money Game by a financial journalist called Adam Smith; he's a very articulate and witty writer. In one chapter, the protagonist says that in a bull market, you need young managers to manage your money, as only they are not held back by old ideas."
Copycat mistakes
So where do the really big small-cap mistakes happen?
In copycat ideas, believes Janaki. "In a bull market, there is one clear leader in a sector whose stock creates a lot of wealth. This spawns a lot of me-too ideas from the same sector. That's when excesses happen. We have seen this with chemicals, textiles, paints. What is true for the really good companies isn't necessarily true for the whole sector. You need to be careful about that."
I pop the question that has always made me curious. Today, investor presentations retrace the journey of an Eicher Motors or an Asian Paints over a decade, and highlight how people presciently invested in these stocks 15 years ago. But was it really possible to see the multi-bagger potential in a paint company or a CV maker, 15 years ago?
Janaki is brutally honest and admits that in many cases, such multi-baggers happen by luck. "I will be frank. In Eicher Motors, we benefitted mainly from serendipity. If I think back to 2008-09, the key attraction in the business was the JV with Volvo on commercial vehicles and a new engine plant that Eicher was setting up for the global markets. The Royal Enfield brand was only a small piece of the business at that time. It gained traction only after 2013 or 2014. Asian Paints was different - a monoline business. Even in the nineties, it was evident that it was a solid business."
"I think structural transformations in businesses that happen slowly are very hard to realise. However, if you had invested early, you would have certainly held onto these companies because of the earnings that they delivered," he says, making a valid point.
Finding small-cap multi-baggers is a combination of serendipity and sitting tight, I conclude.
Janaki also adds that if you find a business with earnings visibility, you shouldn't obsess over the price. "One lesson from the Asian Paints/HDFC Bank kind of stocks is that India is a market where if you have a good management (in terms of discipline and execution), you can create tremendous wealth even from a moderately growing business. You will not be able to buy such businesses at cheap valuations. But the earnings growth will ensure compounding of your money." This is a realisation that we have internalised quite well at FT, he says.
Size and small-cap funds
Other micro-cap funds have shut their gates to new inflows citing the lack of opportunities. But the Smaller Companies Fund is well over ₹5,000 crore in assets and still open for business. Doesn't Janaki want the flexibility to hold cash or even refuse inflows?
Janaki says there are three reasons why the fund remains open to new money. "One, when the mandate was designed, this scheme was allowed to invest 75 per cent in small and mid caps, with the rest in large caps. Today, we have about 45 per cent in small caps, 35 per cent in mid caps and the rest in large caps, with some cash. So this is not a pure small-cap fund and gives us flexibility to absorb flows. Two, the small-cap opportunity itself has expanded over the years. India's growth in recent years, unlike in the 2003-2007 cycle, has favoured domestic demand-driven sectors, where there are a number of small and mid-cap companies. Importantly, market cap has become an aspiration for many Indian industrialists. Today, entrepreneurs are very keen to make their business elegant in structure, improve its transparency, get good independent directors and so on, to fetch a higher market capitalisation.
Three, we get a lot of flows from retail investors and these tend to be smooth. What we don't prefer in strong markets is lumpy inflows. Style also matters. Because my portfolio churn is low, I can run with my current positions for a long while," he says, winding down a long answer.
In mid and small caps, it is not just the business but also liquidity that matters. Does Janaki look at factors such as ownership patterns or volumes before buying?
"Absolutely not," is the categorical reply. "I don't consider liquidity when I select stocks. Small-cap investing is a bit like private equity. If you find a good-quality company early in its life, when the traits of the business are not fully stable, that's when great returns are made. You have to take a judgement call about the leadership moving in the right direction. If it works, you eventually get growth, stability and better valuations."
Janaki apologises for not explaining this well and quotes Peter Lynch, "Ease of entry and exit should never be the basis for both marriage and investing."
That's good life advice actually, I think, moving on to a macro doubt. Many of the multi-baggers in the last seven-eight years have come from consumer sectors. But can a rise in unemployment, falling IT sector hiring, etc., halt the consumer juggernaut?
Janaki is confident that these worries are overdone. "I think the consumption story in India has a long way to go. There are studies showing that consumer spending in discretionary items reaches an inflection point at a per capita income of about $1,400. I think we are now at that point. We need more reliable data points on which to assess the job growth in India. I don't believe the thesis that we haven't created any jobs at all in the last five years. One way of assessing this is to measure what people are consuming. The numbers don't betray any alarming trends."
His money
Moving on to his personal finances, I ask Janaki what some of his financial goals are, besides retirement. After answering all my stock-related questions in rapid-fire mode, this one has him stumped! "That's a googly! Why retirement?" he asks me. Most people have retirement as their ultimate financial goal, I say, a little amused. Janaki says that he has never thought of retiring, given his profession! "I don't work in a structured fashion towards retirement. At least not yet. If you are a keen investor, you remain an investor throughout your career. So my personal portfolio is an open-ended fund," he says, equally amused.
So where's that open-end fund invested and what's the asset allocation, I ask. "My equity investments are largely in the two funds managed by me - Franklin India Prima Fund and Franklin India Smaller Companies Fund. My current allocation is closer to 50-50, though that is not deliberate," Janaki says.
He adds apologetically, "I feel that is too defensive a position to own. But I've not been as active with rebalancing as I would like. For me, debt investments mainly represent dry powder to take advantage of good opportunities in equities. I mainly park my fixed-income money in liquid funds."
But Janaki says finding the time to do personal-portfolio maintenance is the challenge. "I've come to realise that it is best to automate decisions like rebalancing your portfolio, maintaining your weights in different assets and so on. Professional investors often think that they will know exactly when to shift from a 50-50 portfolio to, say, 60-40 or 80-20 and so on. But the truth is that such inflection points come too rarely. If you don't act for long, you miss out on opportunities during the intervening time. The boring approach of using SIPs and automatic rebalancing works best, really."
I counter that even personal-finance writers like me are often struck by such inertia, so there's no need for him to feel apologetic. We share a hearty laugh over this.
Not risky
But if his entire portfolio is invested in Franklin Smaller Companies Fund and Prima Fund, this means a mid-cap and small-cap heavy portfolio. Does this not worry him?
Not at all, asserts Janaki. "The perception that mid and small caps are risky, comes from the volatility in these categories as a whole. But if you are able to marry a quality-oriented approach with mid/small-cap investing, the risk-adjusted return is pretty good. If you track the volatility of our small-cap and mid-cap fund over 20 years, it is much lower than that of the category. Ultimately what matters is the quality of businesses I own. I am very comfortable with that."
Does he invest in property? Not much, says Janaki. "So far, the Indian property market offered excess returns because it was non-transparent. As transparency increases and regulations are tighter, demand and supply should play a stronger role in how property returns are determined. I think in the future, property will start behaving like any other asset class. I don't see it offering better-than-equity returns," he says.
What does he do to unwind? Janaki is a bookworm. "I don't like to read 'how to become a smart investor' kind of books. I read a lot about history and biographies of investors and entrepreneurs. One book that has really impressed me lately is Jared Diamond's Guns, Germs and Steel," he adds.
Finally, any big investing mistakes he would like to share? Janaki says he has made many. But "the charm of the equity business is that it is a very forgiving profession. There are always second chances, both for professional and individual investors."
Well, that tells me that this seasoned small-cap manager is yet to make a really big investing mistake that has lost his investors a packet. In this challenging segment of the market, errors of omission are vastly preferable to the errors of commission.