The packaged-food industry in India is among the fastest-growing segments of the FMCG industry. Over 2005-2015, against FMCG industry growth of 12 per cent CAGR, packaged foods grew at a compounded 13 per cent. Increased urbanisation, a higher proportion of working women, coupled with greater exposure to international foods and brand consciousness, are the key factors in driving this growth - trends that will likely persist over the next decade. One such segment where India has a significant global market share is processed milk and milk products. India is the second largest producer and consumer of milk products after the EU. Interestingly, among various other segments of processed foods, the dairy industry remains largely in the unorganised sector thus far. This is likely to change over the next few years.
Processed milk products - a regional business
The dairy business in India rarely means owning the animal - milk is procured from small and medium farmers either directly or through middle men and then processed. Given the nature of the product, both procurement and distribution are constrained within a 100 km zone of the production unit. This has led to several regional and local brands becoming popular - Heritage in Andhra Pradesh and Telangana, Hatsun in Tamil Nadu and Karnataka, Parag and Prabhat in the West, and Kwality in the north are some examples. Given the current estimated growth rates, the dairy market in India could double from the existing `4.5 trillion to `9 trillion over the next three years. This, coupled with a shift of market share to more organised players, can lead to very exciting growth rates for these companies.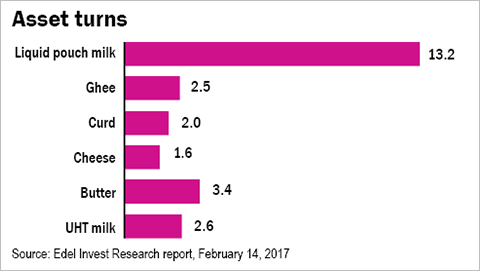 Branding and technology
Besides the issue of local sourcing and distribution, the economics of the business has favoured lower processing. Milk and curd operate on a lower working capital cycle and require low initial capital spend. Consequently, the return on capital is significantly higher. More 'value-add' products like cheese, ghee, UHT (ultra high temperature) milk have significantly higher working capital requirements. Newer products like Whey protein require market-development efforts, which cost more money.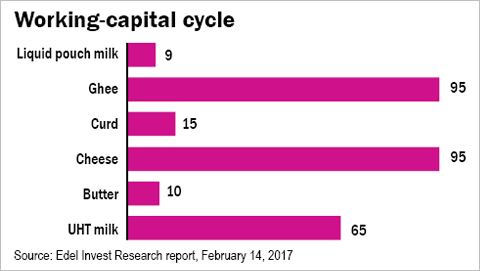 Margins are higher in value-added products but the higher investment has made them less attractive. Large private players, like Heritage, have so far largely focused on the milk and curd market. With the development of cold chains and better emphasis on brands, this is slowly changing, with value-added becoming a larger part of the industry's portfolio.
Rapid growth over next few years
Milk is consumed almost all over the country. Despite this, the per capita consumption continues to be low in India when compared to other countries.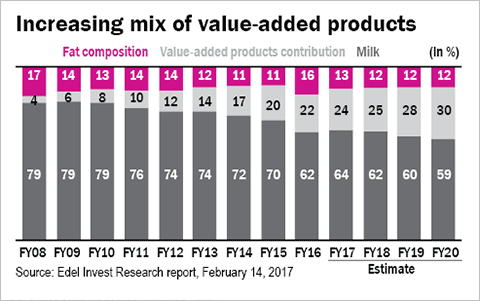 Rising affordability and shift in consumer preference to branded and processed milk will move the demand towards increased value-added products. This will also favour the organised sector, with its ability to create brands and manage a more complex supply chain. Extending the current rate of growth of larger players in the industry, the organised sector should make up over 25 per cent of the industry in 2020, up from 16 per cent in 2010.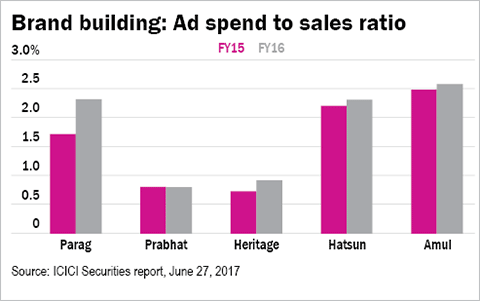 Better economics expected
A key determinant of the profitability of companies is the cost of raw milk. A good monsoon usually leads to better feed for milch animals and increases production. Conversely, a poor monsoon can curb production. Government policies play a major part as well. Several states have well-functioning cooperatives, where the focus is to provide the best prices to farmers. Here the procurement prices are pushed up for everyone in the chain. Governments may also announce periodic increase in procurement prices. While such prices are eventually pushed down to consumers, there is usually a lag for the market to accept the higher prices, leading to depressed margins for companies. One such year was the year just gone by. Going forward, with monsoons showing encouraging signs, the current financial year should see better margins for dairy companies. Global prices for skimmed milk too have softened, reducing the upward pressure on prices.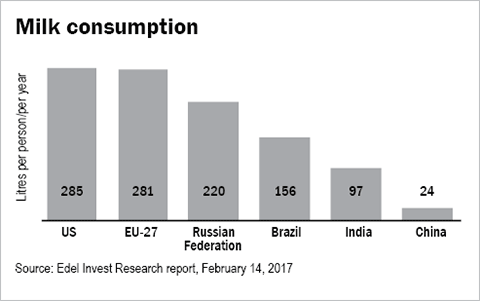 Valuations
The industry suffers from low margins, with most players in the 6-10 per cent EBITDA margin range. This is clearly not very exciting for products where the asset turnover is low. Going forward, margins can expand as market and brand-development costs get amortised over a larger sales base. Also, with a greater proportion of sales attracting a better margin, earnings growth can outstrip sales growth. Historically, the first mover has been able to maintain its advantage in most regions. Over the next few years, higher growth rates expected from listed players may leave upside for a long-term investor looking at investing in an industry undergoing structural change.
Anand Tandon is an independent analyst.