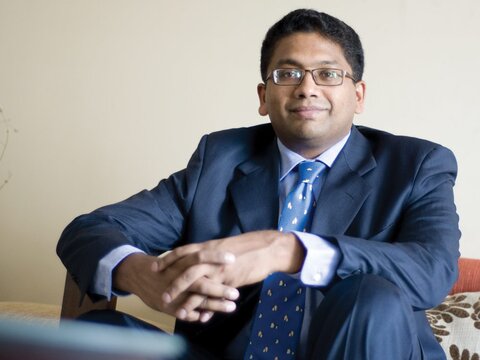 Closed-end funds haven't been our favourites for a number of reasons. However, what is also true is that there are scores of investors who like to invest in a stock portfolio in one-shot and wait for 3-5 years for the bet to be realized. UTI MF is bringing UTI Focussed Equity Fund Series - IV (1104 days), an equity scheme that will house some good stock ideas for somebody who can spare 3 years. Value Research's Kumar Shankar Roy caught up with master stock-picker Vetri Subramaniam, Group President & Head-Equity at UTI MF, to understand about the new fund offer (open from Sep 13 to Sep 25) and its unique selling points. Read on.
Firstly, tell us about the investment strategy for UTI Focussed Equity Fund Series - IV (1104 days).
The idea is to run this as a best of ideas product. Effectively, what we are looking at is creating a bottom-up portfolio. The way we are doing it is all our internal analysts have been asked to give their best stock ideas keeping in mind the 3-year time-frame that the fund will have. We have an investible universe of 345 stocks. Based on analysts' feedback, we got a list of 38 stocks that they consider to be the best. Then, we filtered these stocks based on 3 parameters. One is the strongest earnings growth over the 3-year fund time-frame i.e. FY2017 to FY2020. Second, we have looked at those stocks that have a current return on capital (RoC) that is lower than 5-year average and the ones which analysts believe could recover near the average or more than the average. The third filter was which of these companies are trading at a price to book multiple which is lower than its last 5-year average. The stock ideas we got cut across sectors. We are market-cap agnostic which means we will look at large-cap, mid-cap and small-cap. We also will be blended in terms of style since there will be growth and value picks.
Are the best ideas the best in terms of return potential?
There is a bit of subjectivity in that, but broadly these stocks ideas are the ones that have the best return potential over the 3-year time-frame for the fund. At the same time, it's not just the stocks with most return potential in terms of pure number. It's not that I have asked the analyst who tracks cement that give me stocks, and he has come back with '4 cement stocks you can buy'. The best stock ideas are a combination of earnings growth, de-rating/re-rating, and mean reversion to fundamentals (low RoC improving to much higher RoC).
We see sector level opportunities in financial services, pharmaceuticals, logistics, and consumer goods. There are interesting opportunities in metal, cement, NBFC, energy and much more. If I remember correctly, telecom, construction and chemicals are the only sectors where our analysts didn't have a pick.
Were there cases where the stock filters led to the same set of stocks appearing over and over again?
Yes. Based on the 38 stocks and then using the filters mentioned earlier, some stocks were appearing again and again. Out of the 38, 16 large-cap companies, 18 are mid-cap companies and 4 are small-cap companies. We have basically now shortlisted a stock portfolio of 20-25 stocks. We expect the portfolio to have 55-60% of large-cap stocks. It could go marginally higher as well. So, the stocks in our portfolio would be predominantly large-caps. To the extent that we are bottom-up, we will try to create a portfolio that will be reasonably diversified. We admit that 25 stock-portfolio cannot be a full diversified one. So, it will be a balance between focus and diversification.
Any sector or stock limits for the fund?
The normal UTI MF prudential norms will apply to this fund as well. This means single stock limit will be 9.5% and sector limit will be 35%. The overweight position relative to the benchmark (S&P BSE 200) cannot be more than 12%. The top 10 positions of the fund will have a weightage of maximum 55%. These are the broad thumb-rules that we will follow while constructing the portfolio.
Any specific reason behind why you are launching a closed-end equity fund today? What's special about the next 3 years?
What we at UTI Mutual Fund have learnt from launching different kinds of funds is that there is a strong demand from some investor categories for such a product. The idea of putting their money once into the fund with a 3-year horizon finds a lot of resonance among these investors. This the fourth fund in this series and the first ones were quite successful.
Do you adopt a similar strategy for your open-ended funds?
Not exactly. If you look at how the fund portfolio will be, we will have 20-25 stocks. That's not how our open-ended funds are built, which have 35-75 names in the portfolio. However, investors in closed-end funds are quite comfortable with concentrated bets. We will stay put in the 20-25 names as long as fundamentals don't change.
What's the cash and exit strategy for your portfolio?
A closed-end structure has quite a few benefits like the fund manager doesn't need to worry about how to handle new money flowing in. In terms of exit strategy, we would like to be in a stock as long as fundamentals are intact. If the fundamentals turn bad, we will exit. If the stock price of a portfolio constituent reaches its price target, we will exit. On a quarterly basis, we will like to keep a 35-stock list sourced from the entire team. So that when we exit a stock, we can choose an alternative from the pool of the existing best ideas.
In terms of cash, we will require 30-90 days to be fully deployed. We aim to be fully invested i.e. 95% or more. However, in the first 3 months and the last 3 months of the fund tenure we typically will have a lot more cash. This is because, in the first 3 months, we are getting invested. In the last 3 months, we will ensure that we don't leave the job of realizing profits to the very last day.