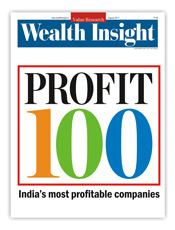 After all is said and done, companies that make higher profits are the most desirable investments. The ability to achieve and maintain a high profit margin is a special quality that smart investors always look for. Read the August 2017 issue of Wealth Insight 'Profit 100' India's Most profitable Companies' for our annual analysis of these companies.
Apart from this special feature, we have a lot more for you in this issue to help you invest better
First Page - Dhirendra Kumar: It's a time of low profits and high valuations and even higher hopes. That makes it a tough time to be an equity investor but there is a clear way forward
Market Compass:

Tracking Prashant Jain: By tracking influential investors, you can get some idea about where to invest now. Here is what HDFC Mutual Fund's CIO and star fund manager Prashant Jain has been buying and selling in the funds that he manages
Crazy Small Caps
Telltale signs of a failing company

Interview: Vikas V Gupta, CEO & Chief Investment Strategist, OmniScience Capital
Classroom: Assessing a business lies at the heart of stock investing. Here's how to do it.
Vis-a-vis: Here is how Sun TV and Zee Entertainment, two leading media companies in India, stand with respect to each other
Main Street: Saurabh Mukherjea writes shows how a weak economy, retrograde social milieu and lack of political leadership are ravaging North India
The Chartist: Devangshu Datta The dynamics of the Indian oil-and-gas sector and how it can be affected by an uncertain global scenario
Straight Talk: Anand Tandon about the next white revolution. With the formalisation of the dairy industry over the next few years, long-term investors stand to gain
Generally Speaking: Vivek Kaul writes that with GST, India is Getting Serious about Taxes
Stock Ideas: Read about these investment ideas that you can use now:

Quality stocks available cheap
Attractive blue chips
High dividend-yield stocks
Discount to book value
Reasonably priced growth stocks

Stock Analyst's Choice: Our regular scorecard of the stocks we've recommended since 2011 and their performance.
The issue is now on news stands. You can also subscribe to the printed version, or buy a digital subscription (PDF + online reader) instantly. You can also buy a digital copy of this issue without subscribing.