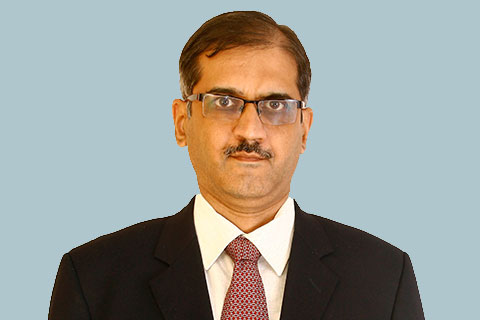 Among the most senior fund managers in the Indian mutual fund industry, Pradeep Gokhale of Tata Mutual Fund is the steward of a large-cap fund and an ethical-investing fund. In an interview with Kumar Shankar Roy, he shares his views on large-cap valuations, four major trends in play and why he has low exposure to the metals space.
Are large-cap valuations expensive in historical terms?
Large-cap indices Sensex and Nifty are trading at about 18.5x FY18 and 16x FY19 EPS estimates. These valuation multiples are above the long-term averages but by no means are very expensive or near peak. In fact, in a relative sense, today, large-cap valuations are lower than mid-cap valuations on a P/E basis.
Do more investment opportunities come up with your growth-at reasonable-price (GARP) strategy vis-a-vis one or two years ago?
As I was saying earlier, market valuations are slightly above the longer-term average multiples after a good run in the last 12 months or so. So, relative to the last year, when Sensex was near 24,000 levels, the opportunities are fewer.
However, what is interesting is that during the last 12 months, the rally was led by value stocks, which moved from below-average multiples to multiples which are closer to averages. Growth stocks were not leaders in the rally. We thus find opportunities to apply the GARP strategy. We are focusing on stocks with more sustainable growth, as market valuations have moved up.
Over a 10-year period, your large-cap fund has returned nearly 12 per cent annually. Do you think returns of this kind can be expected by investors who are keen to enter markets now, when Sensex has crossed 30,000?
India is an economy with high growth potential. It is coming out of a prolonged period of weak growth. Many internal factors which impacted growth such as high inflation, high fiscal and current-account deficits have been properly addressed and have shown good improvement. Global growth has also been weak in this period. We are seeing some signs of improvement there, too, as witnessed in trade and export data. We, therefore, feel that investors with a long-term horizon can make good returns from equities even though the market is trading at new highs.
Your large-cap fund has among the lowest portfolio turnovers (32 per cent). Are you a buy-and-hold kind of fund manager?
We generally look at companies with a medium-term view in terms of their competitive position, expected EPS growth, sustainability of growth, management track record and valuations. We monitor our portfolio regularly to see if our thesis is panning out. We make changes if our investment thesis is not playing out or if the stock has moved up and is fully priced in our opinion or if there are better alternatives available. We do not target a particular turnover level. However, with more focus on the medium term, our turnover is relatively lower.
Across the large-cap space, which sectors exhibit your 'higher quality set of businesses' character?
Generally, we find higher quality businesses in sectors such as automobiles and auto ancillaries, banking and financial services, consumer staples and durables, IT, pharma and utilities.
In the large-cap space, are there companies with low entry barriers? If a company is at present delivering good financial results despite having those disadvantages, what do you do?
In the large-cap universe also, there are businesses with lower competitive advantages. Many of these companies would do very well when their industry as a whole is doing well. We evaluate such companies and if they meet our criteria on earnings growth and valuations, we invest in them.
Does your fund seek to maintain its sectoral weightage within a tight range of the sectoral allocation of its benchmark index?
We follow an active fund-management strategy and do take significant positions away from the benchmark, both in terms of stocks and sectors.
Can you share any new trends prevailing in the market that you may be considering to take advantage of?
We see four broad trends playing out in the economy.
1. Higher share of capital investments by the public sector/PSUs as compared to the private sector.
2. Formalisation of the economy due to measures such as GST and restrictions on cash transactions in business. This can benefit the businesses where currently the share of the unorganised sector is high.
3. Financial inclusion - a higher share of savings flowing to the financial sector as compared to real estate/ gold.
4. Higher growth in household debt. Indian households are underleveraged even when compared to many emerging economies and with rising aspirations, the scope for retail loan growth is high.
What is the reason behind metals as a sector not finding good space in your portfolio?
The main value driver for metals is international commodity prices, which we find difficult to understand and forecast. Also, many metal companies have high debt levels. Hence, our metal exposure is low. We have invested in some metal companies which are very low-cost producers and have a strong balance sheet.
Tata Ethical Fund is a multi-cap fund, but its returns haven't been greater than, for example, the large-cap fund you manage over the long-term.
Tata Ethical Fund is a thematic fund, which essentially invests in high-quality growth companies with low debt levels. They have good return on capital employed and high cash-generation ability.Over a complete business cycle, such a portfolio gives superior returns. Being a thematic fund with sectoral investment restrictions, you cannot strictly compare it with diversified funds.
Since banking and finance companies are not part of an ethical fund, doesn't it begin with a handicap in the first place?
The ethical fund invests in several high-growth sectors such as auto and auto ancillaries, cement, capital goods, discretionary consumption, oil and gas, which are a play on economic recovery and growth. The volatility in such sectors is also much lower than that in the banking sector. So an absence of banking exposure is not actually a disadvantage.