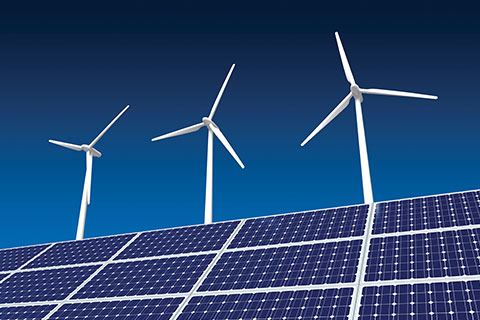 India's power sector has been in terrible shape for the past 15 years and it is the single largest contributor to the non-performing assets in the financial system. However, there have been a sequence of interesting developments in the past year or two.
Capacity additions clearly indicate the rising importance of renewables. New capacity in renewables in 2016-17 amounted to 11.3 gigawatt, while new capacities in coal, hydro and nuclear amounted to 10.6 GW, 1.6 GW and 1 GW, respectively (see Figure 1). In fact, conventional capacity additions have declined, from 23.9 GW added in 2015-16. It is true that renewables have very low plant-load factors (PLF) compared to thermal power plants, so these numbers are deceptive but they do indicate the sharp rise in the importance of renewables in the mix.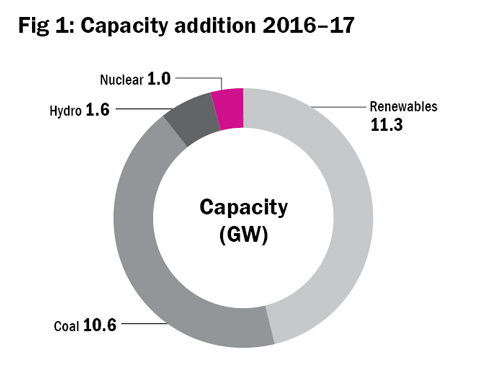 The energy mix is still very much dependent on thermal. The known installed capacity (this may be an underestimate since it is increasingly easy to set up captive rooftop solar) as of March 2017 is given in Figure 2. About 42 per cent of total capacity is owned by private players, with the Centre owning about 25 per cent and the states controlling about 32 per cent.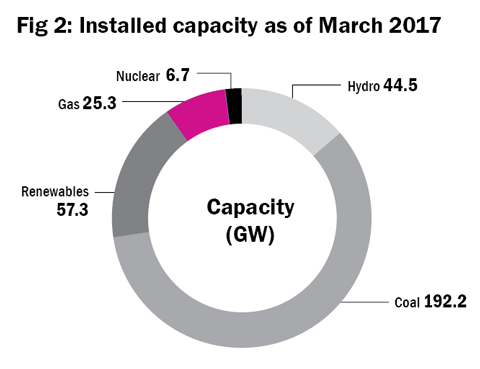 Thermal coal contributed close to 80 per cent of generation. Renewables actually contributed about 7 per cent to generation in 2016-17, although the installed capacity amounts to about 17 per cent. Hydro has lower installed capacity but higher PLF and contributed about 11 per cent to generation. This is a pointer to the differences in the PLF referred to above.
Coal-based generation capacity suffers from a low PLF. A well-run thermal plant can easily run at 95 per cent of its rated capacity. But Indian plants averaged around 60 per cent in 2016-17, which was down from 62 per cent in 2015-16.
This is partly because of inefficiencies such as poor supply chains. Coal is supplied by a monopoly (Coal India) via another monopoly (Railways) with frequent delays and hassles. Alternatively, coal is imported. If it's imported, there are further problems, including proximity to ports.
Importers cannot charge higher tariffs to compensate for more expensive fuel. A recent Supreme Court decision involved Adani Power's and Tata Power's pleas to be allowed to charge higher tariffs for their respective plants in Mundra, which both rely on imported coal. The SC rejected these pleas, a decision which impacts any others using imported fuels as well. Plants using imported gas are also in trouble for basically the same reasons - supply issues and an inability to pass on costs.
The coal supply chain has improved in that coal supply is now more stable. But a new problem has arisen for thermal players as solar capacity is wheeled onto the grid. Solar is intermittent and electricity is hard to store. So during daylight hours, when solar energy is being generated, it gets preference over thermal, and thermal plants are told to 'back down' and cut production.
No new conventional thermal projects achieved financial closure in the last fiscal. In fact, the Central Electricity Authority (CEA) projects that no new thermal projects are needed until 2027 because coal based capacity of 50 GW is already under construction. In contrast, there are huge investments in renewables.
In transmission, there's been a lot of activity. While Powergrid Corporation remains by far the largest player, many private players are also getting into this space. Projects are generally awarded via competitive bidding and Sterlite, Adani, Essel, etc., are all players in this space.
The really key area for reforms is distribution and this includes the collection of tariff charges as well. Discoms are state-government-run units. Discoms have really huge losses and those losses have been mounting for years. This is the cancer which leads to problems across the entire sector.
The UDAY (Ujjwal Discom Assurance Yojana) scheme was designed to help with shoring up discom finances. It does several things. First, states have to issue bonds, refinancing a proportion of the outstanding debts of discoms. Second, discoms have to commit to targeted reduction of technical and commercial losses - cut down the number of unbilled units which are generated but 'disappear'. Third, tariffs have to be rationalised by reducing negative gaps between the average cost of supply (ACS) and the average revenue realised (ARR). Ideally, the ARR should exceed the cost of supply, of course.
As of now, about 85 per cent of outstanding discom debt in 27 states - that's a whopping Rs 2.3 trillion (Rs 2.3 lakh-crore) has been dealt with via bonds. Technical and commercial losses have been reduced from 26 per cent in 2010-11 to 24 per cent in 2015-16 (as per the latest overall numbers available). The 'tariff gap' narrowed to Rs 0.56/unit (March 2016) from Rs 0.88/ unit in 2010-11.
Based on data from 18 states, aggregate T&C losses reduced from 23.84 per cent as of March 2016 to 22.86 per cent as of December 2016. The target of 20.76 per cent was missed but there has been improvement. The ACS- ARR gap dropped to Rs 0.47 but the target was Rs 0.30. That's a decent trend. But it's still negative and the overall losses for discoms are still mounting in absolute terms. Power Finance Corporation estimates that at least 25 discoms (out of 41) cannot cover costs.
Anecdotally, generation companies still complain that they face slow payments. Those who gambled on imported fuel are in deep trouble. As solar and wind tariffs come down to competitive levels (albeit with subsidisation), thermal generators are under increasing pressures.
Power trading is an increasingly important segment. Due to falling power prices, the market size in value terms has stagnated. Power is bought bilaterally, (usually by state discoms) as well as via the two power exchanges (where commercial buyers are dominant). The two different markets are roughly of the same size in terms of units.
Bilaterals feature a fair amount of term contracts and bilaterals indicate that state discoms have not really been buying more power over the past five years (ending March 2016). The power exchanges generally feature short-term day-ahead contracts. Clearly, discovered prices are lower at the exchanges but prices have fallen in both the trading markets (see Figures 3 and 4). Looking through this mass of data, some broad trends are discernible.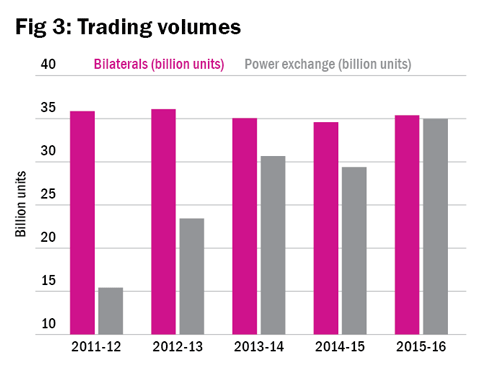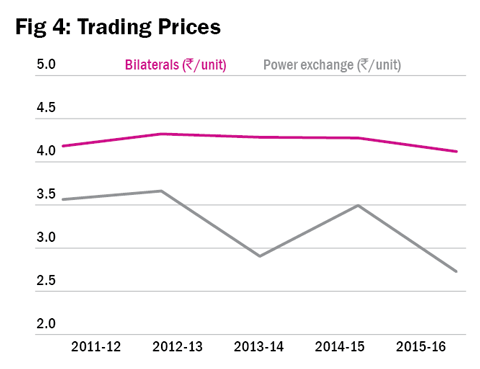 1. Power costs will remain low and may reduce in real terms. Fuel costs for thermal will stay down because of global trends, with crude, gas and coal remaining cheap. Solar and wind costs are being subsidised but, importantly, they are also reducing quickly as technology improves and the scale increases. Lower power tariffs are good for the economy in general.
2. There will be enormous investments required. In generation, the focus will shift away from thermal, with no new greenfield projects on the anvil. The generation emphasis is all about renewables.
Transmission and distribution will also present huge opportunities. A lot of the investment will be in 'smart' equipment, such as IoT-enabled smart grids and smart meters. Many consumers have also become power generators; they generate solar (or wind or biogas) power and wheel surplus power onto the grid at times. They also consume power. This changes the dynamics of the sector.
3. Trading will become more important. As grids improve, more and more short-term power units will be traded. There will also be large variations in price depending on sunshine/time of day/wind speed, etc.
4. Financials have improved but remain a cause for major concern. UDAY buys time for states to reform. But it's an open question if state discoms will reform. Losses continue to rise, though the debt-servicing ability has been improved via UDAY.
Discoms remain the weak point for the entire sector. Tariffs have to be rationalised to the point where average realisation exceeds the cost of supply. T&C losses have to be reduced to acceptable levels, where discoms can be run commercially without massive subsidy and support. This is where political will must really be exercised.