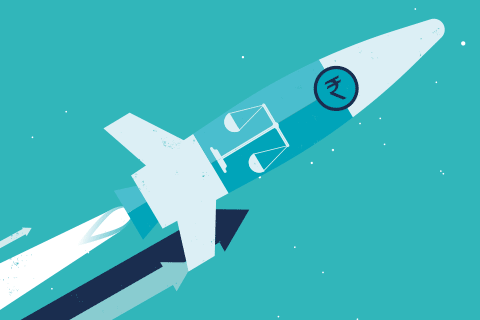 With equity markets on a happy high, it's balanced funds that are getting the loudest cheer. These hybrid products, which have become extremely popular in the last 2-3 years, have, in May-2017, received the biggest net inflows in a month ever at Rs 7663 crore. This represents a 7-fold jump from Rs 974 crore received a year back in May-2016.
Clearly, investors with a lower risk appetite but with a willingness to invest in equities are coming in droves to this category. After a sharp rally in equity markets, the funds are a preferred investment avenue as the debt proportion serves to protect on intermediate relief rallies or the downturn while providing minimum 65% participation on further upsides.
The ascent of balanced funds shows a few things. Firstly, investors are getting more comfortable about investing in this product than ever before. When balanced funds had crossed the Rs 4,000 crore net inflows mark in June-2015, it was the first time in over fifteen years that the MF industry had seen this category surpass that landmark. However, this was only the beginning. The calendar year 2017 has seen old records being taken out regularly. In February 2017, balanced funds saw Rs 4562 crore worth net inflows, registering a new record. Each of the next three months saw new records being created and broken.
Rahul Parikh, CEO, Bajaj Capital, said: 'Investor Awareness Programme and paperless investing platform for mutual fund investing are the two major factors that have facilitated this growth in net inflows. In addition to these, even the investors' confidence in MF has increased. Now they are holding their investments in equity oriented schemes for a longer period of time for both lump sum as well as SIP (Systematic Investment Plan) investments.'
Biggest months for balanced funds
| | |
| --- | --- |
| Months | Net inflows (Rs Cr) |
| May 2017 | 7663 |
| April 2017 | 7136 |
| March 2017 | 5952 |
| February 2017 | 4562 |
| December 2015 | 4511 |
| June 2015 | 4419 |
| December 2016 | 3947 |
| November 2016 | 3632 |
| October 2016 | 3385 |
| January 2017 | 3304 |
Secondly, as equity markets gain pace, many conservative investors are taking the hybrid route to gain. Over the last two or three years, the balanced fund space has emerged as one of the fastest growing equity categories and offers an ideal gateway for first-time retail equity investors. In FY17, balanced funds AUM growth outpaced most other categories. The tax angle is being easily understood by investors too. Balanced funds are hybrid funds. More than 65% of the overall portfolio is invested in equities. Hence, as per provisions of the Income Tax Act, 1961, any capital gains over a year become tax-free. 'In case, one separately invests 35% of one's corpus in a debt fund, the same will be subject to higher taxation. However, if the whole corpus is invested in balanced funds, 100% amount will have lower taxation applicable. Thus, balanced funds offer the benefit of equity taxation on debt component,' says ICICI Securities research analyst Sachin Jain.
Thirdly, balanced funds are a hassle-free way to invest across asset classes. These funds offer diversification in the true sense with a portfolio that contains stocks and bonds, thereby offering a blend of growth and safety. An investor does not have to take the trouble of managing an assortment of investments. One fund does it all. Your overall cost of owning and managing your investments also comes down.
The ascent of balanced funds hasn't come at the cost of equity funds. Long-term investors are still pushing money in equity funds, and the quantum of monthly net inflows is the proof. Taking equity funds, ELSS schemes and other equity ETFs together, May 2017 has seen Rs 11323 crore net inflows. This is the seventh biggest month in terms of inflows for equity funds since October 1999. As balanced funds have emerged stronger, equity funds too have gone from strength to strength. In just the last 12 months alone, equity funds have garnered net inflows of Rs 1.05 lakh crore -- a symbol of the investor trust and interest in equities. The all-time biggest monthly net inflow occurred on Dec-2016 when a mammoth Rs 14452 crore came in, breaking the previous record of Rs 12782 crore in Jan-2008.
Biggest months for equity funds
Month
Net Inflows (Rs Cr)
December 2016
14452
January 2008
12782
June 2015
12346
November 2016
11909
March 2017
11815
January 2017
11628
May 2017
11323
March 2006
11207
July 2014
11056
May 2006
10720
* Includes equity funds, ELSS and ETFs