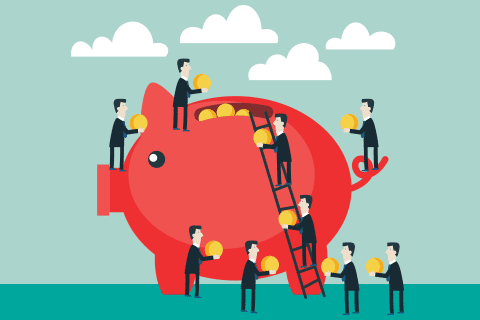 The steady rise in equity markets and sustained inflows have helped the Indian mutual fund industry come of age. The most interesting part of this journey has been the retail investor participation. Data shows that retail investors' average account grew by nearly 15% in FY17, albeit at a slower pace than institutions and HNIs.
Accounts gain
The table below shows the growth in the number of accounts in the past two years. Please note that according to AMFI, an account refers to a folio. An investor may have multiple accounts in a single fund or across funds.
| | | | |
| --- | --- | --- | --- |
| Accounts | March 2016 | March 2017 | Growth |
| Total | 4.76 crores | 5.53 crores | 16% |
| Retail investors | 4.53 crores | 5.23 crores | 15% |
| HNIs | 18.04 lakhs | 25.12 lakhs | 39% |
| Institutional investors | 4.63 lakhs | 5.73 lakhs | 24% |
At the end of FY17, nearly 80% of the investor accounts were in equity-oriented schemes. About 17% of the accounts are in debt-oriented schemes. Liquid and money market funds account for nearly 1% of accounts.
Retail rise
There was a sharp rise in the number of equity accounts in 2016-17. For debt oriented schemes, the rate of growth was positive but declining because of the shift in investor preference towards equity. However, debt accounts show a rising trend again since September 2015.
At the end of March-2017, retail investors' average account was worth Rs 75801, up 24.77% compared to Rs 60,750 in March-2016, according to data with industry-body AMFI. Institutional investors, including FIIs, had the largest ticket size, at Rs 11.07 crore per account. This figure was Rs 8.9 crore a year ago. However, HNIs held Rs 18.95 lakh per account at the end of FY17, a 3.3% drop from Rs 19.6 lakh twelve months back.
Equity schemes
Equity-linked products have been among the best-sellers for mutual funds. The average ticket size in equity schemes is Rs 1.41 lakh, about 28% more than Rs 1.1 lakh at the end of the previous financial year. These figures are the average asset size per account in the equity oriented funds.
The average ticket size is higher at Rs 39.81 lakh for liquid and money market schemes which are dominated by institutional players. However, the average size has dropped from Rs 54.3 lakh a year ago. The ticket size of debt oriented schemes has gone up to Rs 8.25 lakh from Rs 7.33 lakh in 12 months.
Exchange traded funds (ETFs) and fund of funds (FoFs) have witnessed a big jump with average ticket size rising to Rs 5.04 lakh compared to Rs 2.95 lakh.
Holding time
Equity assets have a longer average holding period as compared to non-equity assets. At the end of March-2017, roughly 38% of equity assets have been held for periods greater than 24 months, compared to 25% for non-equity assets.
16% of non-equity assets were held for more than 24 months in June 2015 compared to 25% in March 2017. The increase in holding period for applicability of long-term capital gains to debt could be one of the reasons why more non-equity assets are being held for 2 years or longer.