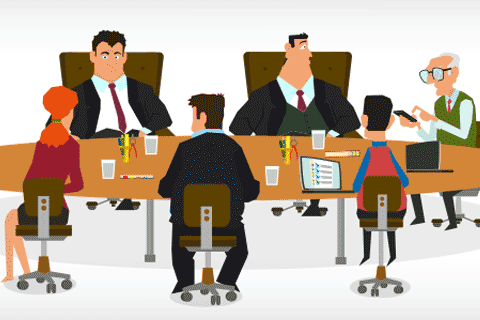 Indian equity markets are known to be sensitive to the flows from foreign institutional investors (FIIs) - good FII inflows can take the market up; outflows can lead to a significant fall. This correlation has been so strong that it seemed like the destiny of Indian markets was in the hands of foreigners.
The last one year has seen some significant international events taking place: Brexit, Trump's election and a strengthening US economy. On the domestic front, there was demonetisation. A strengthening US economy and job growth was responsible for two rate hikes by the US Fed last year. This led to a flight of capital from emerging markets, including India, into the US. The US president Donald Trump has shown a protectionist stance, which is likely to result in an increase in the exodus of investors from the Indian market. But it looked like the Indian market remained largely unperturbed, thanks to the buying by domestic institutions, including mutual funds, which cushioned the sale by FIIs. If it were not for higher DII buying, the Indian market perhaps would have fallen more. But are DIIs really becoming so potent that they can support the Indian market on their shoulders?
Data suggest that this is still not the case. Looking at the ten-year trend of FII/DII ownership in the market, it does look like that DIIs are becoming significant players in the market. However, FIIs still have an upper hand. At the end of the previous financial year, FIIs held about 19 per cent of the Indian listed companies, while DIIs held around 14 per cent. Of this 14 per cent, mutual funds constituted just 4.6 per cent.
Are DIIs aggressively buying the Indian market? This is also not the case. Over ten years, DII ownership has risen just 4.23 percentage points, from 9.5 per cent to 13.73 per cent. Are mutual funds turning aggressive? Unfortunately, they are not. In 2006, Indian mutual funds held 3.55 per cent of the market; in 2016 they held just 4.59 per cent - a measly 1.04 per cent more over ten years.
The talks going around in the media regarding DIIs balancing FIIs may be misplaced. While it's true that DIIs contained the fall in the market in the last year, it is still not the time to boast of the 'maturity' of the Indian market and investors. At best, increasing DII interest can best be seen as the first green shoots, which will take their time to grow.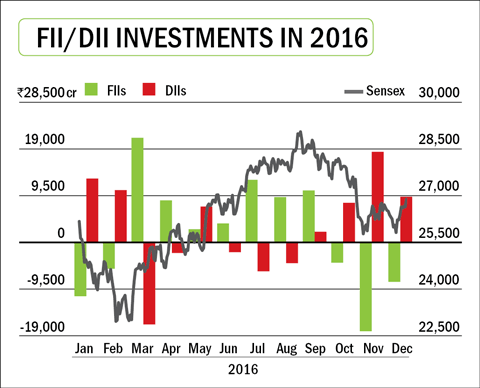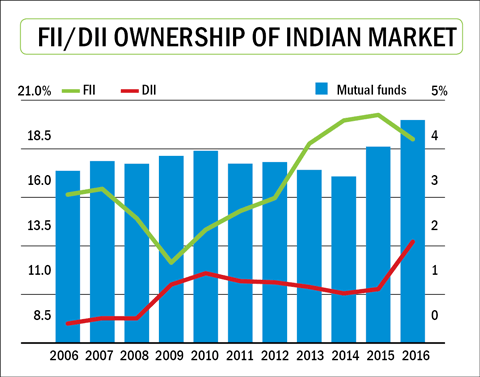 This column appeared in the February 2017 issue of Mutual Fund Insight.