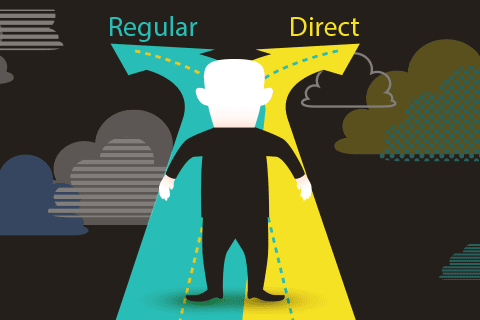 The country's first and only direct-to-investor fund house is changing its course. Quantum Mutual Fund, which for years has extolled the virtues of avoiding intermediaries in investing, has now announced the launch of Regular Plans for investors from April 1, 2017. This means that investors who were not comfortable with the direct route, can now take the help of distributors to buy Quantum MF schemes. Wary that the strategic change could spook some investors, the fund house has clarified that this is neither a change in its operating philosophy, structure nor fund management style.
For years, Quantum MF has been known as a pioneer of the direct-to-investor model in India. It prided itself on staying away from the MF distribution industry which it often labelled as "opaque" because distributors earned commissions but did not disclose them. Such a stance also meant Quantum MF had to sacrifice growth in its AUM (Assets under Management) despite good fund performance. In a country with low financial literacy like ours, distribution muscle is often critical for MF purchases. At the end of December 2016, Quantum MF had assets of less than Rs 1000 crore, 10 years after its first scheme launch.
But with SEBI's new rule, instituted October 1 2016, requiring asset management companies to disclose all commissions paid to distributors in the Half-Yearly Consolidated Account Statements (CAS) they send to investors, Quantum MF is of the view that investors can now access commission information.
So, Quantum MF will now have two types of plans - direct and regular. It will continue to offer Direct Plans to all investors. All your existing investments, irrespective of whether they have come through distributors, will remain in Direct Plans at the existing expense ratio. In addition it woll offer a regular plan to new investors, including distributor commissions.
On equity side, Quantum MF manages the flagship Quantum Long Term Equity Fund, Quantum Tax Saving Fund, Quantum Equity Fund of Funds and Quantum Index Fund ETF. On debt side, it has Quantum Liquid Fund and Quantum Dynamic Bond Fund. For gold bugs, it has Quantum Gold Fund ETF and Quantum Gold Savings Fund while there is also a Quantum Multi Asset Fund.
"...we do recognize that many other investors may need the assistance and the help of a distributor to plan their investments. It is for their benefit that we are launching a Regular Plan by which we can pay that distributor a fee," the fund-house said.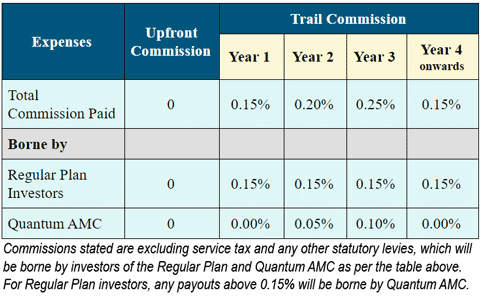 The plan to float regular schemes, to be sold by distributors, also fits in with Quantum MF's plan to attain scale and thus reduce costs. Distributor help will help it gain more assets and also assist in bringing down its total expense ratio or TER, the measure of total cost of a fund to investors.
Simply put, this means as Quantum MF's schemes size gets bigger, investors will be charged lower for money management. The company's Quantum Long Term Equity Fund has an expense ratio of 1.09%. The company wants to lower it to 0.75% on AUM of above Rs 10,000 crore. For comparison, regular plan of SBI Bluechip Fund (with AUM of over Rs 10,000 crore) has an expense ratio of 1.98%. Birla Sun Life Frontline Equity Fund, with over Rs 13,000 crore assets, has an expense ratio of 2.13%. In fact, Rs 10,000-crore and above size equity funds (falling in equity - large cap category) all have expense ratios of more than 2% when it comes regular plans. Direct plans are much cheaper with about 1% expense ratios.
The expense ratio of the Quantum Tax Saving Fund will be the same as that of the Quantum Long Term Equity Fund, irrespective of AUM levels, the company says.
For Quantum Liquid Fund, the fund house plans to lower it to 0.09% once it attains asset size of more than Rs 2500 crore. There are similar plans for Quantum Dynamic Bond and Quantum Gold Fund as well.
The only way to drive a sharp rise is assets is through more inflows, an area where distributors can help immensely.