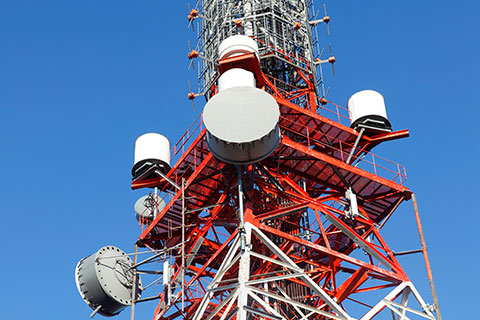 The initial impact of demonetisation has been pretty severe on cash-dependent industries. Sectors like real estate, construction, gems and jewellery will have to find entirely new ways to function. Textiles, automobiles, retail, etc., will suffer volume loss in the short run as consumers turn cautious.
One industry could, however, see relatively quick recovery and a big growth push, even though the initial impact is negative. The entire concept of going cashless (or less-cash) has to be built on top of the telecom industry's ability to deliver fast, reliable data services everywhere.
The banking system runs off the net. Internal reconciliations between branches depend on the net. All financial apps and transaction channels like RTGS/NEFT transfers, ATM withdrawals, cheque clearances, the new UPI, wallet solutions, like SBI Buddy, are all built on top of the internet. Aadhaar can only be verified by using the net.
The credit-card system is also built on top of the net. Those who have used credit cards back in the USA in the 1980s will remember how cumbersome it was. The cashier telephoned the card issuer and laboriously checked details before a transaction was cleared.
Nowadays handheld PoS machines use SIMs to connect to the net, while wired machines use broadband. Mobile wallets - there are five or six mobile wallets for every credit card in India - also use the net. So do debit cards.
Smartphones are a necessity for most transactions and they are becoming cheaper by the day. As of now, there are 250-300 million Indian smartphones, compared to about 650-700 million feature phones. But new handsets are usually smart and feature phones are being phased out.
Apart from financial transactions, smartphones are driven by entertainment. A smartphone can access videos and live cricket coverage. Popular social-media tools like WhatsApp, Twitter and Facebook also work easier on smartphones.
Frankly, the reason why demonetisation was a bad idea is infrastructure inadequacies. Large regions lack acceptable mobile networks and decent power supply to keep ATMs and the internet functional. As of now, mobile wallets also charge high commissions, which is an extra cost compared to all-cash deals. These commissions will only reduce if volumes rise sufficiently. Four out of five villages don't have a bank. The RBI reckons that bank-account penetration is only about 53 per cent. Rural telecom penetration is about 51 per cent and most rural subscribers use feature phones. Urban telecom penetration is 100 per cent or more in most towns, so there is a big urban-rural divide.
The issue isn't about putting physical bank branches or banking correspondents in place, even though there is a shortage of both. Hiring space to park an ATM and set up a branch is not hard. Nor is it so tough to appoint a banking correspondent, equipped with a PC and a handheld PoS. The constraints are poor networks and poor power supply, which make PoS machines, ATMs and PCs useless.
Telecom networks will have to be built at high speed since all the other infra depends on them. The roll-out will have to be rurally focused and accompanied by offers of cheap smartphones and education/familiarisation programmes to teach citizens how to make cashless transactions. This must also be accompanied by better data-security and data-protection laws since people understandably fear being hacked.
If telecom roll-outs happen at an acceptable speed, there will be a surge of new data volume (and new subscribers). Revenue growth will accelerate for service providers. Most service providers also offer mobile wallets and that will be another high-growth revenue stream.
But if networks roll-outs don't happen quickly enough, the drive will fall apart due to infrastructure constraints. Quantifying this, we're talking about doubling the number of internet users as soon as possible. The internet user base is now about 350 million. If every bank account is to be net-enabled, about 700 million data users will need to be online, within, say, the next 12 months. We're also talking about that many smartphone users, which means more than doubling smartphone penetration.
These are crazy growth rates, starting off large bases. Maybe these are unlikely to be achieved. Prior to demonetisation, estimates by Gartner and others suggested India would achieve 55-60 per cent smartphone penetration only by 2020-21. For cashless to work, about 70 per cent smartphone penetration by 2017-18 end may be required.
For the past three years, the telecom industry has suffered multiple problems. It is highly competitive. So, the prices can't be raised and ARPU (average revenue per user) is low. The last two spectrum auctions (in March 2015 and October 2016) were expensive, with base prices too high for comfort.
Most companies are cash-negative (or making net losses) and all service providers are committed to enormous investments. The advent of Reliance Jio, with its recent free offers, has just added to the pressure on all telecom balance sheets.
Active telecom subscribers hit 936 million in 2015-16, a gain of 74 million over 862 million in 2014-15. In absolute terms, this was higher than the addition of 71 million in 2014-15 over the subscriber base of 791 million in 2013-14. However, subscriber growth has inevitably slowed in percentage terms due to the high base. Churn is also high.
Industry revenues in 2015-16 hit Rs 1.93 trillion (Rs 1.9 lakh crore), up only 5.5 per cent from Rs 1.83 trillion in 2014-15. Of this, data contributed about Rs 41,000 crore or about 21 per cent. Revenue growth has also slowed since revenues grew 11 per cent in 2014-15 over Rs 1.65 trillion in 2013-14.
Pre-demonetisation estimates suggested that total revenues would cross Rs 3 trillion by 2020-21, with data contributing Rs 1.4 trillion or about 45 per cent. If demonetisation is to work, data usage has to accelerate.
This quarter and the next will see lower revenue. The bulk of subscribers are prepaid and prepaid revenues have drastically reduced. Even before the cash crunch, the underperformance of telecom-service companies compared to the benchmark indices was marked.
Three of the four largest telecom companies are listed: Bharti Airtel, Idea Cellular and Reliance Communications (which is merging with Aircel and SSTL, subject to court approvals) are all heavily traded and available in the F&O segment as well. MTNL is also listed (along with TTML and Tata Communications, which are specialised outfits offering specific enterprise services). Reliance Jio is a subsidiary of the giant Reliance Industries. It is impossible at this stage to make a coherent analysis of Jio's influence or its impact on the share price of Reliance Industries.
The four 'normal' service providers have underperformed the Sensex for the past two years. On a two-year basis, the Sensex has a return of -4.2 per cent (January 2015-December 2016). Bharti Airtel is the only telecom share to have not experienced double-digit losses across this period but it has suffered capital losses of -9.8 per cent. The worst affected is RCom, which has lost 56.6 per cent. Idea (-54.4 per cent) and MTNL (-37.4 percent) have also been hit by major losses.
On a one-year basis (January 2016-December 2016), the performance gets even worse. The Sensex is flat across calendar 2016, seeing a marginal gain of 0.72 per cent. Airtel is down 3.85 per cent; MTNL, 22.9 per cent; Idea, 49.1 per cent; and RCom, 60.1 per cent.
If we look at the performance in terms of 'flow' rather than a snapshot on three specific dates, there were some interesting phases. Idea Cellular and Airtel outperformed the Sensex between January 2015 and August 2015. RCom saw a brief outperformance in December 2015-January 2016. And Airtel beat the Sensex for a relatively long period between February 2016 and July 2016. Since August 2016, all telcos have underperformed.
Their valuations are close to index valuations. The Sensex's price-earnings ratio is 20.5 (earnings of constituent stocks weighted by free-float market capitalisation). Airtel has a P/E of 25, while Idea has a P/E of 17. MTNL and RCom are running losses, which makes P/E valuations meaningless.
This is interesting since telecom companies have to see very high growth rates, much higher than the overall market if cashless is to work. The targets seem unfeasible but if something approaching those targets is not hit, India will just go back to being a cash economy after losing some quarters of output.