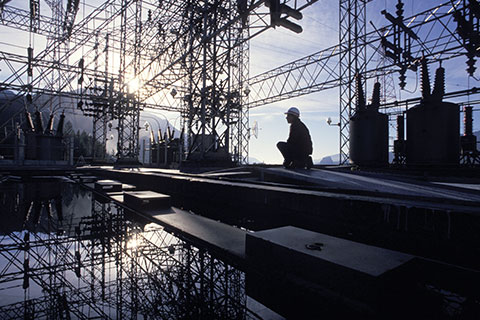 The power sector in the country is buzzing. Capacity addition and existing-equipment upgrade is an ongoing process that the nation's top power-transmission company Power Grid Corporation of India is rolling out. This financial, Power Grid has announced 57 per cent more orders, totalling Rs 19,100 crore.
In June, last year, Power Grid awarded its largest order of the current financial valued at Rs 5,800 crore. This was an HVDC (high-voltage, direct current) order, part of its national energy-highways project to meet energy demand across the country and ease loads on the national grid. That order was awarded to a consortium of ABB (parent company), ABB (India) and BHEL.
Diversity of orders
Transmission lines took the cake last year, making up 37 per cent of the total orders. These were followed closely by sub-station orders, which constituted 35 per cent orders, and transmission towers, which accounted for 16 per cent.
The winners
In the transmission-lines segment, the winners were ABB (parent), ABB (India) and BHEL. In the substation segment, foreign players were awarded 41 per cent of the orders. Alstom won 9 per cent; Techno Electric, 7 per cent; and ABB, 6 per cent. In the transmission-towers segment, Tata Projects walked away with 17 per cent of the orders.
The following companies stand out as top gainers of Power Grid's orders.
ABB India
ABB India reported one of the highest order-inflow growth in the sector, amounting to 29 per cent (YoY) in the September 2016 quarter. Among the top sectors that saw highest order inflows were railways, followed by utilities and infrastructure. The government's focus on transmission and distribution, railways, ports and solar energy, all of which are ABB's strengths, places the company in one of the strongest positions in the sector for years to come.
BHEL
In the September 2016 quarter, BHEL finally saw movement in order executions; slow execution had been the problem plaguing the company for the past couple of years. It may be too early to celebrate yet. With a large proportion of slow-moving orders, the company may not be able to repeat its Q2 performance ahead. Also, BHEL has orders to the tune of Rs 23,000 crore awaiting environmental clearance, which if delayed could see lumpy order executions for at least a year ahead.
GE T&D India
Formerly Alstom T&D India, GE T&D India won a 765 kV sub-station order for Rs 150 crore and a 420 kV reactor order for Rs 100 crore this financial. However, a weak transmission-and-distribution environment, coupled with high competition from Chinese and Korean suppliers means GE T&D India could continue to see tough days ahead.
Siemens
Siemens, like ABB, has a number of verticals that are on the right side of government focus - power T&D, HVDC, rural electrification and smart-city infrastructure. A number of the country's thermal power plants are now nearing their estimated project life of 30 years, which should open up opportunities for new power plants or generate business from repairs and maintenance. The company's focus on digitisation across sectors like power generation, pharma, tyre, food and industries is also expected to keep future revenue drivers robust.