Soumendra Nath Lahiri, fund manager, L&T Emerging Businesses Fund, gives his views on the fund.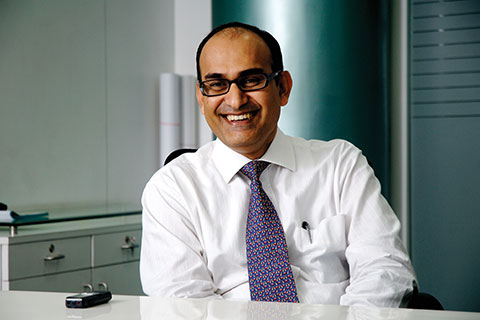 What has resulted in the outperformance of the fund over its benchmark and category?
I believe our superior stock selection, which is a result of our experienced investment team and our strong focus on investment processes and risk management, is the single-most important factor that has helped us deliver superior performance since the inception of the fund. There are ample opportunities in the small- and mid-cap space, as most of them are under-researched and under-owned. Our bottom-up investment approach, with focus on identifying scalable businesses having superior growth potential and buying them at reasonable valuations, has aided in alpha generation.
How do you select stocks?
We select stocks using our proprietary investment process known as the 'G.E.M.' model, involving idea generation, evaluation, and manufacturing and monitoring of the portfolio. It rigorously examines an investment opportunity based on multiple parameters such as management track record, corporate governance, growth prospects, business scalability, profitability, valuations, etc., before considering it for inclusion in the portfolio.

When do you sell a stock?
We may decide to sell a stock if (a) the valuation of the stock moves beyond our comfort level, (b) there is a better alternative investment opportunity available and (c) if there are any changes in investment assumptions that could impact our investment thesis.
How do you manage volatility in the fund?
To manage volatility in the fund, we maintain a well-diversified portfolio. For example, historically, the fund's exposure to an individual stock has rarely exceeded 3-3.5 per cent. We have a strong risk-management process, wherein we follow certain internal guidelines not only in terms of fund's exposure to individual stocks but also in terms of level of ownership in a company, aggregate portfolio liquidity, portfolio concentration, etc. Moreover, valuation is one of the key parameters in our stock-selection process and we look for an adequate margin of safety while buying a stock.
The valuations of small and mid caps seem to be in the bubble zone. How do you see this?
Small- and mid-cap companies have strongly outperformed over the past few years. As a result, some small- and mid-cap stocks are now trading at rich valuations. However, the number of stocks in this space is quite large and I believe there are good investment opportunities available for bottom-up stock-pickers, especially from a medium- to long-term perspective. Moreover, as economic recovery gains momentum, many small- and mid-cap companies are likely to see strong earnings growth over the next few years, which to a certain extent justifies the prevailing valuation of some of these businesses. However, one needs to be selective in owning small- and mid-cap businesses and valuations need to be assessed keeping in mind the future earnings potential of the business.
What can investors expect from your fund going ahead?
Stocks of small-cap companies tend to deliver strong outperformance vis-a-vis larger businesses over the long term and I believe this trend is likely to continue in the future. Therefore, long-term investors with relatively higher risk appetite could look to L&T Emerging Businesses Fund as a fund with the potential to deliver strong alpha over the long term. However, investors also need to be prepared for relatively higher short-term volatility in the fund. I believe it would make sense for investors to spread their investments over a few months by opting for facilities such as systematic transfer plan.